British Columbia's worsening toxic drug crisis killed 2,272 people last year, more than four times the number who died in 2015 shortly before the province declared a public health emergency.
That makes 2022 the second most deadly year recorded, slightly less than the 2,306 people who died in 2021.
In November, 182 people died, followed by 210 people in December, according to new data from the BC Coroners Service released Tuesday.
An average 6.4 people died each day in those two months.
At least 11,171 people have died since the public health emergency was declared in April 2016, and the per capita death rate has more than doubled since that time.
"B.C. has experienced an average of six deaths per day for the last two years," chief coroner Lisa Lapointe said in Victoria Tuesday. "And all these deaths were preventable."
Lapointe said she would convene a third panel to report on toxic drug deaths and make further recommendations to inform more urgent action, the third of its kind since 2017.
"I hope that we are courageous and innovative to end this crisis," she said.
The grim report comes the day B.C. becomes the first jurisdiction in Canada to decriminalize personal possession of small amounts of some drugs like heroin, fentanyl and cocaine in an effort to reduce the harms of arrests, charges and drug seizure on adults.
Drug user rights advocates and public health experts say the move won't stem the tide of deaths without a regulated, safe supply of drugs to replace the increasingly contaminated and unpredictable criminalized supply.
They note the possession threshold of 2.5 grams is too low compared to normal use patterns.
In a media conference Tuesday, Minister of Mental Health and Addictions Jennifer Whiteside said decriminalization was a "historic step" but more needs to be done to expand harm reduction, prescribed safer supply and treatment and recovery options her ministry has focused on.
Urgent action to expand access to safe supply is critical to stopping deaths, an expert review panel convened by Lapointe concluded in a March report.
Drug users and advocates have been calling for safe supply for years as deaths have mounted and supplies become more unpredictable.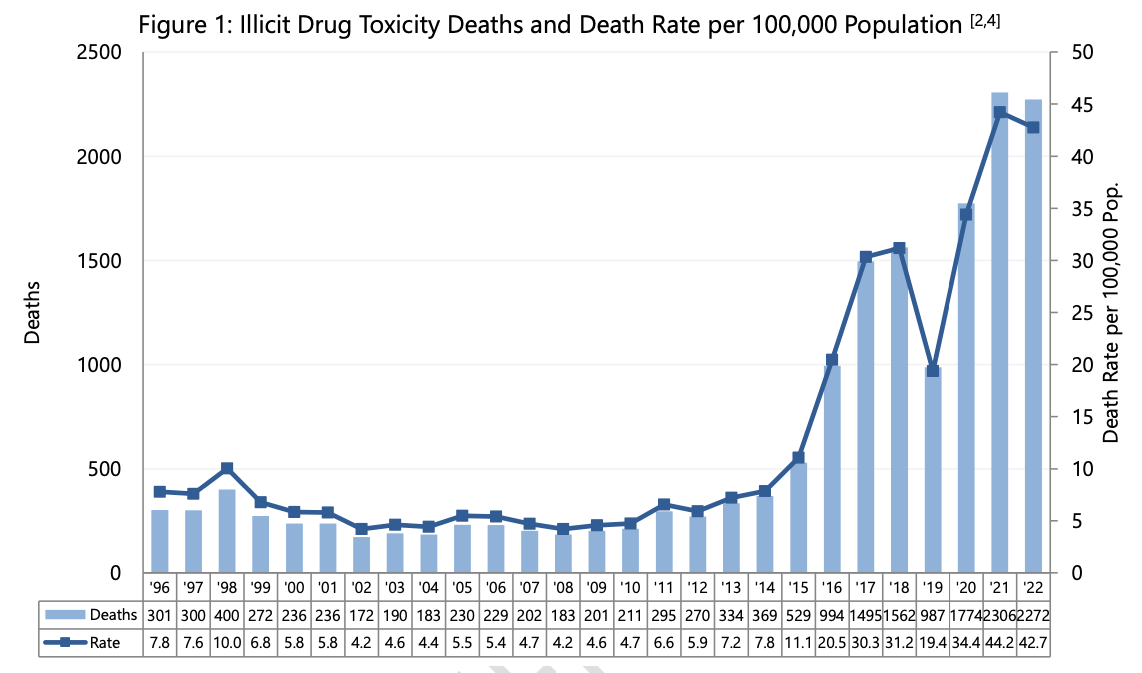 For example, benzodiazepines have been present in 35 per cent of samples tested since summer 2020 in B.C. When mixed with opioids, they render naloxone ineffective and the drug poisoning is more likely to kill or cause permanent brain damage.
Lapointe said the high levels of toxicity put occasional, casual and entrenched substance users at risk.
In its March report, the most recent death review panel made urgent recommendations to government to expand access to safe supply through medical prescription and compassion club models with a series of now-passed deadlines.
Data from the BC Coroners Service shows no indication prescribed safe supply is contributing to deaths.
Government accepted the report but did not commit to implementing the recommendations.
When The Tyee asked Whiteside if she was concerned those recommendations hadn't yet been followed or whether there was a death threshold at which the province would re-evaluate its strategy, she said the government has a variety of sources of advice on its response.
"We're going to keep doing the work we're doing," Whiteside said.
Lapointe and public health experts pointed out even people in the most well-resourced communities do not have the support they need.
"Collectively, as a society, we still have not decided to address this as the emergency that it clearly is," Dr. Paxton Bach, an addictions medicine specialist at the BC Centre on Substance Use said Tuesday. "Our response has been inadequate across the board."
Impacts of the toxic drug crisis in British Columbia are wide-ranging but different in every community. "This isn't just a Downtown Eastside problem," said Dr. Nel Wieman, acting chief medical officer of health for the First Nations Health Authority.
Vancouver, Surrey and Greater Victoria saw the most deaths of any municipality.
But while the overall per capita death rate fell slightly to 42.7 per 100,000 in 2022, Northern, Interior and Island Health saw their greatest per capita death rates recorded at 59.5, 46 and 43.6 respectively in 2022.
First Nations people in B.C. are five times more likely to die from toxic drug poisoning than the rest of the population, according to data from 2021 and the first half of 2022 shared by Wieman.
And while 79 per cent of all deaths are among men, First Nations women are more than 8.8 times more likely to die than the general population.
"This is fuelled by intergenerational trauma caused by colonialism, residential schools, the '60s Scoop, child apprehension, systemic racism and a lack of access to health, medical and wellness supports," said Wieman. Supports need to be culturally informed and safe, he added.
When asked by The Tyee what confidence she had that another death review panel report would not languish like the previous two, Lapointe said it is important to keep pushing on what is "a collective responsibility."
"If six people were dying every day from tainted alcohol, you could bet changes would happen… but these six people dying matter as well," said Lapointe.
"Collectively we have to make this a priority."