There was the officer who told Tyler Nielsen she needed to check his licence because he was driving a car-share vehicle. Two weeks later, another officer warned him — incorrectly — that there were warrants out for his arrest.
Then two RCMP officers in Surrey pulled Nielsen out of his car and handcuffed him before letting him go with no charges and little explanation. Six months later, he was pulled over again by an officer who explained she just needed to check his licence, because sometimes car-share vehicles are stolen or driven by people who don't have a valid driver's licence.
Finally, there was the officer who told Nielsen he'd been pulled over because he wasn't wearing a seatbelt.
Nielsen says being pulled over six times in 18 months is not normal for him. He's had no traffic tickets in the five years he's lived in B.C., and none of the traffic stops have resulted in tickets or charges.
But he can identify when the traffic stops started — after he was interviewed by several local news outlets in August 2021.
In September 2020, Nielsen had filmed a Vancouver Police Department officer shoving a man so hard that he fell backwards and hit his head on the pavement. A complaint about the incident had previously been made to B.C.'s Office of the Police Complaint Commissioner, but the office had ruled the complaint "unsubstantiated" and closed the file.
That changed when BeeLee Lee, a friend of Nielsen's, posted his video on her social media accounts nearly a year after the incident took place. Global News, The Tyee and Vancouver Is Awesome all reported on the story and the police complaint was reopened. In October 2021, the complaint was referred to the RCMP for a criminal investigation.
Nielsen says the first traffic stop happened soon after he gave media interviews about his video in August 2021. After that stop, he started recording on his phone whenever he noticed police had started tailing or surveilling him.
On March 29, 2022, Nielsen was at his job as an outreach worker at a Downtown Eastside clinic. He and a co-worker were accompanying a client when Nielsen noticed an unmarked police car drive by the clinic. He says the officers looked directly at him, then drove further up the street. When he passed the police car, they turned on their lights and pulled him over.
"It's a car-share so we're doing a check to make sure the driver has a valid ID," a female police officer can be heard telling Nielsen in the video he took during the traffic stop.
"Under the Motor Vehicles Act, we can pull people over to check for ID and to make sure they have a valid driver's licence."
Nielsen said he was upset about the incident because he had a vulnerable client with him in the car at the time, and the officer initially wanted to check his client's identification as well.
Two weeks later, Nielsen was again using a Modo car for work and was driving down a residential road near Hastings Street and Commercial Drive after delivering food to a client. He noticed an unmarked police car behind him; as soon as he turned onto Hastings, the officer pulled him over.
After asking for Nielsen's licence and registration, the police officer went back to his car. When he returned, he told Nielsen there were warrants out for his arrest. Nielsen said the officer must be mistaken.
"This is getting kind of crazy, this is the third time… I've been pulled over," Nielsen can be heard saying in his video of the incident.
"OK, well, that's effective police work," the officer said in response. Then the officer abruptly switched topics, asking Nielsen if he had seen an acquaintance lately.
"You were seen with him in a car by Costco," the officer said, referring to a previous traffic stop in August or September 2021.
"I haven't seen him in a couple months. Is he missing?" Nielsen asked.
"I don't know. I'll just say that. Here's your registration and your card. Now you're free to go," the officer said.
Nielsen says the questions about his friend made him anxious for that person's well-being; he later learned his friend was fine. When he checked with a lawyer, Lionel Farmer, to see if there were any warrants, Farmer told him there were none. Farmer has confirmed to The Tyee that he did a thorough check for Nielsen after the April 14 traffic stop and found no warrants.
On July 5, Nielsen was driving back to his home in Surrey in his own car when he again noticed an unmarked police SUV following him. When he pulled into the parking lot, two Surrey RCMP officers approached him. According to video Nielsen took, one officer pulled him out of the car by the arm, saying he resembled a mug shot of someone who had warrants out for their arrest.
Nielsen said the experience was terrifying and humiliating: one of the officers held his arm twisted behind his back in a painful position, he was jabbed in his side, and he was handcuffed. After he told officers his phone was recording the incident, an officer can be seen leaning into the car and the video then stops. Nielsen was released with little explanation of why he had been followed and handcuffed.
Nielsen said the incident was particularly concerning because just two days earlier two RCMP officers who were investigating the shoving incident in Vancouver had visited him at his home to interview him as a witness. He said he immediately got in touch with the lead investigator, who assured him that no information had been shared with any other officers.
Surrey RCMP declined to comment on the incident because of privacy reasons, but said Nielsen can file a complaint.
For six months, things were quiet. Then on Dec. 26, Nielsen was again driving a Modo vehicle for work when he noticed he was being followed by a police car. When he parked behind the clinic where he works, officers approached him and again asked to check his licence and registration.
"Especially with the holiday season coming up, people borrow these cars, don't lock them up securely, and then other folks come, and either don't use them with a licence or lend them to a friend without a licence," a female police officer tells Nielsen in the video he took of the interaction.
Nielsen explains to the officer that with Modo's fob system — which is needed to unlock and start the cars — it would be very hard to do what the officer is describing.
"This is the sixth time," Nielsen says in the video. "I'm an outreach worker and I work in this clinic and you've been harassing me."
"That's how you feel," the officer responds.
Jane Hope, director of marketing and communications for Modo, said that unauthorized use of Modo cars is not a major problem for the car-share organization. Users need to be approved before they can drive a car, and use a fob to unlock and start the cars. If users forget to fob out, the organization uses an immobilizer to prevent the car from being driven at all.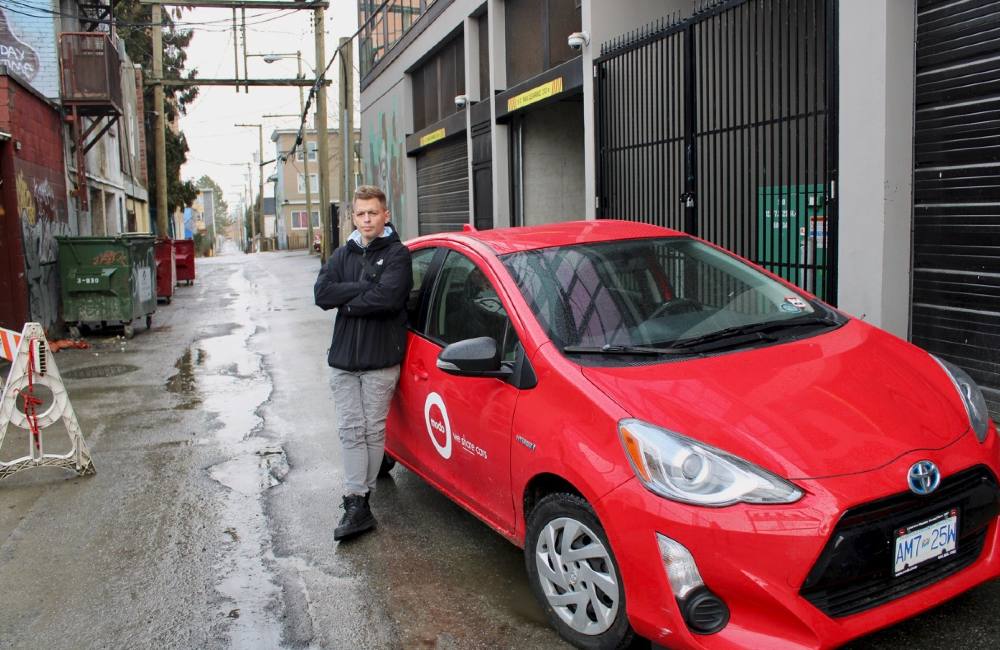 On Dec. 30, Nielsen was transporting a client who uses a wheelchair, again driving a Modo car, when he noticed a police car was following him. According to Nielsen, the officers watched him put his client and the wheelchair into the car, make a stop at Pigeon Park Savings, and get back into the car. Knowing what was about to happen, Nielsen started recording video and waited to be pulled over.
"You didn't have your seatbelt on… that's why I'm stopping you," a male police officer tells Nielsen.
"You're lying. Why are you targeting me?" Nielsen asks, then challenges the officer to give him a ticket. He also tells the officer that he's an outreach worker and has a client with him in the car.
"It's just a warning, your driving history is very good.... Why are you being so hostile? I'm giving you a break," the officer says.
Nielsen has challenged the officers in every interaction, leading some of the officers to question why he is being so resistant to their requests. But Nielsen says the frequent traffic stops have left him shaken and fearful of what could happen the next time he's pulled over.
Nielsen's co-worker, Tyson Singh Kelsall, said he witnessed part of the Dec. 26 incident and believes Nielsen is being harassed by police. Singh Kelsall also pointed out that Nielsen is Métis, and the clients who have been with him in the car during two of the stops are visibly Indigenous.
"It's an informal kind of harassment — it's harder to track and it's also pretty scary," Singh Kelsall said.
Singh Kelsall said there has been a pattern of police "interfering with health and rights-based approaches" in the Downtown Eastside, where many residents live in poverty and there are a higher proportion of Black and Indigenous residents compared to other neighbourhoods in Vancouver.
"There's a bunch of subtle things they do. They linger outside of safe injection sites. They harass people and take their drug paraphernalia. They seize their drugs without arrest," Singh Kelsall said.
The Tyee asked the VPD if the force would like to respond to Nielsen's experiences. Media liaison officer Steve Addison said people who are unhappy with their treatment by police can complaint to the Office of the Police Complaint Commissioner. 
For several years, there has been media and community scrutiny on how police in Vancouver conduct street checks. Street checks are when police stop someone who is not part of a criminal investigation and question them about their activities or ask to see identification.
Police data has shown that Black and Indigenous people are subjected to street checks at a far higher rate than the general population. In January 2020, the B.C. government introduced a new policy intended to limit the practice. But police are still allowed to "demand or request" identification when conducting a traffic stop.
Nielsen just wants the traffic stops to end. He said he feels lucky to be in a place in his life where he has the resources and support to speak out about what he believes is police harassment. But, he said, many other people in the Downtown Eastside don't have the same support, and are afraid to report similar interactions with police.