Somewhere on the 3,400-kilometre-long coastline of Vancouver Island, a 2004 Mazda Protégé pulls over to the shoulder of a highway, carrying four young men looking for a secret.
I step out of the parked car and stretch my hands to the sky, inhaling the crisp, clean air. The self-appointed leader of the trip, Alex, exits next. He pops open the trunk and places our four hiking packs on the side of the road.
It's a little after noon on a partially cloudy July afternoon in 2020.
There are two other groups of backpackers also parked on the side of the road. When they have their belongings settled, they walk down the highway towards a well-known network of trails off to the right in a coastal forest.
We strap on our packs and hike single file down the same highway. Instead of turning right, though, we go past where the other hikers turned off: in search of a logging road that will take us up to what I'll call "Secret Trail."
Alex heard of "Secret Trail" through a friend, who heard about it from his friend, who stumbled on a mention of it online. The trail is long enough for backpacking, and has an altitude of roughly 1,000 metres. It's in a rare subalpine area on Vancouver Island. So rare, in fact, that sometime in the 1970s, BC Parks established a plan to protect its sensitive ecosystem.
Although Secret Trail is mentioned in a number of places online, none of them are easy to find, unless you already know about it.
The club who maintains the trail has been referred to as a "secret society" online, and declined multiple requests to be interviewed. A writer who blogged about the trail preferred to pass along two other contacts who might be able to speak freely about it (one did). In an age when social media users expose and drive crowds to the most unique and beautiful spots in the world, Secret Trail has remained just that: a secret.
After 25 minutes of walking, we make a sharp left turn off the highway onto a steep gravel road. I check to see whether any cars see us peel off the highway, worried that even this could reveal hidden clues to passersby. The logging road is steep, and as we hike higher and higher up into the clouds, the trees become smaller, subalpine plants begin to appear, and clouds turn thicker, the weather more ominous.
Alex becomes less and less confident which turn will lead us to the Secret Trail.
"Is this the exit — wait, no, we have to keep walking," he says, checking Google Maps on his phone for a trailhead into Secret Trail that he read about online.
It's quiet as we get higher and higher up the logging road. Rocks crackle under my boots and our breathing labours as we chug up the mountain. Our initial excitement about exploring the trail has dissipated.
Then we see cars. Three of them, two SUVs and a truck, parked just off the logging road and beside a small opening that feeds into the woods.
A few branches of trees surround a post.
I move the branches with my hands, squinting my eyes to see words written on a plaque: the true name of Secret Trail.
An exploding interest in wild spaces, fuelled by social media
Carefully guarded paths, climbing crags, surf breaks, and so on, have been exposed through social media and, in the opinion of those who would rather keep these places to themselves, ruined by the crowds that trek into the wild with their phones jacked into their social media feeds. In the digital age, parks and the people who manage them are struggling to combat the onslaught of visitors drawn to the sweeping vistas they saw on Instagram.
The Jackson Hole Travel and Tourism Joint Powers Board in Wyoming begged Instagram users to stop geotagging photos in 2018 to protect the state's lakes and parks. Specifically, Delta Lake in Grand Teton National Park was once a hidden treasure. But as social media lit up with the lake's turquoise water and glacier views, hundreds of visitors began frequenting the site each day, eroding the unmaintained trail.
An onslaught of visitors haven't only disrupted the physical beauty of parks. The unexpected crowds have also changed the experience of visiting certain places.
Horseshoe Bend, once a word-of-mouth spot in Glen Canyon National Recreation Area, has become a popular social media stop for its perfect U-shaped bend of the Colorado River.
"Because of Instagram and how Horseshoe Bend got so popular for the photo op it provides, it sees hundreds of visitors a day during peak season," said Jamie Compos, an Arizona-based hiker and outdoor writer.
"They had to develop a fully paved parking lot. There's bus tours. There's a bus parking lot. They charge a fee now just to park because of the work they had to put into developing the parking lot."
Two years ago, the U.S. government reported that the economic benefit of national parks to the country and local governments exceeded $41 billion.
Closer to home, Destination BC amassed over $18 billion in revenue from tourism across the province in 2017. Two years later in 2019, right before the COVID-19 pandemic, that number jumped to $22.3 billion, a 67 per cent increase since 2009, when social media apps like Facebook and Twitter were in their early years.
While not all that revenue can be solely attributed to social media, photo sharing apps like Instagram have been linked to an increased visitor presence at some B.C. parks.
Joffre Lakes is a provincial park 35 kilometres east of Pemberton. It's home to a diverse ecosystem with old-growth forests and habitats for animals such as yellow-pine chipmunks and pine martens.
With a turquoise-coloured lake and glacier mountain backdrop, Joffre Lakes has become a social media darling. Since 2010, the park has experienced a 222 per cent increase in visitors, which has led to lines of cars stretching down the highway for kilometres.
Like Secret Trail, Joffre Lakes is located in a subalpine environment. Luke Clarke, B.C.'s district recreation officer of the South Island and Sunshine Coast, says that subalpine environments are at the most risk of damage due to increased foot traffic.
Trail braiding, he says, which happens when visitors hike off-trail and create multiple links of the same trail, disrupts the sensitive ecosystem.
In 2017, two hikers picked up nearly 40 pounds of trash in the park during one trip — leading a former Joffre Lakes park ranger to tell the Click, New York University's graduate student website, that the provincial park is now "more of an amusement park."
Near Port Alberni on Vancouver Island, 5040 Peak is another hike that has become increasingly popular. Shane Johnson, a Vancouver Island hiker, has hiked both Secret Trail and 5040 Peak for close to two decades.
While 5040 was once a remote spot, in 2019, the Vancouver Island chapter of the Alpine Club of Canada built a hut designed to sleep 12 with a full kitchen and living space. The hut has sparked added interest in 5040 Peak — it now has over 400 reviews on the popular hiking website, AllTrails, and is on Instagram and YouTube.
All that development leaves Johnson feeling conflicted. While he respects people getting active in the outdoors, he is concerned about whether the crowds will follow proper hiking ethics, like packing out trash and staying on designated trails.
"I use Instagram and seeing the power that social media has to blow up a place, I'm way more worried about that now than I am up just like random people coming and wrecking stuff."
Pics or it didn't happen
We approach the log bridge with confidence. Perhaps like most 20-something young men, a little too much confidence.
It's the second day of our expedition, and from morning until noon, we haven't seen another group of people on the trail. It's a relief to hike in silence. I can hear tree branches rustling, waterfalls whooshing, and the gentle plop of a rock being tossed into a pond.
The bridge stands almost two metres above a slow-moving river. Although there are no rails, it's roughly a metre wide and there's a rope to the left that is attached to a series of posts that we use for guidance.
I'm third in line. When my friend Derrick gets halfway across the bridge, Alex steps on the log. They shuffle across together.
I have never been fond of heights, even ones with a drop of just six feet. So I carefully grab the rope with my left hand and step on the bridge.
As I take my first step onto the log, I can't help but wonder who built this bridge? Why did they decide to do it? What inspires someone to build a bridge in the middle of a forest, far from cell service and social media, only to keep their work and the trail hidden?
Suddenly the rope in my hand jerks to the right, then to the left. I lift my head up and see Derrick falling backwards into the river. The rope snaps, breaking the silence, and Alex plummets in after him.
I let go and yell.
Who to tell?
Sheena Mercer has one big rule for her employees.
Her café is one of the last food stops en route to Secret Trail and a plethora of other popular beaches and hikes. Although Mercer primarily relies on tourists for revenue in the summer months, she recognizes that some things are better kept secret.
When a customer asks for a hike or beach to visit, she advises her staff to keep the spots only known by locals a secret.
"If you're coming out to do [Secret Trail], you're coming out to do [Secret Trail]," Mercer said. "You're not going to say, 'Hey! Where should I walk today?' I'm not going to say, 'Go do [Secret Trail]! It's a nice, comfortable hike.'"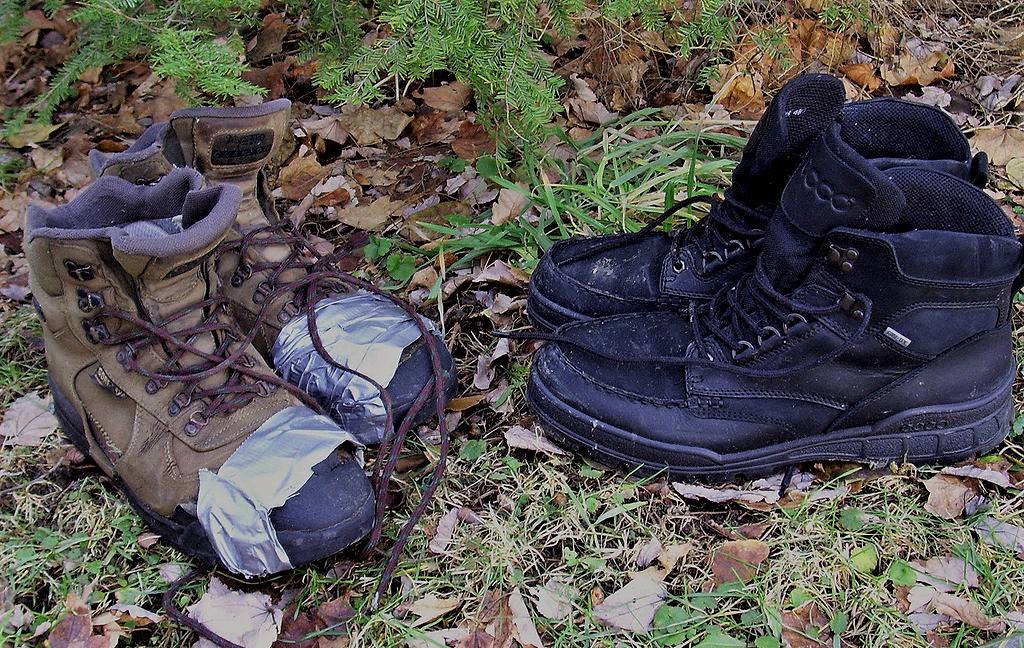 For a long time, I debated how much I wanted to share about Secret Trail.
Everyone who has hiked Secret Trail, and everyone who is lucky enough to know about it, will inevitably face the same question.
When I first got the idea to write about Secret Trail two years ago, I was taken aback by how perfectly manicured the trail was. I wanted to profile the group and highlight all the steps they took — from building cabins and log bridges to grooming ferns off the trail — to keep Secret Trail looking pristine.
But sharing the outdoors in the social media era is a tricky balance to strike.
Everyone I spoke with for this story who knows about Secret Trail doesn't want to be one of the "gatekeepers" of this area. Yet, they (myself included) don't want to overpopulate the trail, so I've decided to tell you this.
By car, Secret Trail is a couple hours outside the closest major city.
It was established in 1999, and is maintained by a volunteer organization who created board walks, bridges and huts for outdoor enthusiasts to enjoy. However, both climate change and social media are threatening Secret Trail's unique landscape.
In the late 1970s, an ecological reserve was established by the province to protect 98 kilometres of land that Secret Trail partially runs beside. In this reserve, there's a rare population of white glacier lilies, subalpine vegetation and wetlands.
Since Secret Trail's inception, the group that manages the trail has had an agreement with the province to manage and protect the trail. They've raised thousands of dollars to install boardwalks and protect the area's ecosystem.
"There's a fear from the stewards of the land," Clarke said. "That the area will get overrun if it gets discovered, if it's widely publicized. That's a really valid fear."
Secret Trail is not in a provincial or national park; it's located on Crown land, in a subalpine forest with bogs, and one of the many trails covered under section 56 of the B.C. government's Forest & Range Practices Act.
Section 56 allows the province to establish and set boundaries for any interpretive forest, recreation site or trail on Crown land. It also gives them power to set goals on how those places should be run.
But, Clarke says, the province doesn't have the power to regulate public use on Crown land. He understands why Secret Trail's organizers may want to keep its exact location hidden in the media.
"These trails have very amazing features and amazing opportunities for the public to have a wilderness experience," Clarke said.
"But there's a fear that because we have limited resources on how we manage recreation of Crown land, that it will get abused, overrun."
Members only
None of us have talked for hours. After the incident at the log bridge, we've been focused on completing the day.
Derrick and Alex came out of the river without any injuries, aside from a bruise to the ego and some soaking wet gear. The rain still comes down in a mist, serving as a constant reminder of its presence. As the time inches closer to 7 o'clock, Alex spots what we have been looking for all day. A cabin.
We still haven't seen anyone since the log bridge, and I'm sure the cabin will be empty. But when we approach the cabin, each of our four hearts drop.
There are three hiking packs on the side of a pond.
The father, who is hiking with his grown-up daughter and son, greets us from the front porch with a wave.
"Hello!" He enthusiastically says. "What brings you up here?"
He lets us in the cabin and I unclip my pack's shoulder and stomach straps, letting the soggy mass fall to the floor. Even though it's the beginning of July, the temperature is 6 C. I didn't pack any pants, hiked all day in seven inch-long shorts, and had to borrow a rain jacket.
The room inside the cabin is about a third the size of a high school classroom. The father, a wise-looking man with salt-and-pepper hair, explains that he's been bringing his kids up to the trail for years.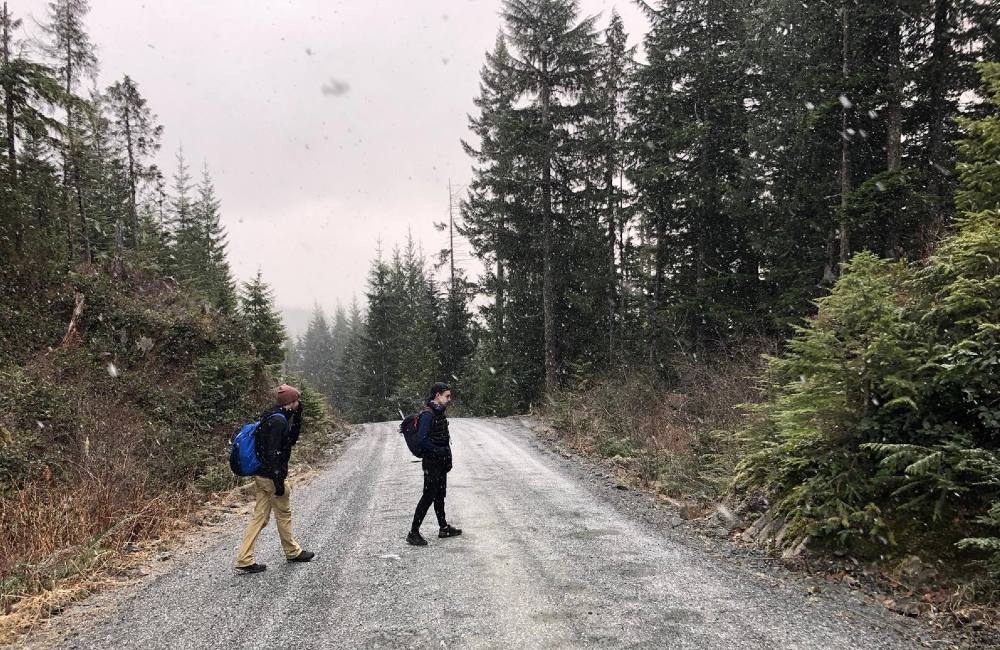 I'm too exhausted to take part in the conversation, so I sit down in the corner. The family and Alex take their conversation outside as he boils water for our freeze dry meals.
I have a sickening feeling that we shouldn't be here. Actually, I know we shouldn't be here.
There are rules, and according to the website managed by Secret Trail's organizers, the huts are only reserved for members of the club. I don't know if the family are members, but after hiking 30 kilometres from sunrise to sundown, I don't care.
Alex walks back inside and pours water into two freeze dry packets the four of us are going to split. He tells us that the family, taking stock of our wet gear, volunteered to camp outside.
I'm too tired to prod deeper into their membership status and reach for a butter chicken pack.
I stir the hot water, letting it seep into the chicken chunks and feel the bag mold around my hand as it heats up. Simultaneously, I wiggle my toes in my waterlogged boots, feeling the water slosh in between my cotton socks.
Activist trails
Not all tourism is bad tourism.
Carter Hunt, an associate professor of Recreation, Park, Tourism Management and Anthropology at Pennsylvania State University, has always been interested in the outdoors.
Back when he was a master's student studying recreation park and tourism science, Hunt only thought of tourism in a negative light: the over-congested trails, loss of solitude, damage to habitat. It wasn't until a faculty member told him how tourism can bring conservation and financial benefits to remote communities that he began to see the other side.
For example, in Guatemala, he says, tourism is essential to the conservation of national parks.
Guatemala is at the centre of Mayan culture, and in particular, Mirador National Park has many cities, structures and road networks that make up an ancient village. However, as it contains 1.6 million acres, including rainforests, animals and endangered species interspersed between the Mayan ruins, it has been at risk of development and illegal agriculture.
"In Guatemala, I just began to think that I myself needed to reconsider the whole tourism situation. Because without tourism, these parks didn't have any resources at all. Otherwise they were being forced to be cut down for timber, resources and mining," Hunt said.
Global Conservation, an organization dedicated to protecting national parks, is currently working to protect Mirador by working with the Guatemalan government and local communities to support tourism and park infrastructure such as year-round trails.
"So without the tourism," Hunt says, "it wasn't going to stay intact."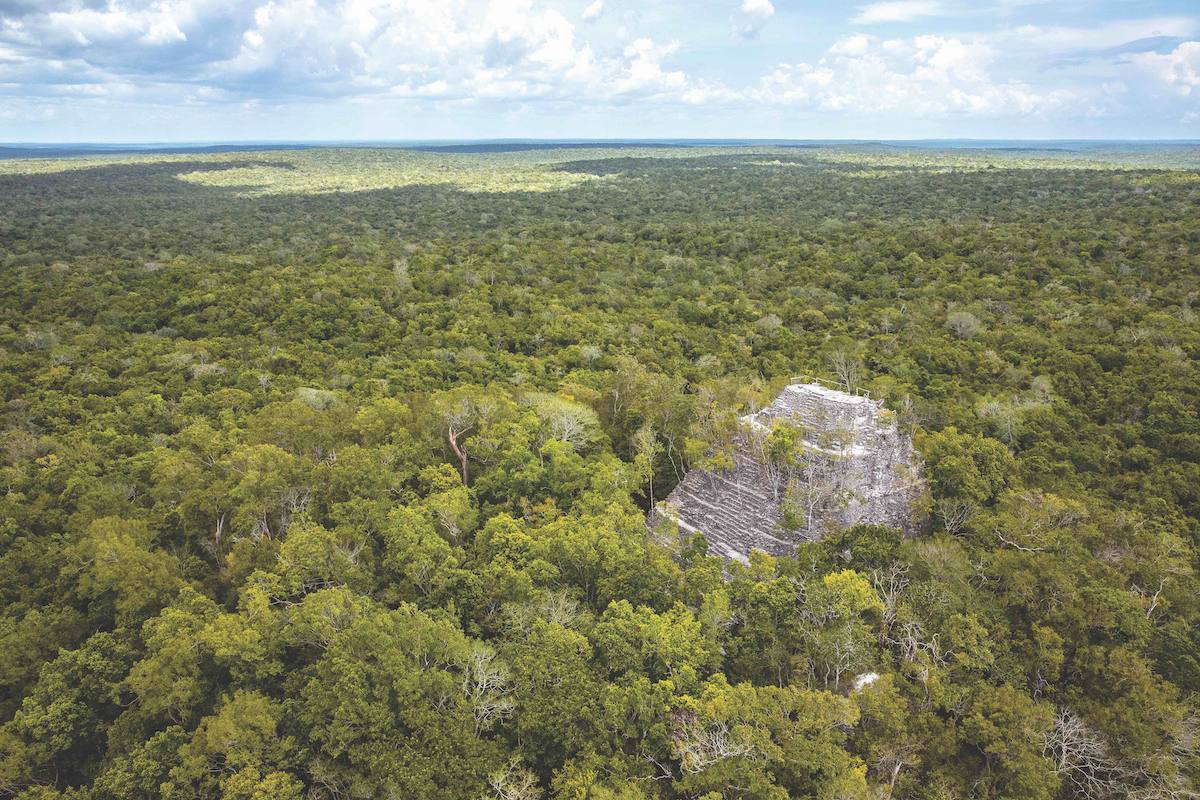 Unsanctioned parks have also led activists in B.C. to establish trails that encourage visitors and in turn, conservation.
Joe Foy, protected areas campaigner for the Wilderness Committee, was one of the original members of the conservation group in the 1980s. In the early '90s, he led a trail building movement in the Carmanah Valley in southwest Vancouver Island.
Carmanah is home to some of the tallest trees in Canada, including the Carmanah Giant, a 95-metre tall Sitka spruce. But, over three decades ago, a forestry company, MacMillan Bloedel, planned to log the valley.
Foy helped build trails that stopped the logging plans and showed the public it was a place worth visiting.
"We realized that if we allowed the timber company to control the narrative, what would naturally happen is media would be brought out to a logging road and a company official would stand at the end of the road," Foy said.
"Public perception, everyone's perception, would be that this place was a faceless green wall at the end of a logging road."
Over two years, the environmentalists built a network of "activist trails" — trails that are designed to have less impact on natural surroundings by not tearing down any existing trees or large ferns.
Foy's work not only got the attention of the media, but other outdoor enthusiasts who wanted to check out the previously unknown valley.
"Within a year, there were tour buses coming up. It was spectacular."
Their work paid off and in 1990, the lower Carmanah Valley was designated as a provincial park. Five years later, the nearby Walbran and upper Carmanah valleys were also protected.
"We knew as wilderness backpackers, if you could get people in there, and literally have them go to sleep there in their own tent, wake up, hear the creek, the birds, you completely reverse the worldview."
Password-protected trails
The outdoor enthusiasts and experts whom I spoke with agreed that education will be a vital component to ensure the outdoors and social media can coexist.
In the past few years, Jamie Compos, the Arizona-based hiker and writer, has become more secretive of the outdoor spots he shares online. He created his website, Down The Trail, in the late 2000s to blog about his favourite hikes across the globe and inspire other people to get outdoors.
Because of social media heightening traffic on trails, he now only publishes trails that are already known on the internet.
"My rule is if there's a hike I've done, and I want to write a guide for it on my site, I'll go ahead and Google the trail," Compos said. "If I don't easily find something on the first page of Google, and if it's not on AllTrails, then I'll put it behind the password."
Whether people like it or not, Compos adds, social media is never going to go away. He says the only way to ensure parks remain pristine is by educating people on how to respect parks.
Shane Johnson agrees that education will be a vital component going forward. He believes that there should be more pressure on the outdoor bloggers to advise their followers on proper park etiquette such as trash management, the importance of staying on designated trails, and campfire regulations.
"A responsibility of people who are social media types, who have a lot of influence, when they're showing a place, if they're going to cause a lot of people to go there, there should be some onus on them in stating expectations."
Specifically in the alpine, where trees and plants grow slower, knowledge about hiking etiquette will be vital.
Louise Pederson, executive director of the Outdoor Recreation Council of BC, points to resources such as Leave No Trace and Destination BC's sustainable social media guidelines as two resources where hikers can educate themselves before heading outdoors.
She would also like to see outdoor education taught more in schools to foster that knowledge for children at a younger age.
"Because of the sheer size of our province, we don't have a lot of enforcement officers on the land," Pederson said. "It's really up to each and every one of us to make sure we stick to the rules and conduct ourselves in a responsible way."
Out of the wild
When daylight comes, I stretch my limbs from inside my sleeping bag. Every muscle in my body hurts. It's a little before 6 in the morning. Alex helps me get up and I pull on a dry pair of wool socks, sliding them into my already wet boots.
The cabin is less than 10 kilometres from the highway, the same highway where we parked the Protégé two days earlier.
To make it back to the car, Alex figured out a route where we would descend a logging road after exiting Secret Trail's northern trailhead. From there, we will cross the highway, hike roughly 40 kilometres along a more popular trail that runs along the Pacific Ocean, and through a campground back to Alex's car.
Neither the father nor his kids are awake when we leave the cabin.
We don't say a word to each other as we take our belongings from the cabin, making sure we don't leave a trace.
As we walk through an old-growth forest towards the logging road, I can't shake a feeling that we're finishing something special. Something unknown. Something so magnificent that isn't widely being talked about — and maybe shouldn't be.
The four of us emerge from the forest. And right before we exit the logging road, I notice a lookout with a view of the highway. My three friends continue to the road, but I linger and take off my pack.
The lookout is hidden by trees and overgrown bushes.
I glance at the outside world: the cars whizzing by, engines rumbling, surfboards strapped to car roofs, and all the vacationers off to the well-known beaches and trails on Vancouver Island's sprawling coastline.
While they go about their latest adventure, a secret remains hidden in a coastal mountain range.
---
Happy holidays, readers. Our comment threads will be closed from Friday, Dec. 23 until Tuesday, Jan. 3 to give our moderators a well-deserved break. See you in 2023!