Candace Morris is an action hero in the eyes of her seven-year-old son, Matteo. A Victoria registered nurse, she juggles three jobs: part-time outreach nurse, and casual shifts at both the Victoria General Hospital emergency room and the region's urgent care clinic. Concerned about catching COVID-19 herself (during a recent illness, her swab test came back negative) and possibly passing it on to her son, she packed him off to his grandparents' house in Powell River for a visit, a move that felt more like an evacuation than a holiday from school. "He thinks Mommy is a soldier fighting the coronavirus," she said. "It's what keeps me going."
Michael Young, a licensed practical nurse, is relying on his sense of humour to see him through the stress of working on the COVID-19 ward at Richmond General. Young, 62, is self-isolating in his home, away from his wife and four children. None of his usual stress-busting routines will work during this extraordinary pandemic: the hospital gym where he runs on the elliptical trainer is closed and enjoying a potluck social with co-workers doesn't meet the physical distancing guidelines. That's why he plans to show up at work one morning soon in a diving mask and snorkel. As gags go, it is pretty silly, but it may be his last chuckle of the day before he and his colleagues change into their hospital goggles, scrubs and masks for their shifts. "This is the most scared I've seen people in my 27 years as a nurse," Young said.
During a pandemic such as COVID-19, health-care workers can experience a range of reactions. Nurses and doctors in the emergency room or the intensive care unit already know the heart-pounding intensity of medicine's front line. But an extraordinary situation such as the COVID-19 pandemic can threaten even seasoned health-care troops who react with everything from diffuse anxiety to debilitating post-traumatic mental illness.
In a health-care system already stretched to its limits, a wave of traumatic stress including depression, anxiety, insomnia and distress could weaken the workforce when we need everyone.
Early research is showing that prior to COVID-19, nurses were showing high rates of burnout already. "I believe we're very much in the eye of the storm," said Christine Sorensen, president of the BC Nurses' Union. "We've done an incredible job of freeing up beds, but we can't let down our guard. I hear a lot of anxiety from nurses on the front line every day." Preliminary findings of an ongoing study of nurses have shown high levels of depression and anxiety, she added.
Studies of previous disease outbreaks and their mental health effects offer a road map for navigating the current situation. A 2004 study on Toronto's SARS outbreak estimated that a high degree of distress was experienced by about a third of hospital workers. A new study from China found more than 50 per cent of health-care workers had high levels of depression.
But changes in lifestyle habits, as the province urges us to slow down, can have lasting positive effects as well. A Hong Kong study on SARS documented stronger family and social connections, better mental health awareness and healthier lifestyles among health-care workers who had learned how to manage their own stress.
To guard against workplace burnout, reports such as British Columbia's 2012 Pandemic Influenza Response Plan call for frequent debriefings to keep staff informed, to discuss adequate staffing and to encourage regular breaks away from the front line.
Indeed, sharing worries with colleagues may be one of the few comforts left for this group. At a huddle at the beginning of a clinic shift, Morris said she was feeling anxious. "We need to admit to our fears. No one wants to," she said. "But people said, 'Thank you for telling me your feelings.'"

At several hospitals, emergency room managers have brought in spiritual advisors, not to lead prayers but to act as sympathetic listeners to wrought up staffers. "Overall management is being as supportive as possible," said Anita Dickson, a licensed practical nurse at Kelowna General Hospital's emergency room. She appreciates the constant support emails from the Employee and Family Assistance Program, the counselling service for health-care employees, and she values the huddle meetings with colleagues that update her on the constant change. The institutional support makes up for some of the other stressors: the alarmist chatter and speculation in everyday conversation, and the feeling of being stigmatized by people staying away from her retired husband because she works in the hospital.
Fear of what the future holds is beginning to wear people down, said Terri Griffing, vice-president of human resources for Baptist Housing, which runs 12 assisted living and seniors' care facilities in the province. Used to managing seasonal influenza outbreaks, their management teams were confident they could handle this situation when first faced with COVID-19.
"We know how to do infection control," Griffing said. Now that the virus is spreading through the province, she hears from staff members feeling the stress of working in a more contained and restricted environment, vigilant about keeping visitors — and the invisible enemy — outside their doors.
Like police officers and firefighters, nurses and doctors need to wear personal protective equipment. But worrying about the supply of masks, gloves and gowns isn't the only concern. Just donning the gear and then wearing it for a full sweaty 12-hour shift can ratchet up the stress and fatigue.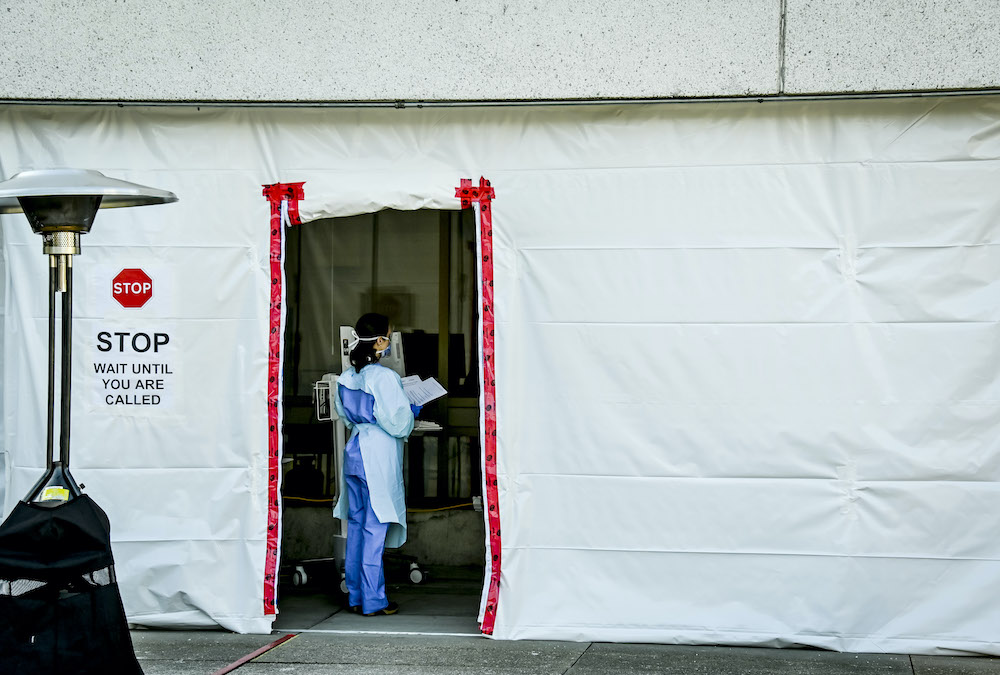 Sometimes it is the added stress of quickly changing procedures that can be head spinning. Dr. Ed Marquis, based in Prince George, has altered his practice dramatically. Just weeks ago, he saw only five per cent of his patients remotely using telehealth video connections. Now he sees 90 per cent of them online. Dr. Marquis runs the rural issues committee for Doctors of BC and he is also the lead on the community's urgent primary care clinic, where the COVID-19 screening is done. Recently, the University Hospital of Northern British Columbia, one of the 17 provincial hospitals designated as COVID-19 centres, was running at about 20 per cent over capacity, he says. Now it is 20 per cent under.
"It's a strange time, because it feels quiet with all those empty beds," said Marquis, who hopes the spaces won't be needed but is concerned that they might be. "As health-care workers, we all feel that anticipatory stress." As B.C.'s northern hub and a city of more than 86,000 people, Prince George is far removed from the density of the Lower Mainland. That distance could either safeguard the residents against the sweeping contagion or put them at risk while they pool resources to handle a clustered outbreak in the core or in one of the many isolated communities surrounding it.
Protocols keep changing as COVID-19 transmission becomes better understood, adding to more uncertainty for workers. "Last week we weren't letting people come into the clinic until they were assessed. I would stand outside with a mask on and glasses and if people had any symptoms they had to go to their car. This week [I'm wearing] a full gown with glasses and a mask," said Morris. "We're constantly on edge waiting for the next step and reflecting on the last step." It's all new, and she knows that staff and management are hoping they make the right choices to stop the contagion.
What happens when these critically important virus warriors stop coping and the symptoms of stress overwhelm their attempts at self-care? When the relaxing walks, healthy diets and confiding in supportive friends fail to lower the stress, the result can be job churn, when nurses look for less stressful positions in other areas of health care. Higher absenteeism can be another byproduct. "My anxiety is so high, I get sick easier," said Morris. "I think it could be an awful spiral effect: everyone's going to get burned out, and then they have to go off and get quarantined."
Dr. Andrew Clarke, vice-president of physician health and executive director of the Physician Health Program for the DBC can see what's coming. While calls to the hotline aren't exceptionally high right now, he said, "I expect in a month or two, we will see people worn out and exhausted."
That's why the DBC is preparing resources now, examining psychological research from the SARS outbreak as well as more recent examples from China and South Korea that show that ample counselling services are vital to ease the mental health effects of COVID-19 on health workers.
DBC offers a counselling and referral service to help doctors dealing with personal or workplace psychological issues and stress. The University of British Columbia's Department of Psychiatry and Faculty of Medicine recently made a call out to provincial psychiatrists to check future availability for counselling their COVID-19 battle-weary physician colleagues suffering mental health effects.
While B.C. prepares to bolster both supplies and psychosocial support for health-care workers, in the short term sometimes it is simple gestures that will get them through. Last week, Morris joined her neighbours for a physically distanced glass of beer — she sitting on her porch and the others on theirs. They also joined in the daily 7 p.m. pot-banging ritual to show their gratitude.
The public support for health-care workers is what keeps him going, said Young. From the gas station attendant who tearfully thanked him to the RCMP drive-by salute, the sentiments have touched him. "It makes us swallow hard and go back to work," he said.