A year after two of Canada's media giants agreed to swap 41 newspapers, then quickly closed most of them, a federal probe into whether the deal broke the law today took a step further by obtaining a court order to interview under oath one former and five current Torstar employees.
The legal mess hanging over Torstar and Postmedia – and the loss of almost 300 media jobs — didn't prevent top executives at both corporations from receiving millions in performance bonuses this year. Postmedia CEO Paul Godfrey raked in in $5 million, including his $1.2-million bonus. Torstar CEO John Boynton's total compensation was $2.3 million, including a $740,000 bonus, but he only took on the job March 31.
The 2017 swap, meanwhile, resulted in 36 newspapers, from Vancouver to Ottawa, shuttered. Each publication that ceased operations effectively ceded their markets to rivals that remained in business. And by no means were the saved papers the ones producing the better journalism.
The Competition Bureau's investigation hinges on whether Torstar and Postmedia knew, or even agreed ahead of time, which newspapers each would close after the swap. Postmedia's Godfrey has declared that he and his team had no idea that Torstar would close the papers it acquired. Postmedia president Andrew MacLeod affirmed "the companies were 'extraordinarily careful' not to share any knowledge about their plans for the properties after the transaction," reported the Financial Post.
In today's announcement, the Bureau said it believes the six witnesses it wants to interview under oath "are likely to have information that is relevant" to its investigation, while stressing, "There has been no conclusion of wrongdoing at this time and no charges have been laid."
The government's probe started with a bang in March, after a whistleblower named John Hammill came forward with evidence bolstering the case for collusion.
Now The Tyee has turned up evidence from three more insiders, layoff notices that seem to indicate Postmedia knew of Torstar's plans to shut down newly acquired newspapers before the deal was announced.
Sudden pink slip
It was a normal business day in November 2017 when John Hammill learned, at the same time as the public, about the blockbuster Postmedia-Torstar deal.
Hammill was Postmedia's regional sales manager for Ontario newspapers in Orillia, Barrie, Collingwood, Bradford and Innisfil. All five were moving to Torstar ownership. And all five would be shut down.
Within 10 minutes of the announcement, Postmedia human resources informed him that he would lose his job.
He recalls concluding at the time that the two companies must have co-ordinated the shutdowns, since the Postmedia human resources department fired him, although Torstar was to be the new owner. Canada's Competition Act makes it illegal for companies to conspire to reduce competition, with maximum penalties of 14 years in jail and a $25-million fine.
Eventually, Hammill would provide his termination papers to the Competition Bureau, providing evidence that helped it acquire and act on search warrants at Torstar and Postmedia.
The Tyee has obtained termination letters from three former Postmedia employees in differing departments on a condition of anonymity. All three letters shared timing, wording and intent. The Tyee is not able to compare them to Hammill's, which is being considered as evidence by the bureau, because its exact content has not been made public.
The termination letters from Postmedia obtained by The Tyee are dated Nov. 27, 2017 – the same day the deal to swap 41 newspapers was announced. Each indicates that Postmedia had "been advised" by Metroland (a subsidiary of Torstar) that the latter would "not require your services" at one of the publications which was soon to close. The closures are not specifically mentioned in the termination agreement.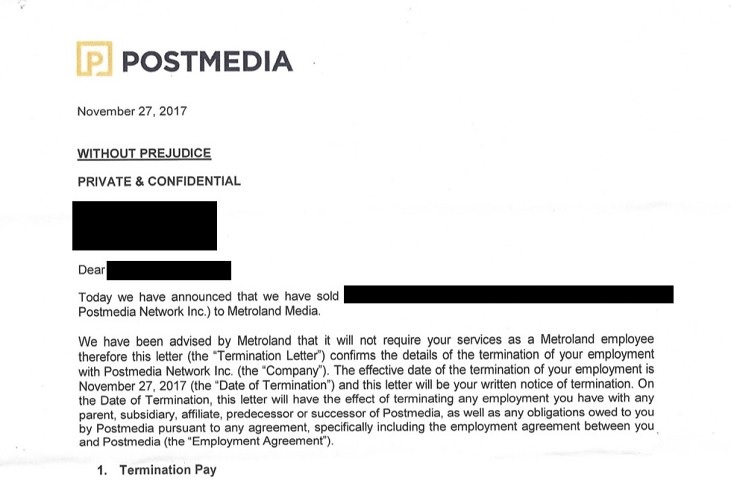 The Tyee contacted both companies for comment on the letters. Postmedia did not respond. A Torstar spokesperson wrote in an email: "Questions about statements or correspondence from Postmedia should be directed to Postmedia. We can only speak to our role in the transaction and we are confident that we conducted ourselves legally, ethically and in the long-term interest of the markets we serve."
Last year, when Godfrey was asked to defend Postmedia's closures, he spoke in dire terms. Tossing 244 employees out of work was a sacrifice to keep the corporation alive. "We are doing this to save the other 3,500 (Postmedia) jobs across Canada," he said.
Godfrey, whose corporation is owned by a U.S. hedge fund, went on to imply the government should be blamed for the closures because it hadn't acted on recommendations for assistance for media companies. (The government has since provided aid, including measures this month that include tax credits for news workers that could pour millions of dollars into Postmedia's operations.)
'We were clearly the lead product': Hammill
Initially Hammill took the firing in stride.
"I didn't actually have too much of a problem with the swap then," Hammill told The Tyee. "I understand business." Hammill now is director of advertising and regional publisher for the digital news company Village Media.
But he still questioned the decision to close the five papers, since the Postmedia group he worked for was doing well, he said.
In his managerial position, Hammill said, he had access to detailed internal finances, not just advertising sales. "I could see it all."
"The biggest shocker," he said, "was that in the Orillia market we [The Packet and Times] were clearly the lead product."
"As far as local ROP [ads in the paper] advertising it was certainly my impression that the Barrie Examiner had the lead there, too."
The two papers shut down were paid dailies, compared to their free weekly competitors.
But they had a big share of the ad market, Hammill said. "If you compared our Thursday to their Thursday, for instance, we had a lot more ads."
Yet Postmedia dailies — stronger journalistically — were closed, while the free community papers operated by Torstar's Metroland survived.
"We owned the real estate market, we owned the new-builder market. We were the lead in every piece of business other than inserts," said Hammill of the Orillia Packet and Times.
The Barrie Examiner had published for 153 years, the Orillia Packet and Times for 91. The 40 people they employed were wrong if they assumed that by competing more successfully in their markets, they were strengthening their job security.
Hammill acknowledged the surviving papers did carry a larger share of flyers.
Being a market leader with the most ad revenue does not necessarily translate to a higher profit margin, because wrapping a few pages of content around lots of flyers lowers costs.
Still, Hammill said, he understood the transaction as "business." He felt no urgency to share his doubts publicly until he saw Godfrey claiming, on Bloomberg BNN, that he had no prior knowledge that Torstar would close the newspapers it acquired.
"That's when I spoke up to the [Competition] Bureau," Hammill said.
Godfrey: 'We didn't know'
Godfrey was careful and direct in what he told BNN: "First of all, we didn't know what they were going to do. They didn't know what we were doing to do." BNN's headline on its site: "Postmedia CEO says he didn't know Torstar was going to cut papers as well."
"I must have seen the interview a dozen times," Hamill recalled, and each time he got angrier. So he contacted the Competition Bureau and shared his suspicious separation agreement. Although several others had come forward, he was told he was the only one willing to go on the record with his name.
Within a few months, the bureau was acting on warrants to search the two companies' offices.
The Competition Bureau's application to the court for the order revealed it is pursuing its investigation under the conspiracy provision of the Competition Act.
Cartel activity — or conspiracy — is notoriously hard to prove, as outgoing Commissioner of Competition John Pecman said in his last speech in the role around the time of the investigation.
He emphasized the need for reform on the handling of cartels, "the most egregious anti-competitive behaviour." Among his suggestions were revamping the process to speed enforcement after pleas are entered, and putting whistleblower programs in place with strong financial rewards.
"Simply put, the bureau's current cartel model is inefficient," said Pecman "and leads to poor outcomes." (Pecman is now a senior business advisor with giant law firm Fasken.)
Hard case to win: legal expert
Michael Osborne is a partner at Cassels Brock law firm specializing in competition law and editor of Canadian Competition Law Review. He told The Tyee that whether or not Postmedia or Torstar shut down a paper acquired in the swap made little difference to the fact that the deal handed both companies numerous monopolies where they had once faced competition.
As soon as the swap occurred, one party gained a potential monopoly in place by having control of both papers. By this analysis, the closures did not further reduce competition. "That's what I think is going to make this a difficult case for the Competition Bureau to succeed on."
Osborne suggested why the two companies likely structured the deal the way they did.
"This is a device to get around the problem. They couldn't lawfully agree to close a bunch of papers in each other's markets. That would be a conspiracy, a clear violation of Section 45 [of the Competition Act]. But they can lawfully agree to sell papers to each other in a bunch of markets and that would be analysed under the merger provisions."
Still, said Osborne, "the end result is the same." Large mergers that reduce competition can have "the same end result as a price-fixing conspiracy for example, yet we don't treat mergers as a price-fixing conspiracy."
Competition law is a poor means for protecting wider concerns of the public, Osborne pointed out.
"The funny thing about these newspaper cases is that the things people worry about – the loss of different voices, publishing platforms, editorial content – that's not relevant to competition law. Competition law looks at newspapers as vehicles for advertisements."
Since no cash changed hands during the deal, the companies avoided merger laws requiring them to alert the Competition Bureau ahead of time and await approval before completing it. The deal, nevertheless, must eventually meet bureau approval.
If the Competition Bureau decides to prosecute executives at Postmedia and Torstar for engaging in cartel behaviour, the penalties can be harsh, including prison time, Osborne noted. But in his opinion it would be a hard case for the government to win.
"I'm not sure that's enough to turn it into cartel proceedings," said Osborne. There is nothing in the law to require the companies to keep the newly acquired assets separate and functioning such that the deal could be reversed – the remedy to a deal the bureau doesn't approve. "They can start scrambling the eggs right away," said Osborne. "They have made merger remedy difficult if not impossible by closing the papers immediately."
After the swaps
At the end of June, Postmedia announced the closure of six more newspapers and layoffs aimed at cutting employees by 10 per cent, according to the Globe and Mail.
Torstar has made a few moves since the closures and layoffs, hiring 20 new reporters in May to its former Metro publications concentrated in western Canadian cities as part of a rebranding as a unified StarMetro. In June, it laid off 21 workers from the new StarMetro office in Toronto and moved production to Hamilton.
Postmedia board director David Pecker, the National Inquirer head who has connections to Donald Trump, has since stepped down from his role while Godfrey remains CEO.
The company where Hammill now works, Village Media, has hired 10 former Postmedia employees in the Southern Ontario region, he said.
"But there's still former Postmedia people that don't have jobs, so I feel for them. It's not my goal to have Postmedia go out of business," he emphasized. "I have friends who are still there. They've got poor management. Maybe they should get rid of the guy at the top and get somebody in there who actually knows what he's doing."
When the Trudeau government recently announced plans to give tax credits to subsidize labour costs at Postmedia and other news media outlets, Godfrey said, "I tip my hat to the prime minister and the finance minister. They deserve a lot of credit. Everyone in journalism should be doing a victory lap around their building right now."
Six days later Postmedia revealed Godfrey's $1.2-million bonus for 2018, which combined with salary and stock options brought his annual compensation to $5 million. The five top executives at Postmedia collectively were paid more than $10 million.