Where do you turn for help if you're fighting the Ministry of Children and Family Development over the future of your child?
The courts are complicated, costly and slow, lawyers are expensive and legal aid limited, as noted in the first part of this series. Navigating the system is a challenge for parents in British Columbia, many already struggling with poverty and other issues. For Indigenous families, whose children are eight times more likely to be apprehended, the challenges can be even greater.
The Ombudsperson's office is one alternative. B.C.'s Ministry of Children and Family Development has consistently ranked second or third for most public complaints since Jay Chalke became Ombudsperson three years ago.
And one aspect of the ministry's work draws the majority of them.
"I can certainly say that child protection in all its aspects would be the largest single area that we receive complaints regarding the ministry," Chalke said.
Only the Ministry of Social Development and Poverty Reduction received more complaints in 2017/18, coming in at 625 compared to the 555 complaints the office fielded about the children's ministry.
Chalke said his office typically fields 600 to 700 complaints and enquiries about all areas of the children's ministry per year. After weeding out general questions and issues better handled by internal reviews, about one-third, or almost 200, of those ministry-related complaints were investigated by the ombudsperson's office last year.
Generally, Chalke says, about 12 to 20 per cent of complaints about all public bodies are investigated. "That would be a little bit higher with respect to [the ministry] proportionally. But overall quite characteristic with what we do with most public bodies."
Under the Ombudsperson Act, Chalke's office may only investigate whether a public body has treated an individual in a fair and reasonable way — for example, whether ministry social workers follow up on promises to families in a timely fashion when it comes to things like sending a letter to a landlord to prevent the family's eviction from social housing during the temporary removal of a child.
"If we're of the view that a public body has acted unfairly, we're typically going to them to propose what they can do to make it right. In the vast majority of cases in that situation, the public body does implement the recommendation we propose," said Chalke. Ministries may also suggest their own solutions and, if the Ombudsperson agrees, implement those instead.
Chalke's office does follow up to ensure recommendations are implemented. In a case where a public body refuses to implement a recommendation, the Ombudsperson can report this to the legislature. But that hasn't happened in Chalke's three years on the job, he said.
Yet many child protection issues are outside the Ombudsperson's purview.
Proceedings under the Child, Family and Community Service Act involve the courts and are outside the office's mandate, Chalke said.
And it's difficult for families to get legal help in navigating the court process.
But that's starting to change, thanks to a planned expansion of the province's Parents Legal Centre, a legal aid centre dedicated specifically to child protection cases. The centre, launched in Vancouver in 2015, has three lawyers and one advocacy worker and provides legal advice, advocacy, and representation to families embroiled in child protection proceedings.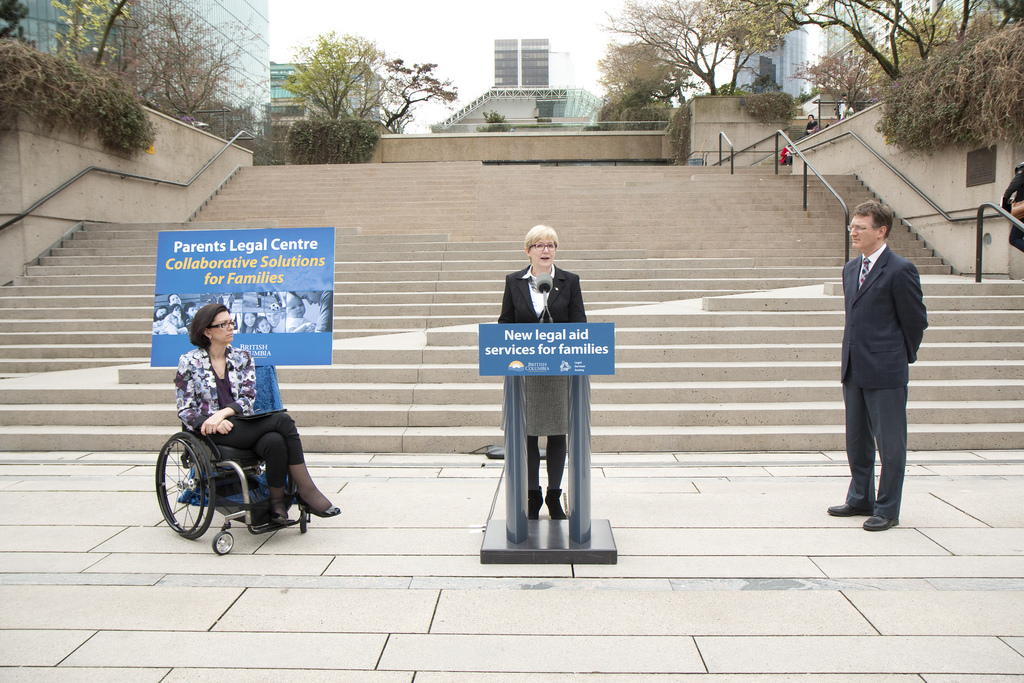 "Clients will come to us when they are under investigation, when they are experiencing some sort of contact with a social worker. We get involved as early as possible," said Katrina Harry, former lead lawyer with the Vancouver Parents Legal Centre. This summer, Harry was seconded to the Legal Services Society of BC, which operates Legal Aid, to help open new Parents Legal Centres across the province.
The centres not only offer legal advice and representation at initial child protection hearings, but services like finding housing and replacing lost IDs.
A large part of the service provided by the Parents Legal Centres is listening to families and recognizing their humanity, said Harry.
"We'd like to change the way the system looks, the way that it operates and the way that it feels for families. We want our clients to feel heard and understood, we want them to feel like they're managing their lives and their children's lives," she said.
"What I'd really like to be able to see this program do is to create that culture shift within social work about how Indigenous families are worked with."
A focus on Indigenous families
Parents Legal Centres are open to families of all backgrounds. But they fall under the Indigenous services department of Legal Services Society of BC and are "set up to value and promote Indigenous families," said Harry. Almost half the clients at the Vancouver office are Indigenous.
This makes sense when you look at the province's child welfare statistics: almost two-thirds of the 6,490 kids in care are Indigenous. So are the parents who are trying to get them back. But the majority of social workers are white, which can lead to miscommunication and misunderstandings that Harry said the centres can help resolve.
"A lot of time we're able to break down the barriers because the client feels as though they're being spoken down to," said Harry, a member of the Esk'etemc First Nation near Williams Lake, B.C.
"A large part of what's happened in our clients' lives is based on trauma, and it's trauma from all the historical things that have happened to Indigenous peoples — talking about the residential schools, the Sixties Scoop. And the ongoing impact from that, we see that in our clients and we try to bring that context when we're representing our clients."
Another factor in the majority of cases that come through the Parents Legal Centre doors is poverty. Partly that's because parents with money can hire their own lawyers to take on the children's ministry. But it's also because poverty — under the guise of neglect — is why many kids are taken into care.
"I can't say it's all poverty driven, but it's a large part of it," said Harry. "Our clients are under a tremendous amount of stress — anyone who's done the Welfare Food Challenge knows what that's like and how that affects your mentality. So it's complex. Our clients are facing a lot of struggles."
Because the centres are Legal Aid offices, parents can apply for legal aid there. Currently there is an office in the basement of the Vancouver Provincial Court and another that opened in Surrey in January. New centres will open in Campbell River, the Smithers-Hazelton region, Prince George, and Duncan in November, while centres in Williams Lake, Kamloops, and Victoria won't open until sometime in 2019.
The new locations help fulfill one of the recommendations from Chief Ed John's 2016 report on the province's child welfare system.
That report, done after the centre had operated for less than two years, noted that half of their clients were referred by their ministry social workers; half sought the centre's services before an apprehension; and cases were resolved much faster than they had been before the centre opened.
Since it opened in February 2015, the Vancouver office has been independently evaluated by Prairie Research Associates annually.
All three reports indicated the Parents Legal Centre was living up to expectations by increasing collaborative solutions to child protection issues and connecting clients to services from other providers that could help them improve access to their kids.
The sole critiques were that some families remained unaware of the service, while others were waiting until the day of their hearing before seeking help. The evaluations also noted the concern that the legal service could take away work from lawyers in private practice.
The total annual budget for the nine locations this fiscal year is $7 million, entirely funded by the Ministry of the Attorney General.
In contrast the Ministry for Children and Family Development spent twice as much last year on legal services related to child protection, up from $13 million in 2016/17 and $11.9 million in 2015/16.
Limits to help
Parents Legal Centres only work on uncontested cases, where parents or guardians are willing to work with the ministry to get their children back. This includes both legal options and alternatives like mediation sessions and family planning with the ministry.
The centres can assist with presentation hearings, where the ministry explains to a judge why the child was removed from their family. Those must happen within seven days of the apprehension.
It can also be involved in protection hearings, which must happen within six weeks of the presentation hearing and a judge then rules on the ministry's request for the next step. There are a wide range of options: returning the child to family; a supervision order allowing the child to remain with their caregivers or another family member under ministry supervision; an interim custody order, where kids go into foster care; or a continuing custody order placing the child into permanent government care.
Harry said the majority of child protection cases are uncontested. Caregivers who want to challenge the apprehension during the presentation hearing are referred to a tariff or contract lawyer, also made available through Legal Aid.
If the caregiver wants to challenge an order made at a protection hearing, there will be a case conference with the ministry and Parents Legal Centre lawyers where the judge acts as a mediator between the parents and the ministry. Centre lawyers can also be present during family planning meetings and other forms of mediation between the two sides.
"Ninety-eight per cent of [Parents Legal Centre] work happens outside the courtroom," said Harry.
But if no agreement can be reached, caregivers who want to take their fight to court must get a lawyer through Legal Aid, as Parents Legal Centre lawyers don't work on contested cases.
Harry said she has heard parents say they want their day in court, even if it means their children are removed from their care. But they ultimately choose to seek other solutions.
"I've never actually had someone do that, nor have I seen it."
According to the 2017 evaluation, 38 per cent of closed files were closed as a result of a completion of services. However, 36 per cent of files were closed because clients found new Legal Aid counsel, indicating they were unable to resolve the issue through collaboration and headed to court instead.
Unlike Legal Aid lawyers, who often have just a few hours to meet clients and review their case before going to trial, there are no time limits on how long a Parents Legal Centre lawyer can spend on a family's case.
With just three lawyers in the Vancouver office, each taking on 40 to 60 clients at a time, many cases are finished quickly.
"We'll keep our files open for a period of time even after there is no ministry involvement, in case that person does need our supports," Harry said.
Often that support comes via the office advocate. Every Parents Legal Centre has an advocate available to help clients in ways that go beyond legal assistance. Advocates can go with parents to meetings with their social worker and advocate on their behalf, or to assessments or medical appointments. They can answer questions parents may be too scared to ask the social worker, like about drug or alcohol treatment and help families find housing.
It's part of the wrap-around services of the centre. Harry stresses their importance in letting the lawyers get to know their clients better and helping parents get their kids back and keep the ministry out of their lives in the future.
"For example, somebody is going to fall on hard times because they've lost their ID and they can't get on Income Assistance, and then all the other pieces of their lives [unravel]: they end up getting evicted, they can't get their child to school on time because they can't afford bus tickets," she said.
"Instead of waiting for that cascading impact to affect the clients' lives, we're able to provide those supports."
The advocates also help relieve the burden on social workers, who are often relied on to help families find housing, bus passes, food vouchers, and other forms of socioeconomic assistance, Harry added.
A former tariff lawyer whose area of practice included child protection, Harry feels that she can have a bigger impact on reforming the child welfare system for Indigenous people through her work with the centres.
She's hoping for more changes to the system, like supporting band involvement in hearings to show support for families, particularly the presence of Indigenous elders in court, and more collaboration and consensus between all sides outside of the courtroom.
"Consensus doesn't necessarily mean everyone must agree, but that everyone's position is heard and respected," Harry said.
She personally believes such changes could have impacts beyond child protection cases.
"Child protection, as an aspect of law, is the place where we have the most opportunity to have Indigenous culture represented and improve how Indigenous people interpret the legal system."
In the last part of our series, coming soon on The Tyee, we focus on the Cowichan Valley where child apprehension rates are twice the provincial average, and introduce you to an Indigenous women-led grassroots movement to make the Valley a "no apprehension zone."