Going to bed each night was a major challenge for Kirstin Cooper and her partner Daryl Brown. They are homeless and live on the street in Vancouver.
"It takes me half-an-hour to set up all my stuff," Cooper said. "Just when I set everything up and crawl into bed and am just about to pass out, a security guard yells, 'Hey! You can't do that!' And I'll have to put all my stuff back after I've taken everything out. There have been a couple nights where we do this four times."
People you see in your city lying on the sidewalk or nestled in the doorway of a building are often doing something critical for their well-being: sleeping. But many don't get the sleep they need.
Sleep is a universal challenge for the housed and homeless alike; more than half of Canadian adults said they don't sleep well, according to a 2017 Statistics Canada report. Research tells us poor sleep can impact our physical, emotional and mental health, contributing to stress, obesity, poor diets, unproductiveness, psychosis and increases in aggression and violence.
Last year, Vancouver's regional count found 3,605 homeless people. Forty-five per cent of them were living outside. The rest were couch-surfing and in shelters, hospitals, jails and detox or warming facilities.
The sight of the region's unsheltered population trying to find sleep is common. Some might be on the bus, in a mall or the library. Some have a sleeping bag or blanket and curl up by or on a vent outside. Some choose the sidewalk near the road, away from private property, so building security won't wake them up and ask them to leave. Some know buildings or public spaces where they won't be disturbed. Being on the street also allows them to put out a container to try to collect some cash from passersby.
But this is by no means adequate sleep.
"I think the only decent shelter for the homeless is a place with a door or roof and heat," said Patrick Condon of the University of British Columbia's School of Architecture and Landscape Architecture. "In other words they would have a home. Any comment that rationalizes solutions short of that is hard to contemplate."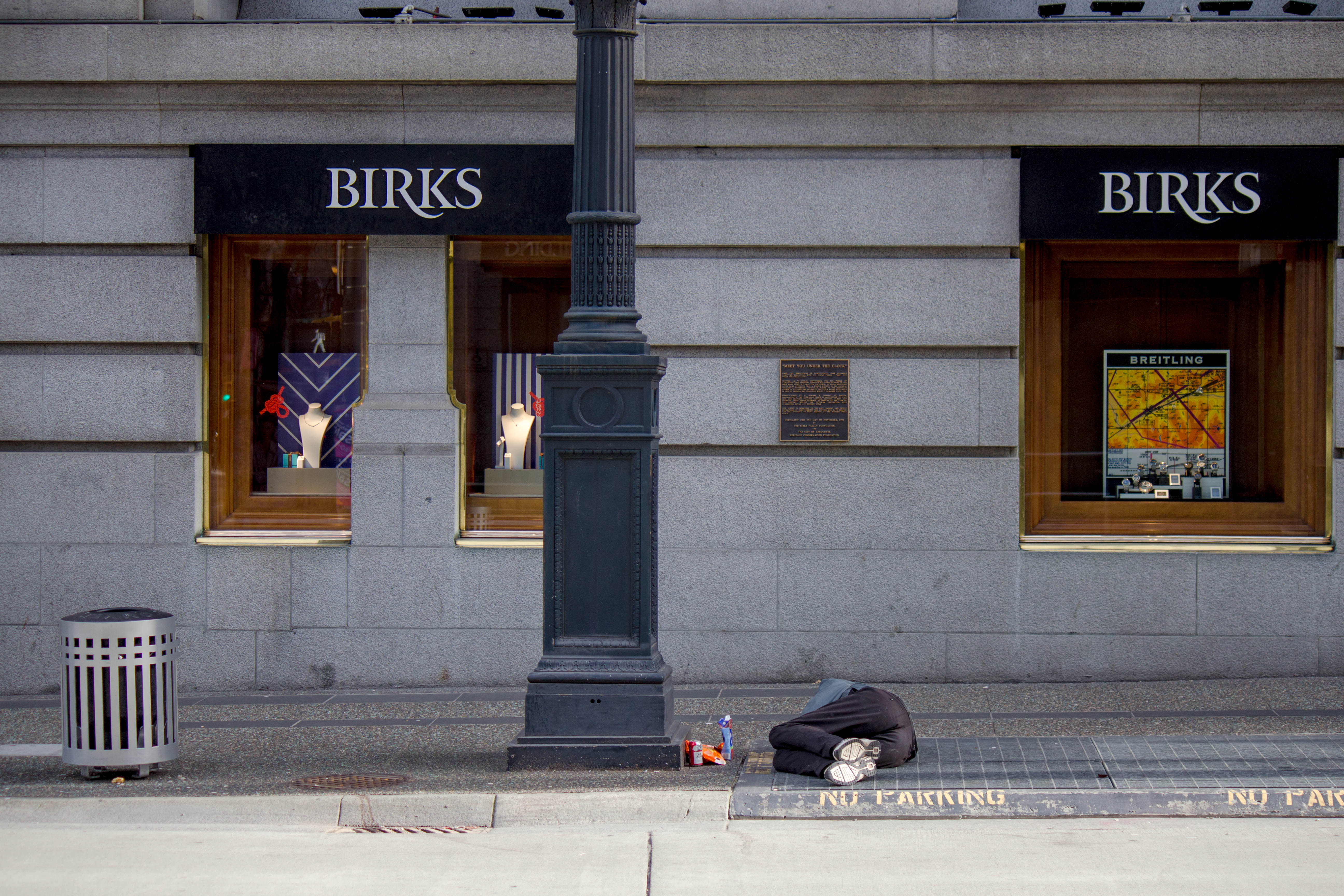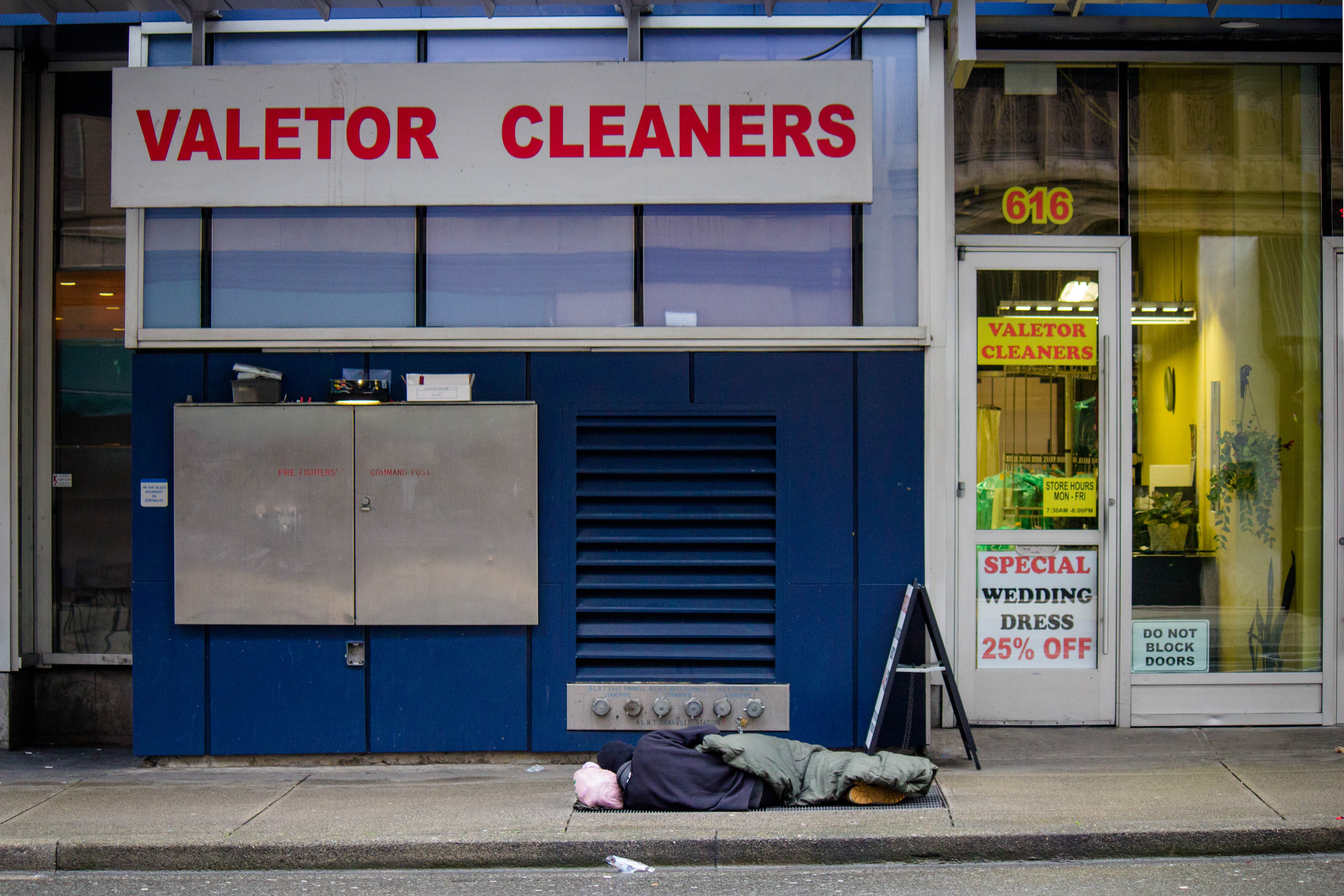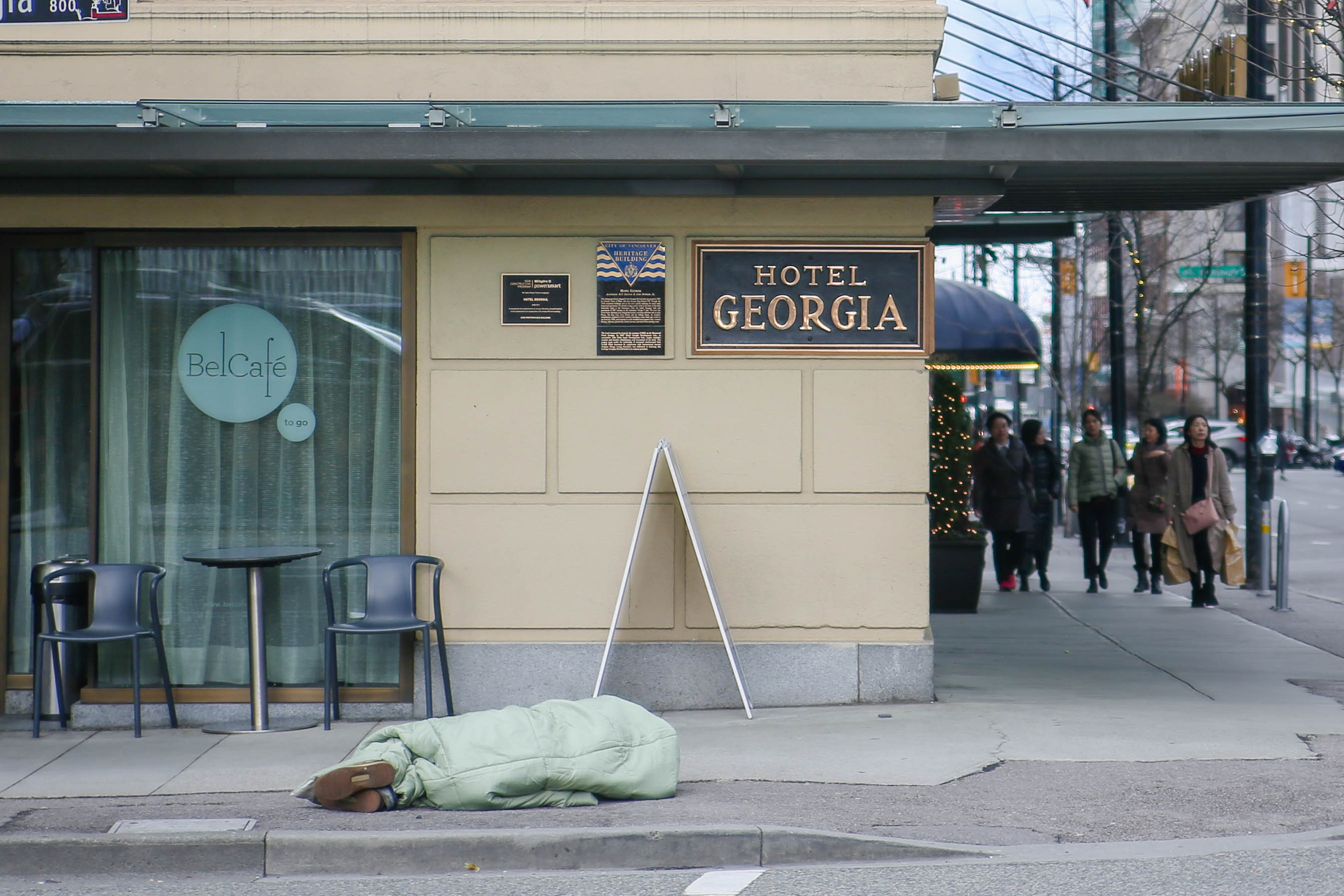 There is a marriage between housing and health. Poor housing, let alone lack of housing, perpetuates poor health. Good housing, therefore, is good health care.
Some cities have adopted a "housing first" approach to combat chronic homelessness. This strategy argues that individuals need the stability of shelter before other needs are addressed, and in a co-ordinated effort. According to the Medicine Hat Community Housing Society, it costs city services up to $134,000 a year to interact with a single homeless person but only $34,000 for supportive housing.
This year, the provincial NDP government is providing about $383-million for emergency shelters and housing for an estimated 15,400 people who are homeless or at risk of homelessness.
According to BC Housing, over 4,400 applicants of the Supportive Housing Registry and over 17,423 households on a registry for affordable housing from co-op and non-profits were waiting for a home as of March 31.
People sleeping in the open air in urban areas, in parks or in places or structures not designed for habitation have been called rough sleepers.
Security guards, passersby, noise, weather and the need to find a washroom can interrupt rough sleepers. They also risk assault and robbery.
"I've had two violins stolen, food stolen, blankets stolen," Cooper said. The violins are important because she busks on Vancouver's busy Granville Street. Cooper, originally from Prince George, is 24 and has played the instrument for 18 years.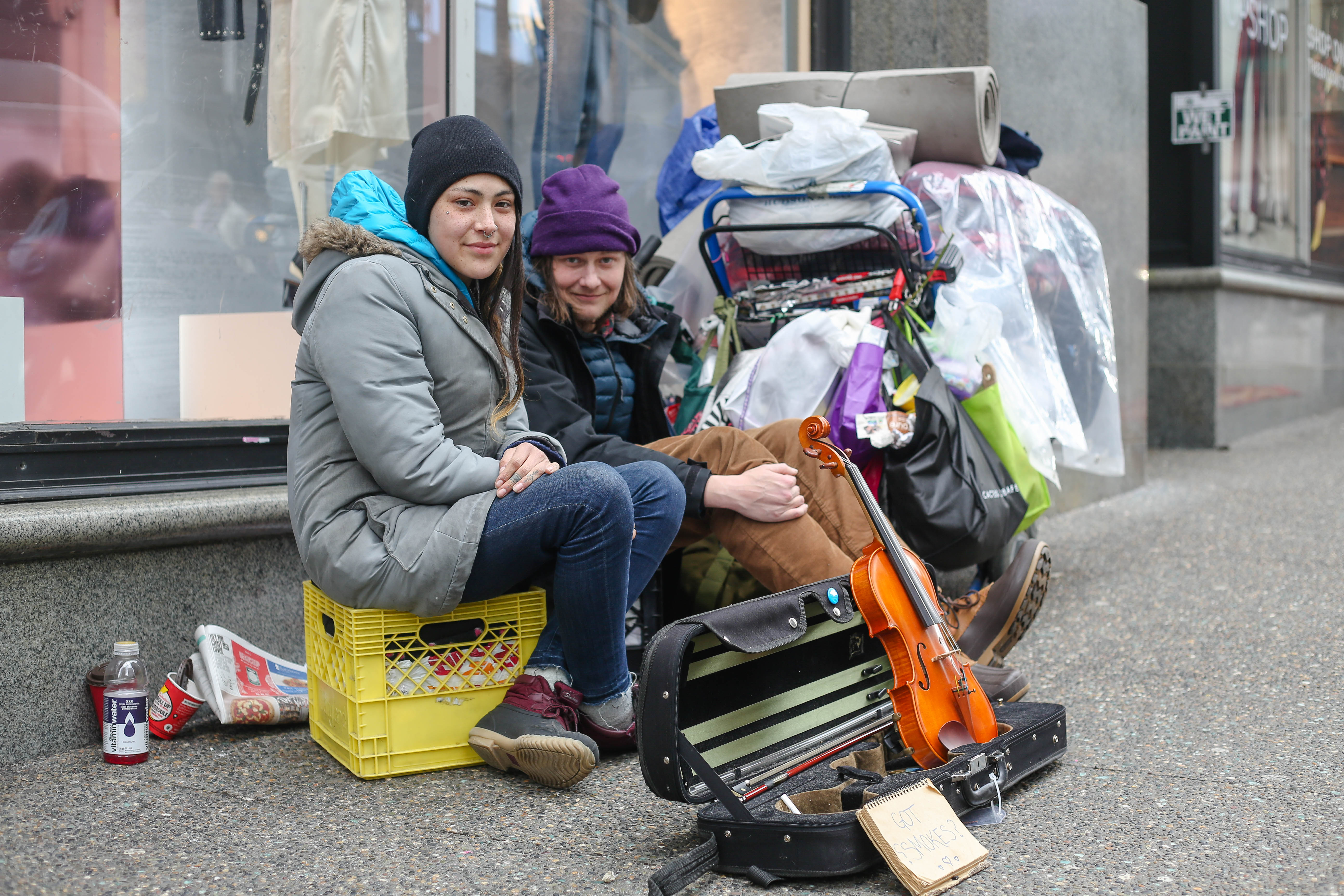 Despite the challenges, outdoor rough sleeping is chosen by many people who don't want to stay in a shelter. There are many reasons why: they're disabled and it's hard to find an accommodating shelter where they are, they're too proud to do so, they don't want to give up their privacy, they don't want to surrender alcohol or drugs, they fear theft or assault, they worry about getting sick from others, families might be separated and pets may not be welcome.
"Some people will prefer to be a place that's really public because they're fearful for their safety, especially women," said Jeremy Hunka, a homeless advocate and spokesperson with Union Gospel Mission in Vancouver.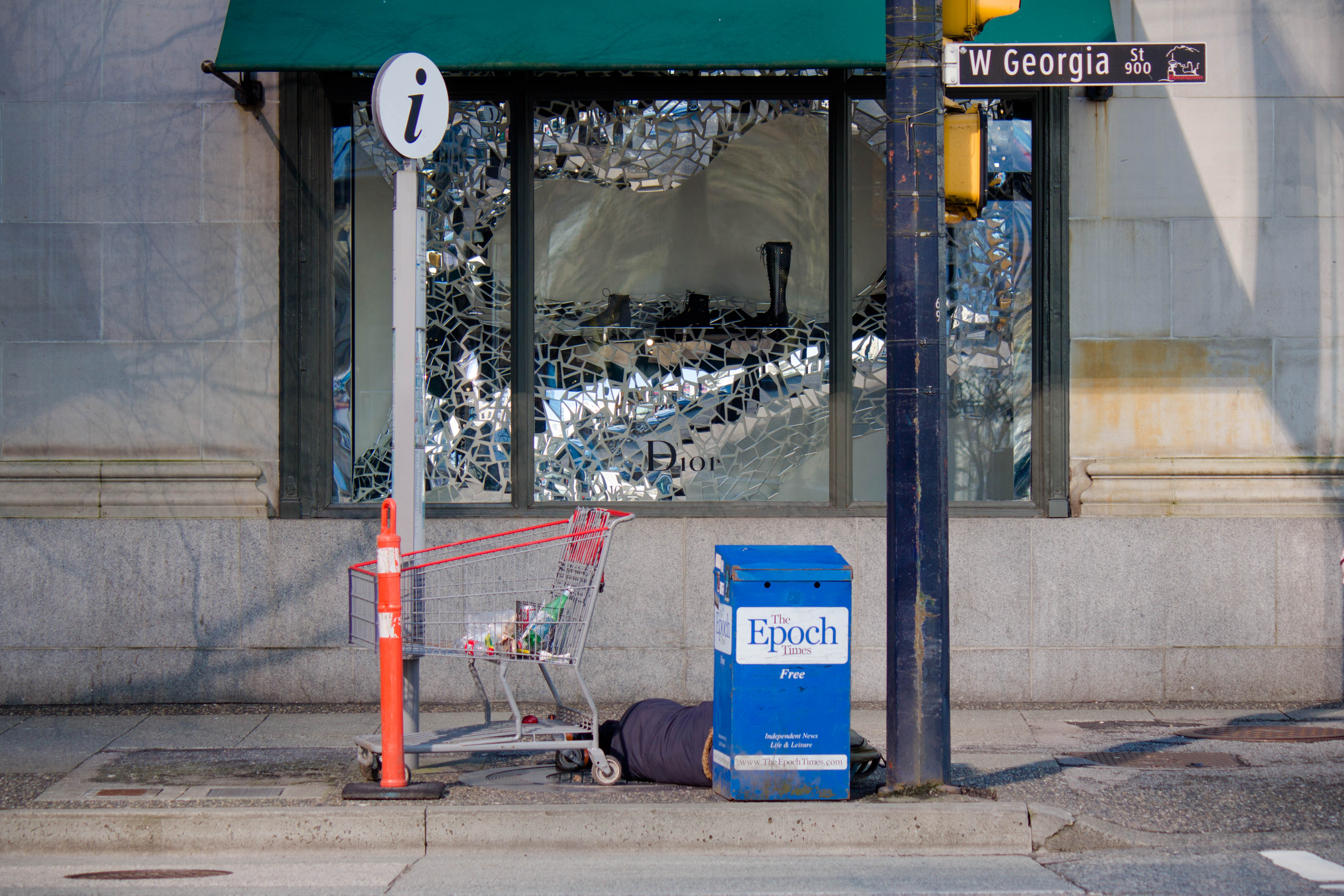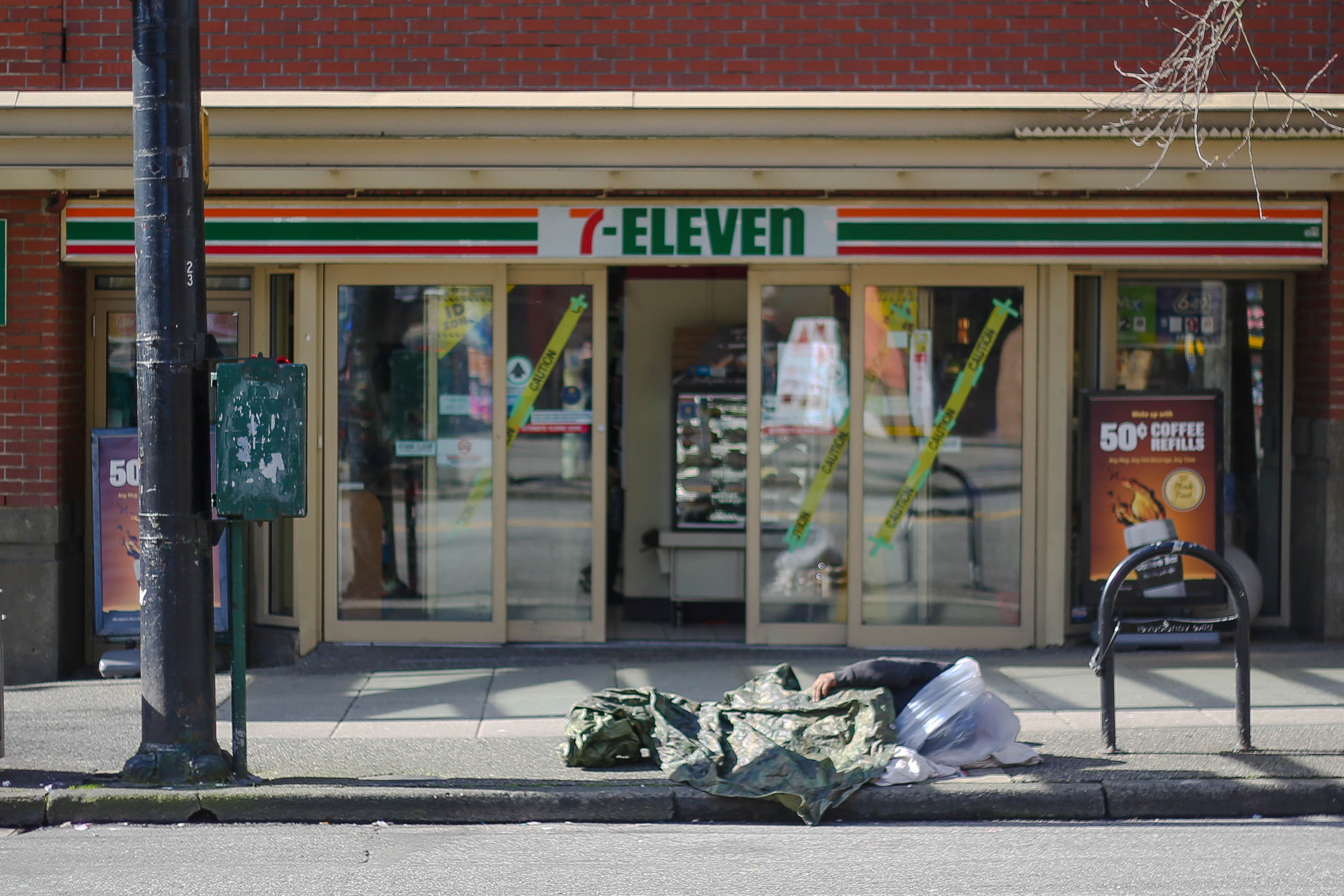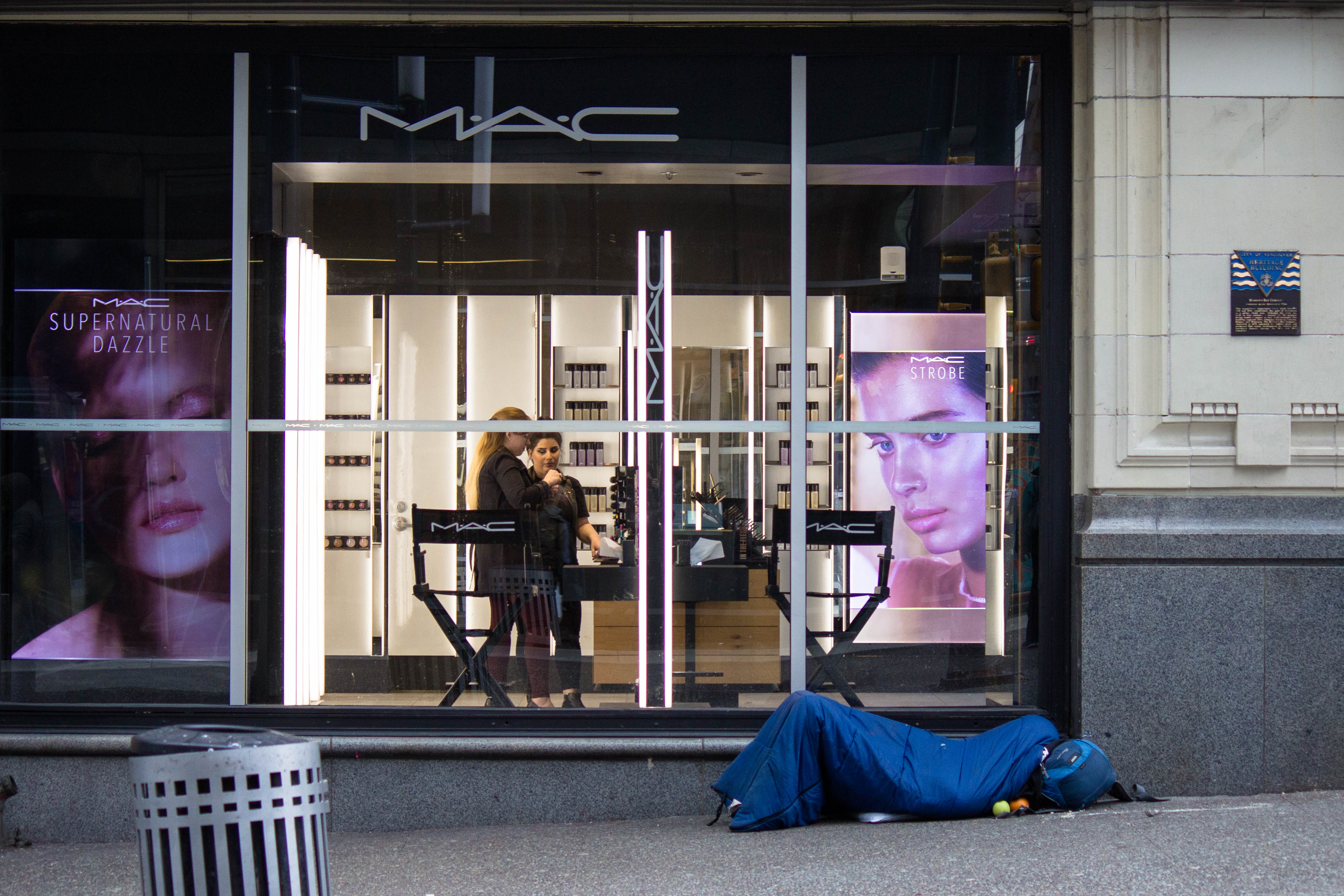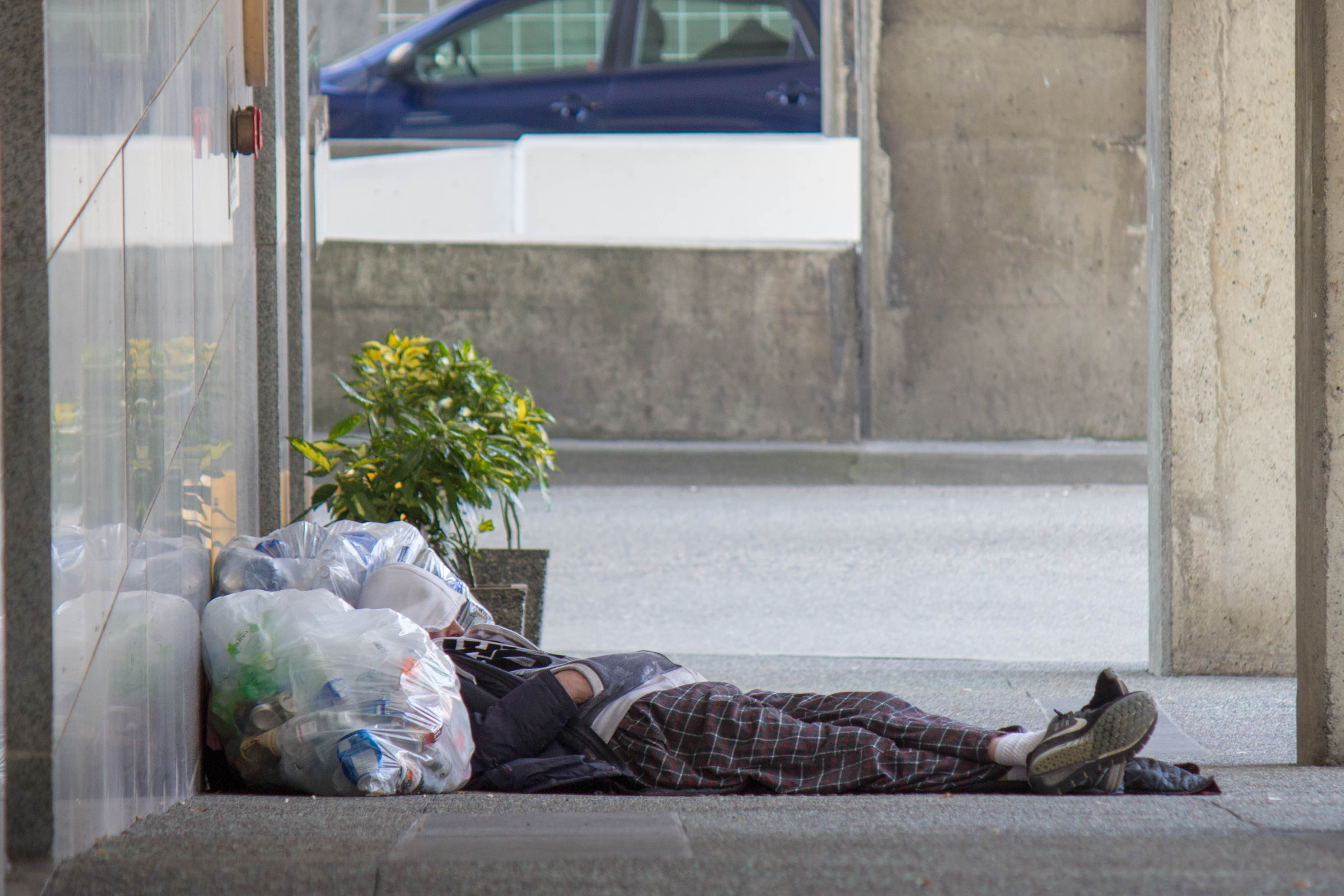 There's also the opposite: people who sleep outside but in a location where they can avoid being seen, from large parks to squatting in buildings.
UGM's Mobile Mission — a team in a rescue vehicle that seeks out homeless people to offer food, warm clothing and encouragement — has found people in all sorts of places.
"Under bridges, down alleys to actual wooden structures," Hunka said. "I've seen people sleeping in a treehouse off the ground. It was incredible to see the amount of technical expertise.... When people go into survival mode, you'll be surprised at some of the ways they try to stay safe."
He says some don't like being seen for a simple reason: the stigma of being homeless.
For Cooper and Brown, homelessness began when their home in Kelowna burned down and they started living in their car. They were planning to stay in Vancouver for a bit, their stepping stone on their way to tour the U.S., since Brown is a comedian and musician.
But Cooper didn't get her passport renewed. Insurance on the car ran out. And after three months of unpaid parking tickets, on Thanksgiving morning, officers came knocking on their car window and said the city was impounding the vehicle.
"So we started from scratch," Cooper said.
They accumulated blankets, sleeping mats, tarps and shower curtains to brave the rain and cold and try and get a good night's rest. They carried their things around on a wheelchair, with milk crates and duffel bags — all held together with a bike lock — for storage.
Containers with wheels, like luggage or shopping carts, are commonly used by the homeless for mobility's sake.
"They could be carrying everything they have with them, from really precious mementos to their IDs and documents," Hunka said.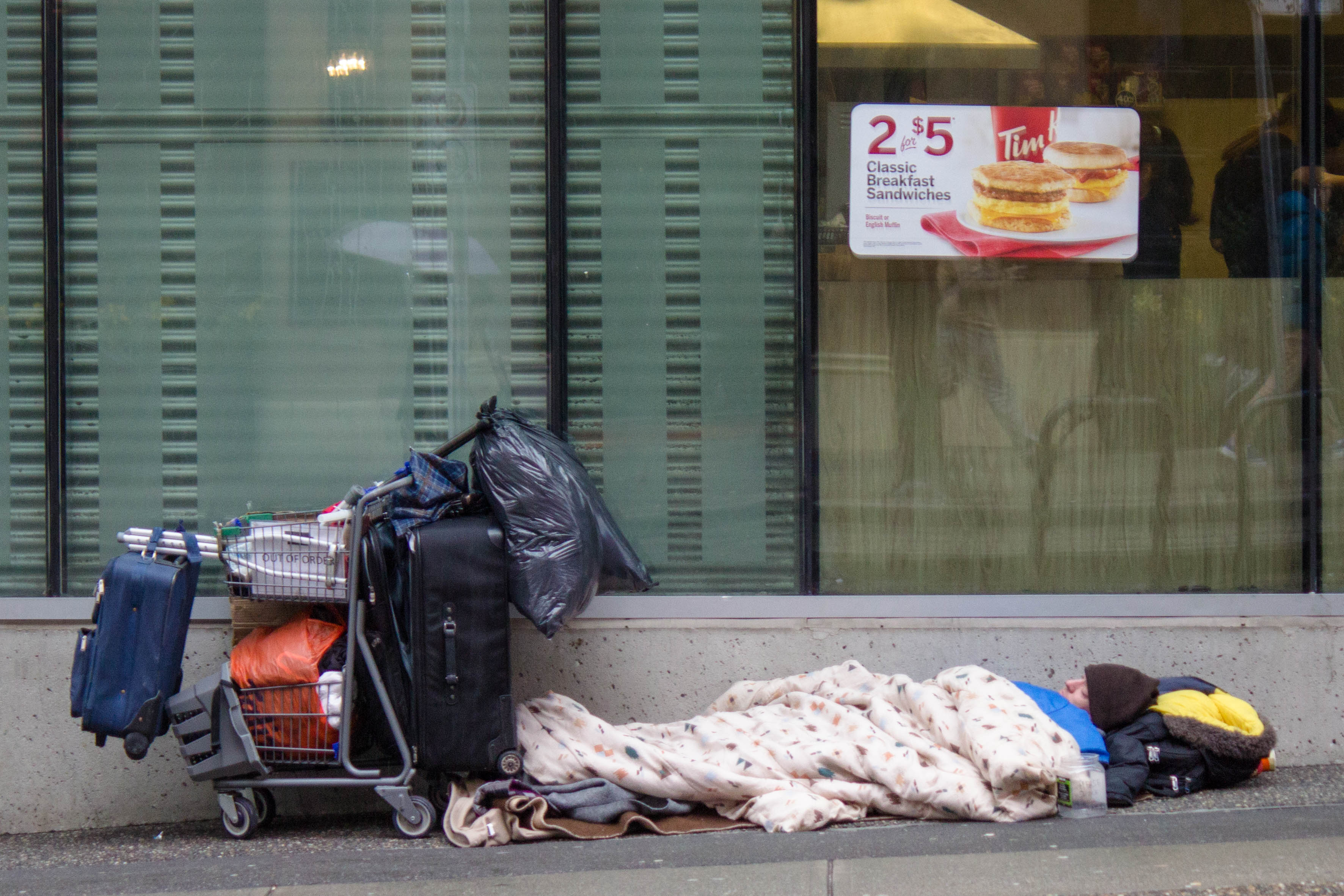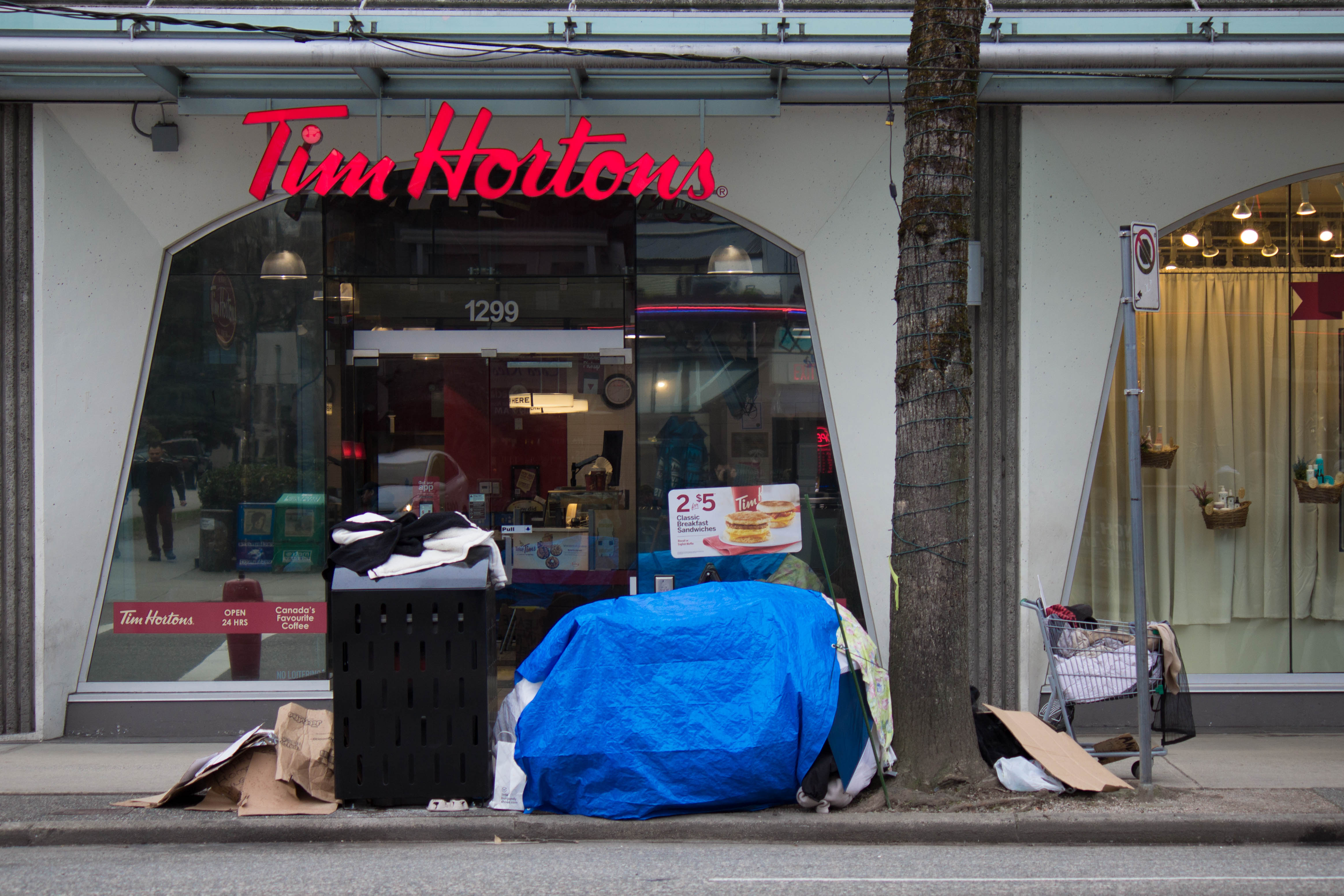 Because of mobility challenge with belongings, it's a hassle when a homeless person is asked to relocate, as Brown shared. But Hunka says there's another effect.
"There are a huge number of reasons why somebody is homeless. It's not because they're lazy. It's not because they enjoy being homeless. It can be serious things that range from health crises, personal trauma, mental health, grief, a financial crisis.
"When you're in a spot and you're told to leave, that will only further push you on the margins of society. You feel more unwelcome."
Cooper has seen both sides from her time on the street.
"There was this one incident when I was busking at Tinseltown in front of Tim Hortons. Some 40-year-old guy was super drunk and started calling me out. It was after a hockey game. And he just started saying the most atrocious things I've ever heard for no reason. I didn't do anything to him. But he was just like, 'You're disgusting. You're homeless. You're a disgrace. I'm going home to a nice warm place,'" she recalled.
"It was really sad. I don't know how I deserved that. I was just sitting there playing my violin."
Five months ago, they found a place to sleep that they could return to: a restaurant patio.
"It's all tarped up," Cooper said. "I just kinda stumbled upon it and was able to build a relationship with the people at the restaurant. As long as I'm out of there by the time they start setting up, it's cool."
Cooper and Brown often spend daytimes by the Hudson's Bay downtown. Cooper plays the violin. Brown sometimes draws. At night, they return to the restaurant when it closes.
"I like to think that I'm trying to make it work in this situation," Cooper said. "But it's not forever."