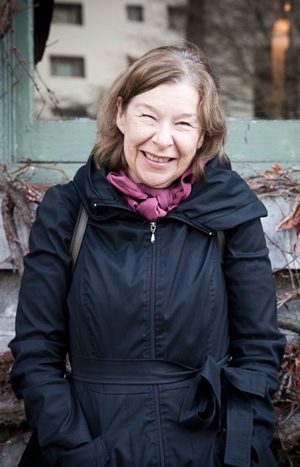 Vancouver's first, only, and former homeless advocate has her sights set on city hall once again, but this time it's to fill a council seat.
Judy Graves, who retired in 2013, had a 33-year career with the City of Vancouver in working with its homeless population and was awarded the Freedom of the City award in 2014.
She is now running with OneCity Vancouver in the upcoming byelection to replace Vision Vancouver's Geoff Meggs.
Meggs stepped down this month to become chief of staff for NDP premier-designate John Horgan.
From 2010 to 2013, Graves was the city's appointed homeless advocate. When she left her position in 2013, the homeless count had fallen to 1,600 from a 2010 peak of 1,715.
She said she plans to run in order to help deal with the now 2,138 people without a permanent home in the city, according to the last Vancouver's homelessness count.
The Tyee caught up with Graves to find out more about how she sees herself fitting into the role of a municipal politician.
Tyee: Why run now? What motivated you to run?
Graves: I'm running because everywhere I go in the city, and I mean grocery stores, dog parks, schools grounds, at church, in the library, people are talking about feeling like they're being pushed out of the city by escalating rents, a loss of rental, by just sheer affordability problems in Vancouver. I think we've got a developer-driven city, and I need to give a voice to people who've lived here for years and want to stay and are angry and hurt and grieving that they're being pushed aside.
How did you come to decide to run for OneCity?
OneCity has been approaching me for a number of years, but I was always so happy doing what I was doing I didn't want to change. But now I'm four years into retirement, and I haven't had a chance to rest. Really, when they talked about it, the feeling about an opportunity to focus and get something done was overwhelmingly appealing.
As the city's former homeless advocate and having focused your energy on that file, how do you intend to appeal to a broader voter base?
I think the issue is homelessness has a cause, and when we see homelessness growing it is because other people are being displaced first. So when people can't buy, they rent and we've got a limited rental stock here. When people can't rent places, they move down and rent shabbier places, and when they can't afford those they start moving into the [Single-Room Occupancy hotels] in the Downtown Eastside and displacing people who then become homeless.
I would really like to work upstream where the problem starts, where the people [with higher incomes] find themselves evicted by high rents — is it because perfectly good housing is being torn down to make a condo?
What do you hope you can do in a council seat that you couldn't do as the city's homeless advocate?
The issues are broader. And I will get to deal with the upstream issues that are impacting everybody in Vancouver. My daughter and her husband are well-educated, well-paid professionals and they've moved out of Vancouver because they cannot afford to stay in the city — and that's not an unusual story. Their friends are also leaving the city. People are finding it unaffordable to raise children in Vancouver. This is not the kind of city that we want.
What would you do as a city councillor on the issues you care about most that isn't being done already? How would you do it differently?
There are policies that cities can adopt that make it possible for people to live in the city, to have stable neighbourhoods, to have flourishing small businesses, and it's just that they're not being done here, but they are being successfully done in other cities. I would like to see those policies adopted in Vancouver. I will be giving a constant pushback to city council. There's inclusionary zoning, and it's just a fancy word for when they build a new building they insist the developer put in 20 per cent of the units at a rate that can be paid within 30 per cent of a normal working person's income.
What are your goals as a city councillor?
My goals would be first to give a voice to the majority of people in Vancouver who want to stay here and want to work here and want to prosper here. My goal will also be to of course end homelessness, and my goals in the short-term will be to bring the people who are feeling isolated and alone and feeling like they're the only ones who can't afford and can't stay in the city, I really want to bring them together to push back.
I think Vancouver is at a crossroads now, and if we don't stop we're going to become a city like San Francisco or London, where it's been entirely defined by the developers; neighbourhoods losing character, heritage is disappearing, children are no longer being raised in the city. And that was never our dream for this city. It was never a dream for Vancouver.
How do you think Vancouver council has handled its community of people experiencing homelessness and poverty? How would you like to change that?
You know, when Vision was initially elected I was filled with hope. I really thought they had the determination to do it. By 2011, they lost interest. The homeless count went down and they stopped doing things that needed to be doing. Worst of all, they're not stopping homelessness. They're allowing buildings in the Downtown Eastside to deteriorate, fill with wood rot... When we heard about the building burning in London, I had nightmares of what would happen in the Downtown Eastside. And this is inexcusable. This is the normal work a normal city should be doing, making sure its buildings are safe. If we want to prevent homelessness, we must at least protect the buildings that people are living in.
What do you think about potentially being the only OneCity councillor on council?
I'm not concerned. I know that because I was the only homeless advocate for a long time, and I know that it's just a matter of determination, and consistency, and persistence — and those are all qualities that I have. It's just a one-year term because of the byelection, it will be one year and one month. I expect in 2018 OneCity will have many representatives on council.
If you win, do you see yourself running again in the next election?
Yes.