The image of the lonely, pyjama-clad freelancer toiling away at home has become a cliché in the modern working world. And it's one that the coworking community wants to change.
In practical terms, coworking spaces give self-employed people somewhere to work other than a dining table or a coffee shop. But many strive to provide their members with more than just a rented desk.
Now, coworking has become a worldwide movement that offers solutions to broader problems facing the growing number of independent workers.
As the labour market continues to shift from one where companies hire full-time permanent employees to one where they're more likely to take on freelance and contract workers, perks like benefits, pensions and job stability are hard to come by.
While governments struggle to adjust employment laws to fit the changing nature of work, coworkers aren't waiting around for policy to catch up to their reality.
"Coworking in general is serving the needs for a lot of the independent workforce,said Ashley Proctor, the Vancouver-based executive producer of the Global Coworking Unconference Conference.
When she first started thinking about the benefits of coworking 15 years ago, she said, there were fewer than 10 coworking spaces in the world.
"There are about 8,000 spaces now," she said. "And by 2020 we're going to see about 50 per cent of people in the position where they could access a place like that."
At The Tyee's recent forum on work, (In)secure: The Future of Working, Proctor listed a few of the ways the movement is evolving to solve problems arising from increasing work precariousness.
From reducing the isolation experienced by freelancers to providing opportunities for professional and personal collaboration, Proctor said the coworking movement is filling gaps left by the steady retreat of traditional employment.
Within coworking spaces, groups of people band together for mutual support. For some, that might mean pooling resources and sharing expensive equipment. For others, coworking helps with work-life balance.
"Coworking can have benefits for women in caregiving roles," said Proctor, who has spent the last 15 years launching coworking communities in Toronto and, more recently, in Vancouver.
She described groups of mothers in some coworking spaces that co-operate to help each other with childcare needs, taking turns to pick children up after school.
The flexibility of self-employment already benefits parents trying to juggle work and childcare, allowing for flexible hours and adaptable schedules. In coworking spaces with strong communities, there are opportunities to create further supports.
"It's empowering," said Proctor. "It allows them to be more flexible."
During an interview with The Tyee, Proctor was skeptical that provincial or federal governments will act to give the increasingly fractured workforce the support it needs.
"I'm hoping that there will be some accountability and to see some government support and see them really step up and take this on as a serious issue," she said. "I would love that. But I'm not counting on it."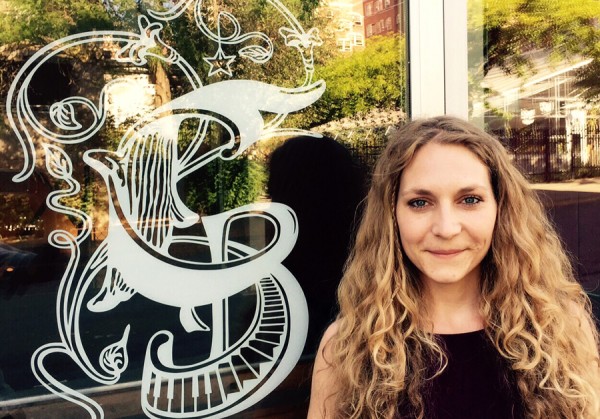 In the meantime, coworkers are solving their own problems. Proctor said the needs of coworking communities vary from city to city.
Some poll their members regularly to find out what they're lacking. Then they set out to solve those problems. Proctor's coworking health insurance plan COHIP emerged from these kinds of problem-solving efforts.
As executive producer of the GCUC, Proctor travels internationally to conferences — there's one scheduled for Vancouver this October — that explore the issues facing independent workers and the future of work.
Members of coworking spaces, says Proctor, have slightly different priorities in different cities around the world. But she sees one common goal in all of them.
"The aims of the coworking movement are very much about creating community," she said.
One of Proctor's newer projects exemplifies those aims. When Vancouver's 312 Main opens this fall on the corner of Main and Cordova Streets, it will be the largest coworking space in Canada.
Proctor, executive director of the space, says it will support existing non-profit organizations in the Downtown Eastside and help build ties between them.
"It's quite an ambitious project. Because it's so focused on social innovation it gets a lot of attention, but I feel like the smaller locally-driven and -led initiatives, which is my background actually, are the ones that are having the most effect in the community," she said. "There's a really vibrant coworking community in B.C. already."
Melissa Hope is director of operations of Vancouver's not-for-profit coworking and community space The Hive. In the two and a half years since she's been with The Hive, Hope said she's seen the coworking community in Vancouver grow.
"There's been a growth in the variety of coworking spaces available and the number of spaces as well as the awareness of it amongst both non-coworkers and coworkers," she said.
Recently, a group of the spaces around the province banded together to form a collective called Coworking B.C. The organization is still working out its mandate, but ultimately aims to promote the concept of coworking and build the movement.
Hope has been involved in the creation of Coworking B.C. and says the challenge is still awareness. Despite the fact that some of B.C.'s coworking spaces have existed for nearly 10 years, a lot of independent workers don't know they exist.
"I think that to some extent coworking just has to advocate for itself and learn how to spread the word further," said Hope. "Hopefully, together we can do more."
The benefits of coworking, say its leaders, are well worth the price of membership. Proctor acknowledges that coworking can boost productivity and income, but she says the financial advantages aren't the main benefit.
"Coworking increases productivity and happiness," she said. "Happiness is the number one thing that we've heard from members across the world. People are more healthy, more productive, happier. It's not just about work."