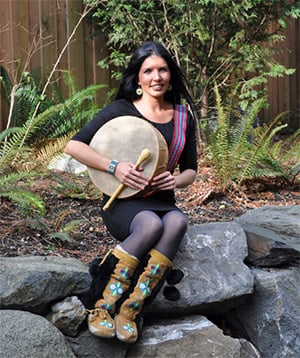 When Kwantlen Polytechnic University criminology professor Lisa Monchalin visited Indigenous studies programs at other post-secondary institutions in British Columbia and Alberta with a mind to create Kwantlen's first Indigenous academic program, she was advised to "stick with what you know": justice.
Today, Kwantlen is launching the fruits of Monchalin's research and consultation with academics and Indigenous community members: a new arts minor in Indigenous Community Justice.
The university's first Indigenous academic program, the minor has been in the works since 2013.
Indigenous Community Justice will focus on defining Indigenous justice, as well as examining Indigenous practices for achieving and delivering justice, community structures, governance models and how they interact — and sometimes clash — with the ideals of Canada's justice system.
The program will also take a critical eye to the Canadian system and the "political, economic motives behind the state apparatus," Monchalin said, as well as engaging with Indigenous scholarship on the topic.
A program focusing on Indigenous justice makes sense for Monchalin, who is of Algonquin, Métis, Huron and Scottish descent, as she's already developed and taught Kwantlen's popular Indigenous Peoples and Justice course.
"Every term I offer it, there's a waitlist," she said, adding after the first term she had eight students sign up for directed studies to further explore course elements she didn't have time to expand on. "So many students were like, 'We want more! We want more!'"
The new minor is interdisciplinary, meaning it draws courses from several arts departments including sociology, criminology, anthropology, history and languages.
Courses include Indigenous Peoples and Justice, Indigenous Activism, and Introduction to Indigenous Studies — taught by Kwantlen alum Melinda Bige, who as a student helped Monchalin hold Indigenous events on campus with Darlene Willier (Aboriginal Services Coordinator at KPU), like the university's now annual Powwow.
The community element of the course is also important for a polytechnic university like Kwantlen, Monchalin said, which tries to connect their students to the communities they live in.
She points to sociology professor Seema Ahluwalia, who will teach a course in the program, and who has a background in Indigenous issues. She's also married to a member of the Lakota First Nation.
"At our university, we have a lot of Punjabi students," Monchalin said. "So for her being Punjabi and then married into an Indigenous family, is so great for the students: she brings that really unique perspective."
Kwantlen's Aboriginal Advisory Committee will provide ongoing program feedback, while Monchalin hopes local Indigenous communities will be open to engaging with the students.
"For example in Indigenous Activism, we want to reach out to Kwantlen First Nation and find out what role the students can play in this class to further their [activism] goals," she said.
While Monchalin expects most students will initially come from criminology, sociology, or other departments with courses in the minor, she stresses it's a minor program that could be matched with any academic path.
"It's for all students who want to know more," she said.