Young sockeye salmon infected by sea lice grow much more slowly than uninfected fish and have a poorer chance of survival, says a new study. 
Moreover, the lice plaguing young wild salmon are a different species than the one typically controlled on industrial fish farms by chemicals.
The new study analyzed growth rings in the ear stones of more than 100 juvenile Fraser River sockeye salmon that were caught in nets while migrating through British Columbia's Discovery Islands, an area with a high density of fish farms. 
The study found that larger fish and those uninfected by sea lice grew much faster than small fish or those overwhelmed by sea lice.
On average, young wild sockeye infected by two to three adult sea lice grew eight per cent more slowly than uninfected individuals, said Sean Godwin, a Simon Fraser University doctoral student and lead author of the paper in the Journal of Fish Biology.  
"Young salmon need to grow rapidly" in order to swim more effectively and escape predators, explained Godwin. "Those that grow slowly are more liable to die." 
Unlike adult salmon, juveniles haven't developed scales to protect them from parasites such as sea lice.
Two main species of native sea lice can infect wild and farmed salmon, but the salmon louse, or Lepeophtheirus salmonis, has attracted the most attention. It tends to be larger, more pathogenic and latches onto all species of salmon. 
Whenever farmed fish exceed a threshold of three motile lice infections prior to the migration of wild juvenile salmon, the industry must treat farms with a chemical called Slice or hydrogen peroxide a month or two before the migration. Motile is a stage of sea lice life.
But Godwin found that that majority of wild salmon were not infected with the salmon louse but another species, Caligus clemensi.
Godwin described this species as a generalist that can infect other species of fish such as herring. Large outbreaks of this species can occur on fish farms without treatment. 
"We definitely need to start considering controlling the species that is actually infecting the juvenile sockeye along the migration routes," said Godwin.  
In a previous study, Godwin showed that heavily infected wild juvenile salmon also consume about 20 per cent less food and have a tougher time surviving.
Sea lice commonly attach themselves to adult fish, but the adults migrate at different times than young fish and there is little cross-infection between the two. 
But with the introduction of fish farms on wild salmon migration routes in B.C., the ecology of the parasite has changed. 
Wild adult salmon returning in the fall commonly infect the densely packed farms with sea lice. The infected farms, in turn, can become a biological gauntlet for migrating juvenile salmon. 
A 2011 study found "parasitism of Fraser sockeye increased significantly after the juvenile fish passed by fish farms."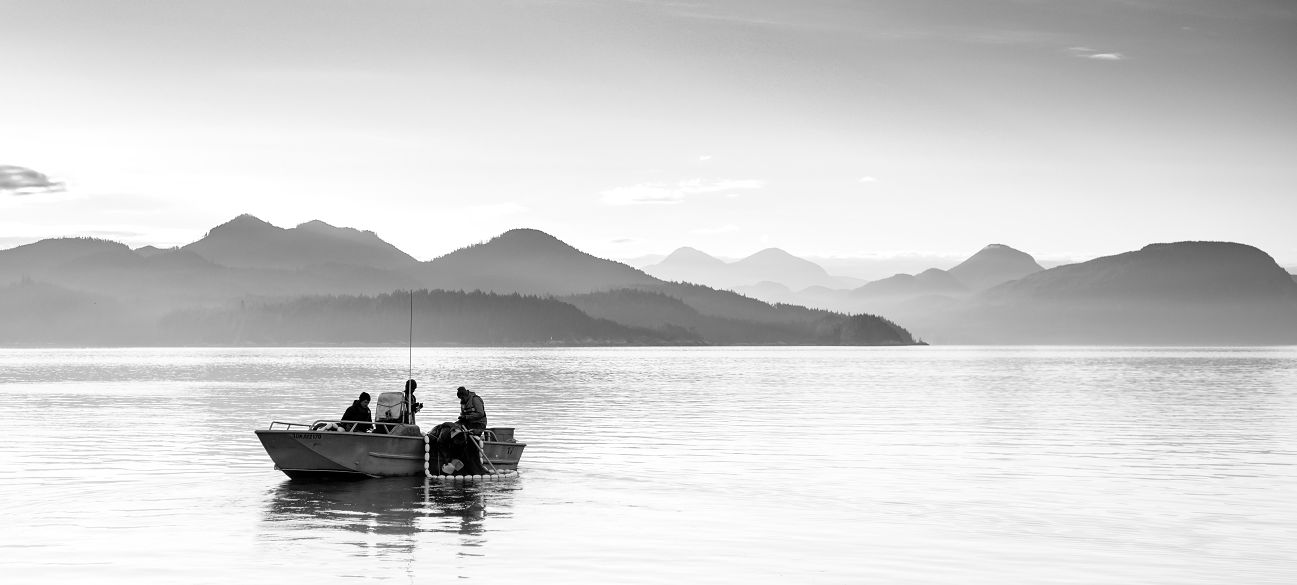 Meanwhile sea lice infestations have again reached high levels in the Broughton Archipelago or Musgamagw Dzawada'enuxw territory on the B.C. coast, according to independent biologist and activist Alexandra Morton.
In a June 12 letter to Fisheries and Oceans Canada, Morton reported that more than 85 per cent of the juvenile salmon exiting the archipelago are infected with sea lice and that many are over the lethal limit established by the federal department.
Morton or a crew of hired researchers has been sampling wild fish for lice in the region every year since 2001.
"It is important to note that the sea lice levels we are documenting this year are comparable to levels that triggered the enormous effort in the early 2000s to control lice on the farms," wrote Morton. 
Morton first raised the alarm about sea lice infestations on fish farms and their impact on wild salmon in 2001. As a result, First Nations and NGOs pressed government and industry to study sea lice as well as the collapse of pink salmon runs in the Broughton. 
In 2010 industry agreed under the Broughton Archipelago Management Plan to improve monitoring of sea lice conditions on their feedlots and to treat their facilities prior to the migration of young wild salmon in the spring. 
For several years that program appeared to lessen the impact on wild salmon, but in the last two years sea lice infestations have worsened, according to one peer-reviewed study and Morton's data.
Around the world sea lice have become a plague for the fish farm industry due to warming waters and growing resistance to chemical treatments.
In addition the high densities of farmed fish kept in open net pens also increase opportunities for parasites and diseases to amplify and spread.
The cost of battling sea lice at fish farming giant Marine Harvest's global operations has surged by more than 30 per cent over the last year. 
Intensive feedlot operations in Scotland and Norway have been particularly hard hit by lice infestations. 
Marine Harvest CEO Alf-Helge Aarskog has explained that "poorly managed fish farming systems can lead to a high frequency of diseases and increased use of antibiotics or other medicines, including medication to combat sea lice, the industry's main challenge at present."
A 2014 study by Irish and Norwegian researchers "concluded that salmon farming increases the abundance of lice in marine habitats and that, despite the control measures routinely applied by the salmon aquaculture industry, salmon lice in intensively farmed areas have negatively impacted wild sea trout populations by reducing growth and increasing marine mortality." 
The BC Salmon Farmers Association maintains that sea lice levels have little to do with the location or population density of their operations but "are significantly linked with ocean conditions and variations in wild hosts."
More than 50 researchers recently concluded that global aquaculture industry had reached a "crisis" because losses to aquatic diseases including sea lice, viruses and bacteria now cost the industry $6 billion a year.