A condo in the suburbs isn't quite the ideal home that Naz Kocan once planned on, but she figures it's an investment.
While a bit inconvenient, there's a big plus: she doesn't have to rent. Kocan never has, doesn't want to, and now that she and boyfriend bought a Port Coquitlam condo in a presale, she won't have to.
Considering Metro Vancouver's ever-increasing housing costs, Kocan, 25, is doing well. She'll be joining the 65 per cent of the region's households that own a home. She'll also be bypassing Canada's pained rental sector, which has been in increasing trouble since the 1980s.
"Renting's just not secure," said Kocan. "I figured what's the point of renting if it's just going to cost as much as owning in the end?"
Kocan had some security thanks to her parents. They didn't help pay for her condo, but she lived with them as an adult without paying rent, and was able to save more. She earns $45,000 a year managing a clothing store. Together with her boyfriend was she able to afford a mortgage for their $309,000 suburban condo, below the average condo price in Metro Vancouver today.
Kocan never felt any stigma about living at home as an adult. That's just how things are in Turkish culture, she said.
"Moving out at 19 is a North American thing," said Kocan, who came to Canada a decade ago. "Our culture is totally different. Until you get married, you're with your parents. My family is relaxed about it. They respect my privacy."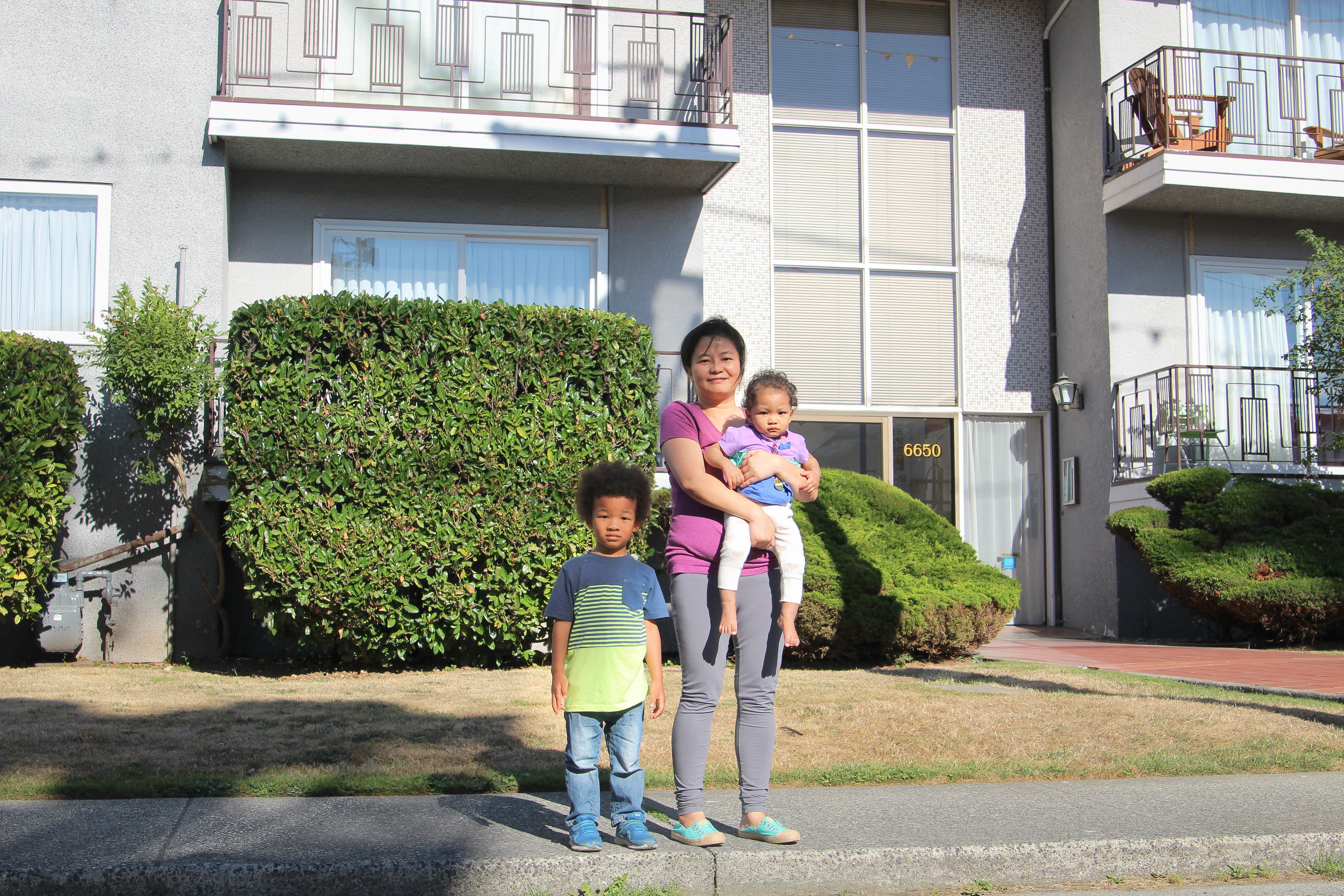 Not everyone has access to that kind of housing opportunity.
There's Sherry Chen, an immigrant from the U.K. Her husband, an electrician, is the family earner. She stays home to take care of their two children. The Tyee met her in 2015 when her family was being evicted from her Burnaby rental apartment. Rent for their one-bedroom was $800 a month. Their older son slept in the living room, and their younger daughter in the sole bedroom with mom and dad.
The developer had suggested she move into another rental apartment the company owned on the same street, but Chen knew she wouldn't be able to stay there long. Old rental buildings like these were bought up and demolished in her area to make way for condo projects, and buying a unit in one of those high-rises was definitely not an option for the family. Chen and her husband even struggled applying for a one-bedroom with a housing association because they were not allowed to have a family of four in it.
"Where are people supposed to go?" asked Chen.
Rental woes have hit B.C. and Ontario cities the hardest. The 2016 rental vacancy rate in Metro Vancouver is 0.7 per cent, with the average rent at $1,223. The vacancy rate in the Toronto area is 1.3 per cent, with the same average rent. Vacancy rates dropped from the year before in both cities. Rents have also gone up.
The averages across Canada's urban centres, in comparison, are a vacancy rate of 4.1 per cent and $724 monthly rent.
More than four million Canadian households — about 30 per cent of total households — rent.
The factors behind today's rental squeeze go back decades: the coming of condos, rental demolitions, the loss of land, and, most importantly, the end of federal programs that gave renters and builders of rental housing the help they needed.
"In Canada, we favour and subsidize ownership, then make renting pretty miserable," said David Hulchanski of the University of Toronto, one of Canada's top housing experts. "There's this idea that renting is inferior, and materially, it is, because it's neglected."
People like Kocan can avoid the rental sector. But many people don't have that ability. They need a place to rent. And in Canada's biggest cities, there aren't enough to go around.
'The ultimate housing problem'
In 1948, the late Humphrey Carver — architect, planner, urban philosopher, and a famous name of the Canadian Mortgage and Housing Corporation — called rental housing for those with low-incomes the "ultimate housing problem."
The rental market is driven by what the wealthiest people can afford. That means the low-income can't get into that market without government help or spending a larger chunk of their earnings. In Canada, 96 per cent of our housing stock, for sale and for rent, comes from the private sector.
One option for the government is encourage investors to build rental housing with subsidies. In the decades after Carver's comment, the federal government came up with a number of programs to do just that.
First there was the Limited Dividend program, which offered loans to landlords who charged below-market rents and took in tenants whose incomes were below defined levels. It helped create over 102,000 units.
The Assisted Rental Program (1975), also with restrictions on allowable rents, offered grants and loans and helped create over 122,000 units. The popular Multi-Unit Residential Building program (1976) offered tax deductions for investors willing to build rental and helped create over 235,000 units. There was also the Canadian Rental Supply Program (1981) which helped create 24,000 units.
But the federal government pulled the plug on these four programs in 1974, 1978, 1981, and 1981 respectively. And in 2011, they also axed a program that helped landlords renovate units rented to low-income tenants.
When condos came
Something big also happened to Canadian housing in this time: condos.
B.C. was the first province to pass legislation allowing condo or strata developments and shared ownership in 1966. The other provinces followed, with P.E.I. the last province to adopt condos in 1977.
This began to transform Canadian housing. Developers found it easier to raise money for condos than rental housing. Condo projects can be funded through presales, and investors get quicker returns.
Condos began to take over high-density residential land, like Sherry Chen's Burnaby neighbourhood. The result: fewer rental units and less land for rentals.
There are investors who rent condos out, but it's common for tenants to live in them for a shorter time than they'd like because the condos are sold when the market is hot. So there's less stability in renting a condo compared to purpose-built rental, and it's also pricier.
So how do developers looking to build purpose-built rental make the numbers work today?
Today's low interest rates help, and have led to a small increase in rental construction.
This has helped South Street Development Group find success with three rental projects in Metro Vancouver. Vice-president Brent Hanson, a born and raised Vancouverite, takes pride in this. He shared three factors which help rental construction with the Tyee.
"First would be the costs and being able to justify high land costs, costs of construction, etc., and having a lender that believes in those costs," he wrote in an email.
"Second would be timing," wrote Hanson. "Getting financing for land loans has become very difficult as the timing to get approval of projects now is taking close to two years. This brings into play a lot of risk which lenders are making developers pay for."
"Lastly, understanding and predicting the rental market for your project. This has become less of an issue with historically low vacancies and high rents, but as costs continue to climb, being able to accurately predict the market is key in convincing a lender to come along for the ride."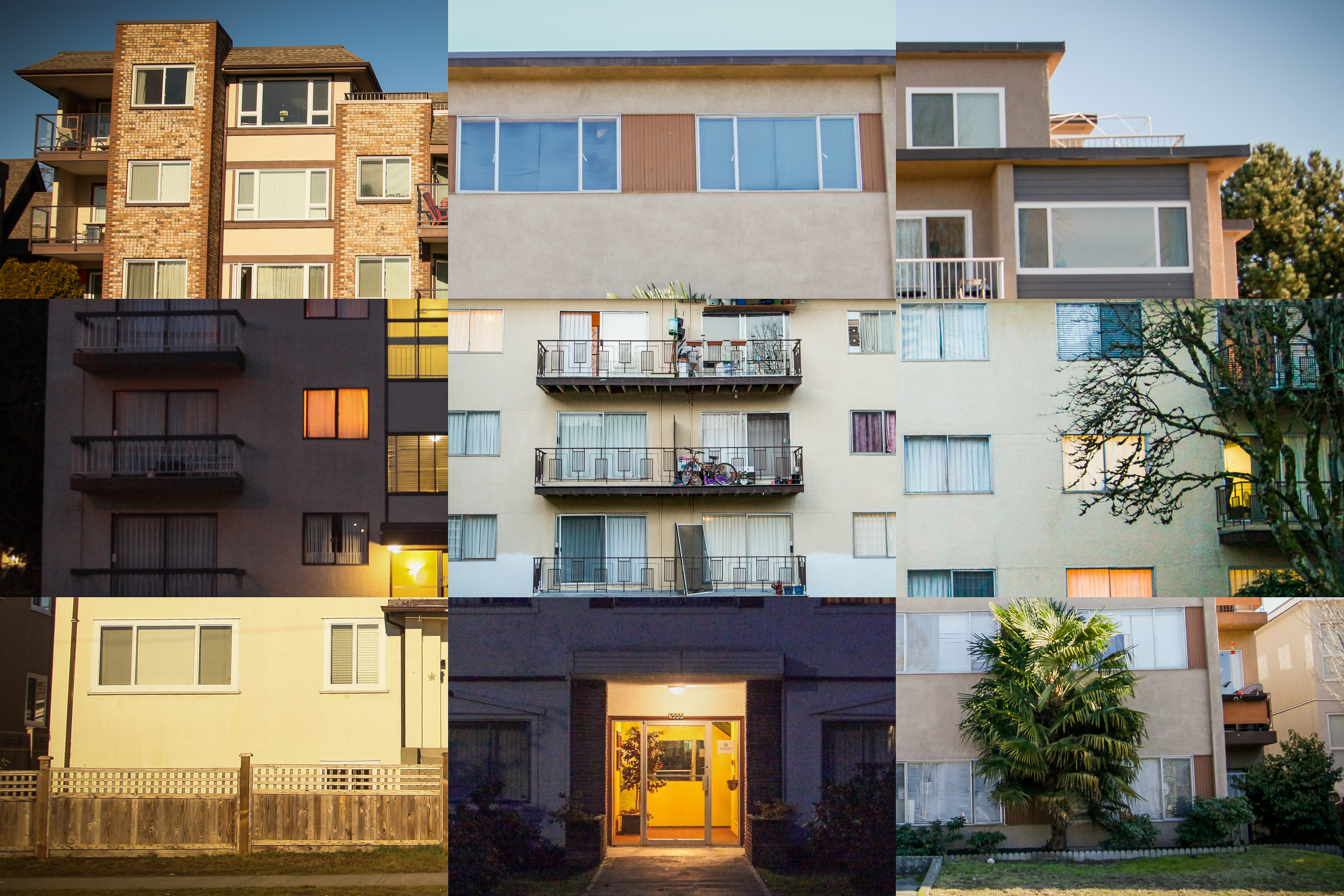 Cult of homeownership?
Market rental construction declined since the federal government cut its incentive programs. About 76 per cent of today's rental buildings are more than 30 years old.
Another blow was the federal Liberals' decision to cut housing assistance programs in the 1990s and abandon the responsibility for social housing to the provinces. Homelessness in Canada subsequently increased.
Without the federal help, low-income renters' struggle to find homes worsened.
There is, however, a lot of federal money reserved for homeowners. Owners selling their principal residence are exempted from capital gains tax, a tax break worth about $5 billion a year. There's also a tax credit for first-time homebuyers and a tax rebate for anyone building a home. A report by the Canadian Centre of Policy Alternatives revealed that Canada's top earners were getting the majority of these benefits.
The federal governments offers this aid for owners despite the fact they earn more than renters. Owners make more than twice as much as renters do at $67,522 a year, according to the last long form census in 2006. Owners also have 37 times the median net worth of renters, thanks to their homes, at $513,000, according to 2012 CMHC numbers. This wealth gap widened over time.
"The great thing about ownership is that you have an asset for when you retire... Politicians use the line that if you work hard and buy a house you're going to be OK," said the University of Toronto's Hulchanski. "But what about renters? The rest of you are just lazy? And you're going to suffer now? You're going to suffer when you get old?"
Hulchanski points to Nordic and western European countries that have more social rental; in the Netherlands, it makes up a third of the housing stock. In Canada, social rental makes up four per cent of our housing stock.
Hulchanski calls the neglect of renters and prioritization of homeowners discrimination.
"That's no way to organize society."
Municipalities strive for innovative solutions
This March, some housing advocates and providers were happy to see the federal government promise $11 billion for housing over the next 11 years. Unconfirmed reports say the Liberal government may create a new benefit for renters.
Hulchanski is less optimistic. He pointed out that with the next election in 2019, not even half of that funding can be guaranteed.
Then there's the federal government's Affordable Rental Innovation Fund that launched last year. The City of Vancouver took advantage of this fund to create a modular housing project near Science World. The fund aims to create 4,000 units over five years, but the money is only enough to create 800 new units a year, and that's for all of Canada.
Many municipal governments are doing the best they can to help renters with the powers they've got. It's made for some creative solutions.
Toronto is helping landlords retrofit aging concrete towers and sprinkling much needed amenities into those out of the way neighbourhoods. Vancouver is giving extra density to rental projects on and near arterial streets. Vancouver has also halted the demolition of older rental buildings.
"We've come to the realization that as the stock ages, we'd be sleepwalking into a problem with our housing system," said Mayor Jonathan Cote of New Westminster.
Cote's city has come up with a number of innovative solutions to make renting better in the city. New Westminster doesn't allow rental buildings to be converted into condo ownership. The city also has a rent bank to help prevent homelessness.
And to encourage new construction, the city has a policy that offers extra density, reduced parking regulations and some reduced fees to developers interested in building rental. Until this policy in 2013, there had been no new rental projects in New Westminster for about 20 years.
While on the phone with the Tyee, Cote said he could see one rental project that took advantage of city help from his office window. It's one of South Street Development Group's projects, a 26-storey high-rise with adjacent townhomes. It has a total of 282 units.
"I think it's unfortunate that the upper levels of government have stepped out from supporting purpose-built rental to just getting out of the housing game period," said Cote. "It's been frustrating for municipalities, and it's been putting pressure on our housing system. But on the other hand, rather than ignoring the problem and pointing a finger at them, we recognized we needed to implement something to do our part."
Naz Kocan originally wanted to buy a condo in New Westminster, but it was too expensive. She looked in her home city of North Vancouver too, but it was also too costly. That's when Kocan and her boyfriend decided on buying further out in Port Coquitlam. And even then, they were only able to do it together.
"I'm actually surprised we were able to," said Kocan.
Kocan may have purchased a condo, but she's in the suburbs, and she fears for people living in the urban core. There, buyers compete for condos as prices rise, and renters compete for market rentals as rents go up. People on low incomes struggle to find anywhere to live as prices continue to rise in Vancouver's hot market.
The federal government needs to help produce a mix of choices if it wants to make housing healthy. And amid that housing diversity, the government will need to help those who can't afford those choices.
There was a greater commitment to housing only a few decades ago, and today, even for someone with some buying power like Kocan, the choices are grim.
"Buying a chicken coop for $600,000 doesn't make sense," said Kocan. "But then I don't think renting makes sense either."