When Hugh Lampkin was five years old, he wanted to be an astronaut. "When I saw Neil Armstrong land on the moon, I was so enthralled," he says. His eyes light up at the memory.
Lampkin is 53 now, but still maintains the inspired hopefulness of the child who dreamed of space travel.
Each day when he wakes up and goes to bed, Lampkin injects himself with a low dose of fentanyl, the powerful opioid that the British Columbia coroner calls the most significant contributor to the record-breaking spike in illicit drug overdose deaths in the province. Fentanyl is 50 to 100 times more powerful than morphine, used in emergency rooms and for surgeries and palliative care.
"I use it for pain relief so I can maintain my functionality," Lampkin says.
With polite understatement, Lampkin explains how three vertebrae on his cervical spine, near the base of his neck, press together. "There is no cartilage, basically," he explains. "There's a constant compression on the spinal cord by the bone all the time. So I'm always in pain."
Lampkin says he purchases fentanyl for about $30 a day from three different dealers. His daily fentanyl regimen allows him to continue doing what keeps him well, including working as a supervisor in a volunteer-run injection room that Vancouver Coastal Health (VCH) re-opened in the Vancouver Area Network of Drug Users (VANDU) headquarters last month.
The room, where volunteers like Lampkin try to reverse the effects of overdoses, was part of new provincial efforts to strengthen harm reduction to stem a drug overdose crisis that killed 914 British Columbians last year.
VANDU had been running its own safe injection room from 2011 to 2013, responding to the need for non-judgmental, user-run safe injection spaces in the Downtown Eastside. Vancouver Coastal Health ordered it shut in 2013. The crisis has seen it re-opened with the health authorities' support.
Lampkin was at VANDU through all those years. A former president, he now serves on the board of directors for the drug users' activism and community network formed in 1997 at the height of another, similar overdose crisis in the Downtown Eastside.
Drug user groups like VANDU are critical in turning the overdose crisis around, Lampkin says, and any strategy should include plans to expand their activities. "It's actually, literally saved my life," he says.
When Lampkin happened on VANDU's storefront headquarters on East Hastings Street one day in the mid-2000s after moving from Toronto, he was in unbearable pain. "I came out here, basically, to kill myself," he says.
By then, he was regularly using drugs to cope with rampant pain. "My story is typical of most addicted people," he says. "We're talking about alcohol, drugs, sex, stealing, gambling. There's always trauma associated with addiction in people's lives."
As a person of colour growing up in 1960s Toronto, he endured many racial attacks at school. At seven, a stranger abducted and sexually abused him, an event so humiliating he couldn't bring himself to tell his mother until he was in his forties. The next year, at eight, Lampkin made his first suicide attempt.
"I didn't know how to kill myself," he remembers. "But I went to the cabinet, and I just swallowed all the pills and all the medication I could see. I suffered that all through my life."
His involvement with VANDU was transformational. "I feel so honoured to be involved in an organization like this," he says. "This is my home now. No drugs can replace that sense of belonging."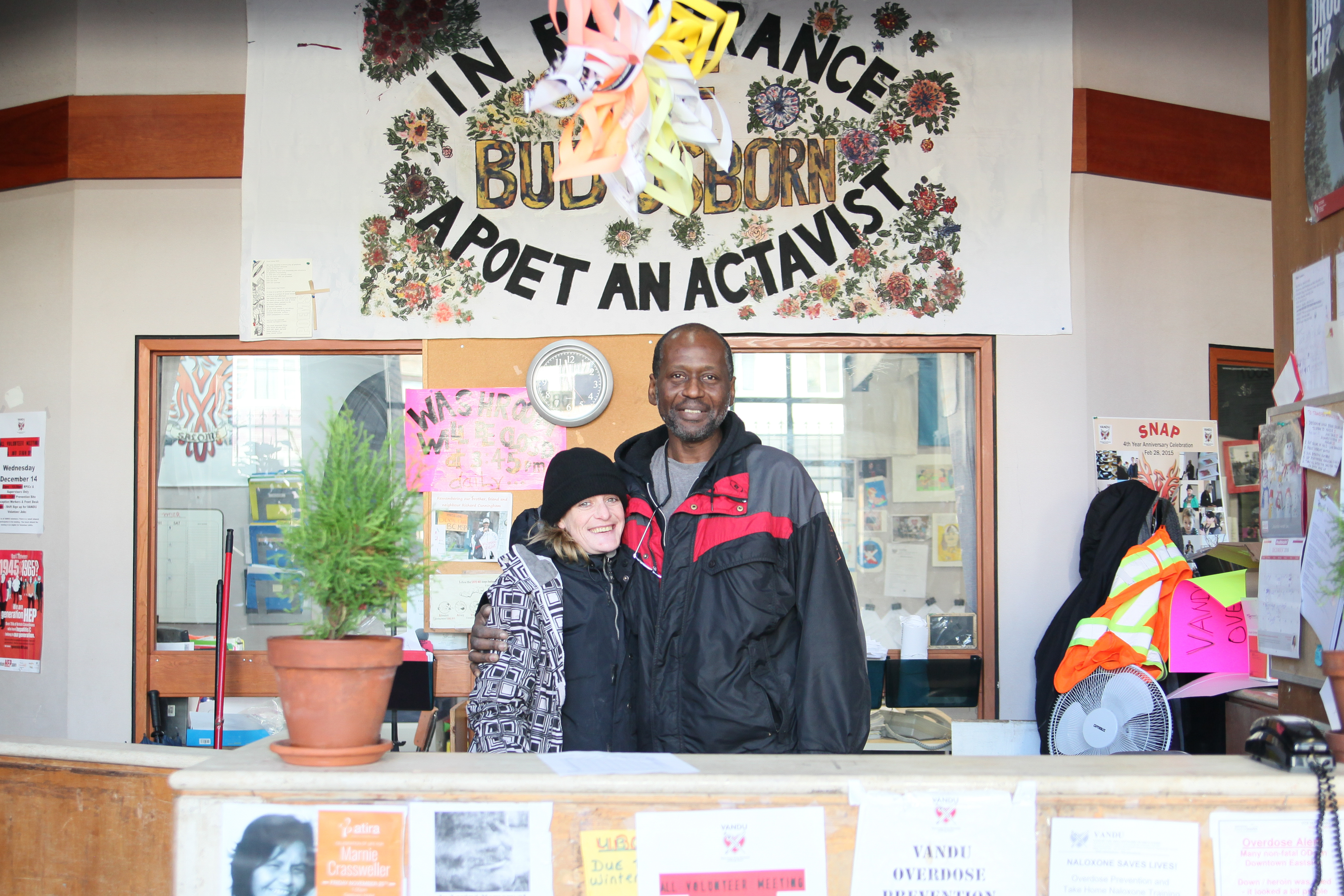 Lampkin is one of an estimated 800,000 British Columbians living with chronic pain, about one in five people.
Many of them, like Lampkin, turn to illegal opioid use. It's now the fourth-most prevalent form of substance use in Canada behind alcohol, tobacco, and cannabis, according to research cited in the 2016 book More Harm than Good: Drug Policy in Canada by Susan Boyd, Connie I. Carter, and Donald MacPherson.
Lampkin would rather have a legal prescription for pain medication than resort to the illicit market. But doctors have denied him effective opioid prescriptions, he says. "Because of my past history of addiction, they don't want to give me anything. So that's why I have to go back to the streets."
Lampkin knows the risks of his fentanyl use. He witnesses and attends to opioid overdoses all the time in the VANDU injection room.
He's careful, he says, rarely using alone. And he chooses small doses to manage pain, not big hits to get high.
Lampkin is happy and stable in other areas of life, too. He has housing, a broad network of friends who support him and whom he loves, and meaningful work. He's spent the last 11 years with VANDU working with other drug users on education about how to stay well and reduce the harms associated with illicit drug use. In November, he travelled to Ottawa to attend an opioid conference and meet federal Health Minister Jane Philpott, who he feels hopeful will bring about the drug policy needed to curb the crisis.
Many others, however, haven't survived to tell their side of the story.
Too many bodies for the morgue
"We have had situations where the Vancouver hospital morgue may be full," Chief Coroner Lisa Lapointe tells me on the phone a few days before Christmas. "So the coroner's had to phone around to find potentially one of the funeral homes we can move the remains to, or one of the other local hospitals that we can move the remains to on a temporary basis, until we can free up some space. Which sounds just terrible."
A few weeks later, at a press conference last Wednesday in Victoria, Lapointe presented the final overdose death count for 2016. "My heart goes out to the families and friends of those who have lost their lives," she told reporters.
The 914 British Columbians who died last year of illicit overdoses exceeded even the grimmest estimates from April, when Provincial Health Officer Dr. Perry Kendall declared overdose deaths a public health emergency.
Nine people dying every two days. Enough bodies last year to fill Vancouver's Commodore Ballroom. More than double the number of people across Canada who died of H1N1 (swine flu) virus in 2009 and 2010.
And it could have been worse.
"To those who may ask why the numbers keep growing despite the significant harm reduction measures being implemented, I would respond by noting, emphatically, that but for the dedicated efforts of emergency health responders, social agencies, volunteers, and public servants across ministries and agencies, I have no doubt that these numbers would be much, much higher," Lapointe added.
Notably, no one died in any of B.C.'s 20 new overdose prevention units, the new mobile medical unit or supervised consumption sites like the Insite safe injection facility.
Desperate times, desperate measures
Like VANDU six years ago, the province decided to open overdose prevention units — safe consumption sites — without going through the onerous, slow approval process set out in the Harper government's Controlled Drugs and Substances Act. The new federal Liberal government's promised changes to the law came too slowly for B.C.
"We couldn't wait for the changes, which is why we instituted the overdose prevention sites, given the severity of the problem we're facing here in B.C.," Health Minister Terry Lake told me in December. "When we made the decision, it was out of a sense that we knew we had to do more than we had."
That month brought a flurry of overlapping responses to the overdose crisis from all levels of government.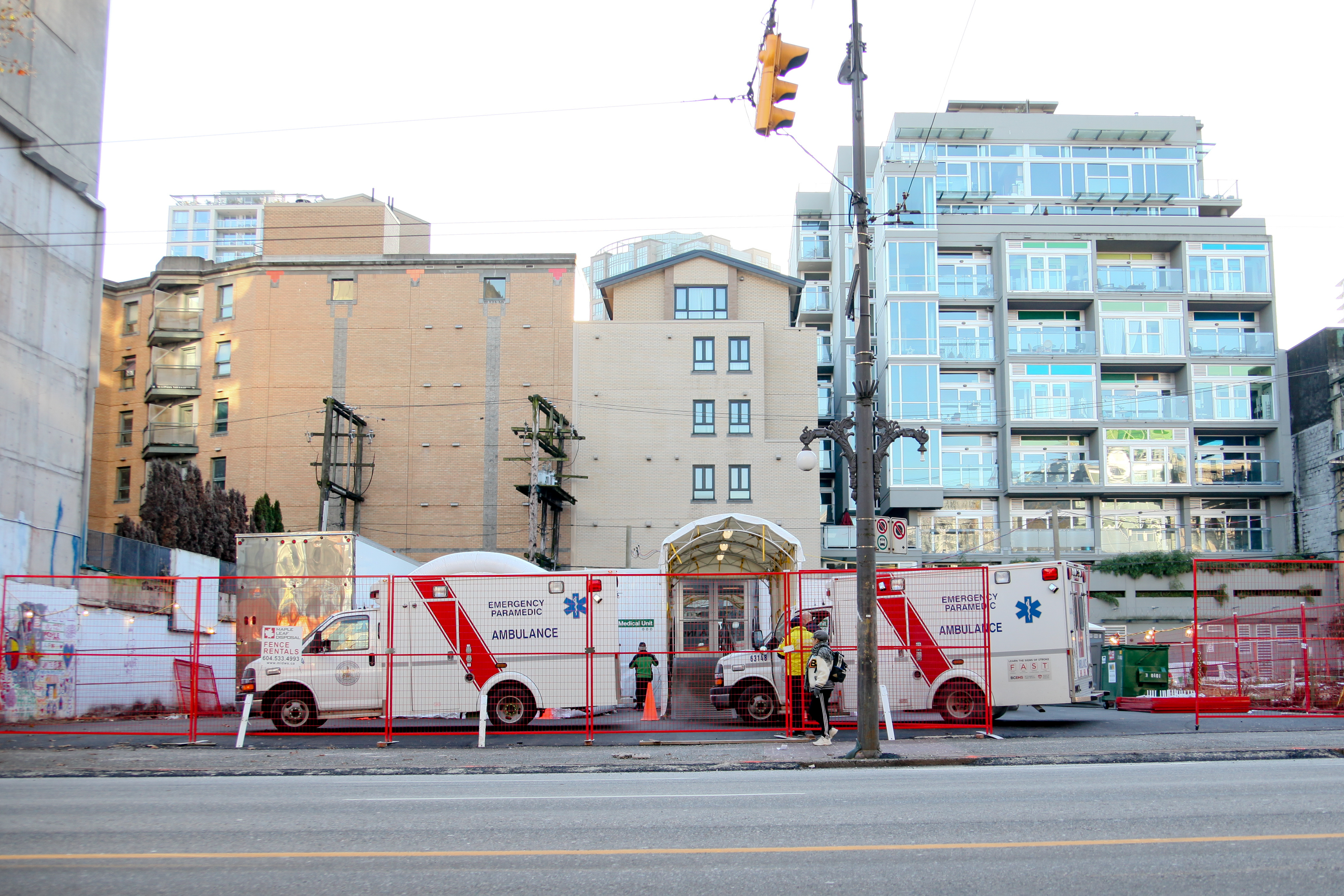 On Dec. 12, days after the province opened 20 new overdose prevention units and a mobile medical unit in the Downtown Eastside, Philpott introduced Bill C-37 in the House of Commons. The bill would amend the Harper-era Controlled Drugs and Substances Act, the Customs Act and the Proceeds of Crime (Money Laundering) and Terrorist Financing Act. At the same time, the federal government said responsibility for drug policy would move from the justice department to health. The focus appeared to be shifting from enforcement to harm reduction.
"The opioid crisis has taken a toll on many communities across Canada," Philpott said in a statement. "Our renewed, evidence-based approach to Canada's drug strategy will allow the government to better protect Canadians, save lives, and address the root causes of the crisis."
The next day, Vancouver city council approved a controversial property tax increase of one-half per cent to raise $3.5 million to address the fentanyl overdose crisis.
The increase, approved for the city's 2017 budget and five-year financial plan, means $4 a year more for strata units, $11 for single-family homes and $19 for commercial properties.
"It has never been more urgent to act," Vancouver Mayor Gregor Robertson said in a statement issued after the 2016 death toll was released.
Robertson announced that Vancouver city council would consider motions in late January to strengthen the city's first lines of response, including establishing a new community policing centre in Strathcona, a new mobile medical unit and more naloxone training for city staff.
Earlier the same day, Lake had called on the federal government to do more in dealing with crisis.
"We haven't seen the response that this kind of epidemic requires on a national scale," he told reporters. "I think there's great evidence to suggest that the federal government should declare a federal health emergency."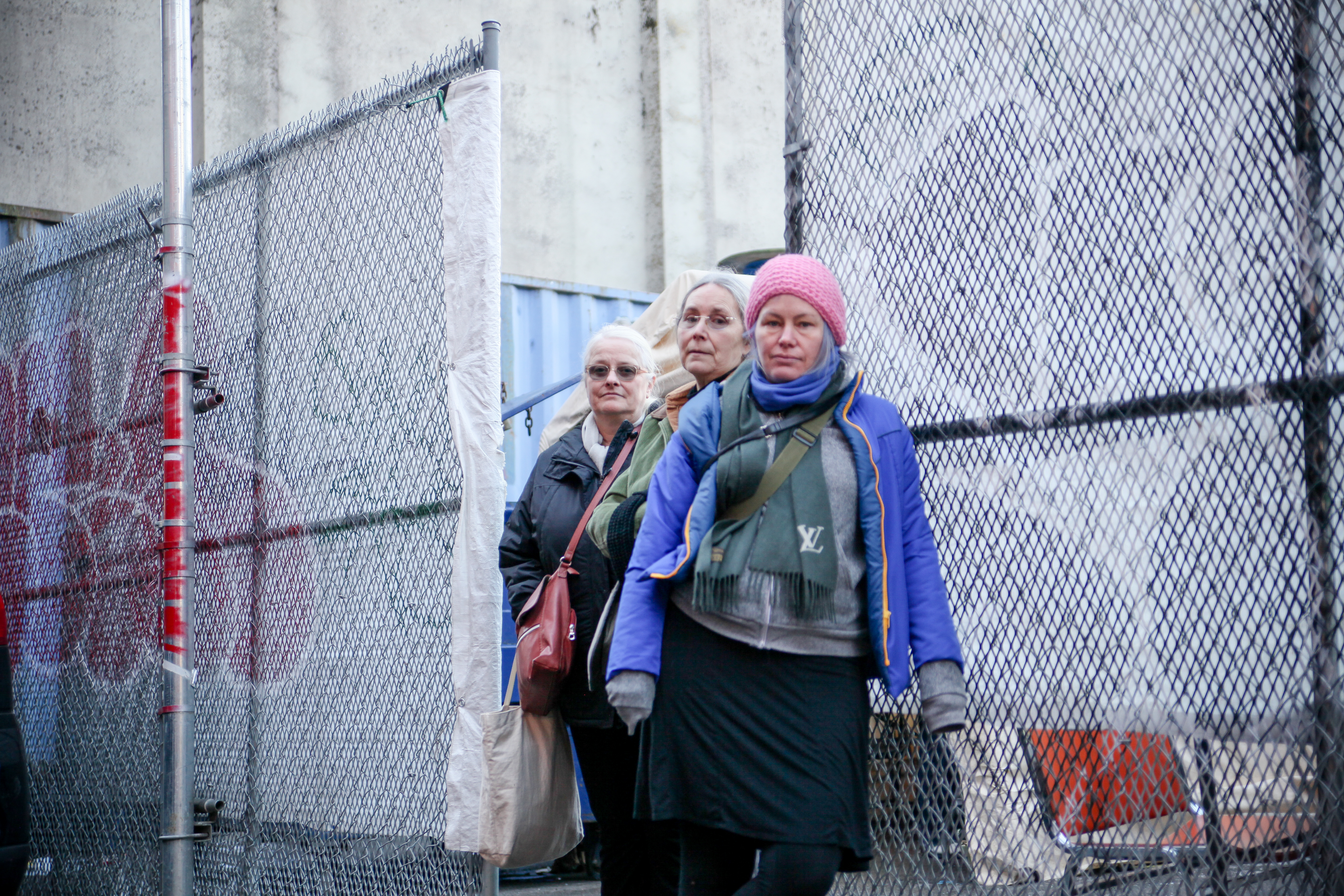 Drug users take the lead
When Insite, North America's only supervised-injection site, opened its doors for the first time in 2003, it was, like all mainstream moves towards embracing harm reduction, spurred by the continued, underpaid and largely undervalued work of drug users and their allies, many of whom live in poverty.
"It truly is a profoundly moving and highly co-operative group of people that are just acting as citizens in the finest tradition of human beings being kind and helpful to one another," says Ann Livingston of the volunteers working with her to operate illegal safe-injection tents that recently gained approval from VCH to move indoors.
Livingston, a long-time harm reduction advocate and VANDU co-founder, worked with Downtown Eastside Street Market manager Sarah Blyth and activist Chris Ewart to found the Overdose Prevention Society, a previously crowdfunded group that has been paying volunteers $30 stipends to supervise drug users injecting in makeshift tents at two locations in the Downtown Eastside since mid-September.
Armed with the opioid overdose antidote naloxone, volunteers reversed an estimated 200 fatal overdoses before they stopped counting last fall, overwhelmed by the rising numbers.
Livingston, like many of her tent volunteers, survives on income assistance. A single parent supporting a child, she receives $945 a month. When we talked, she was worried about how she'd pay December's rent, due in six days.
"We have a kind of underclass of people," she says of the Downtown Eastside community she also calls home. "They've spent their lives as clients, even probably before they were born… while they were in their mother's belly, she was trying to get pregnancy allowance from welfare."
Living through entrenched, systemic poverty, she says, heightens people's sensitivity — to false promises, to pretense, and especially to kindness, which often seems in short supply.
"There's undercover police after them. There [are] people trying to rip them off. There [are] a lot of dangers in their lives." That's why the safer consumption tents she helped establish worked so well to improve the health outcomes of marginalized people who might otherwise have felt unsafe or unwelcome in accessing health services.
Livingston wasn't fazed by the fact that she and her colleagues operated outside the law for months before they gained legitimacy on Dec. 23, when Vancouver Coastal Health said it would pay staff to run the two sites as part of the province's official overdose-prevention efforts. That moved both operations, previously in makeshift outdoor tents, indoors.
Criminalizing drug use hasn't stopped people from using drugs, she tells me. But offering non-judgmental support and kindness can, and does, she says.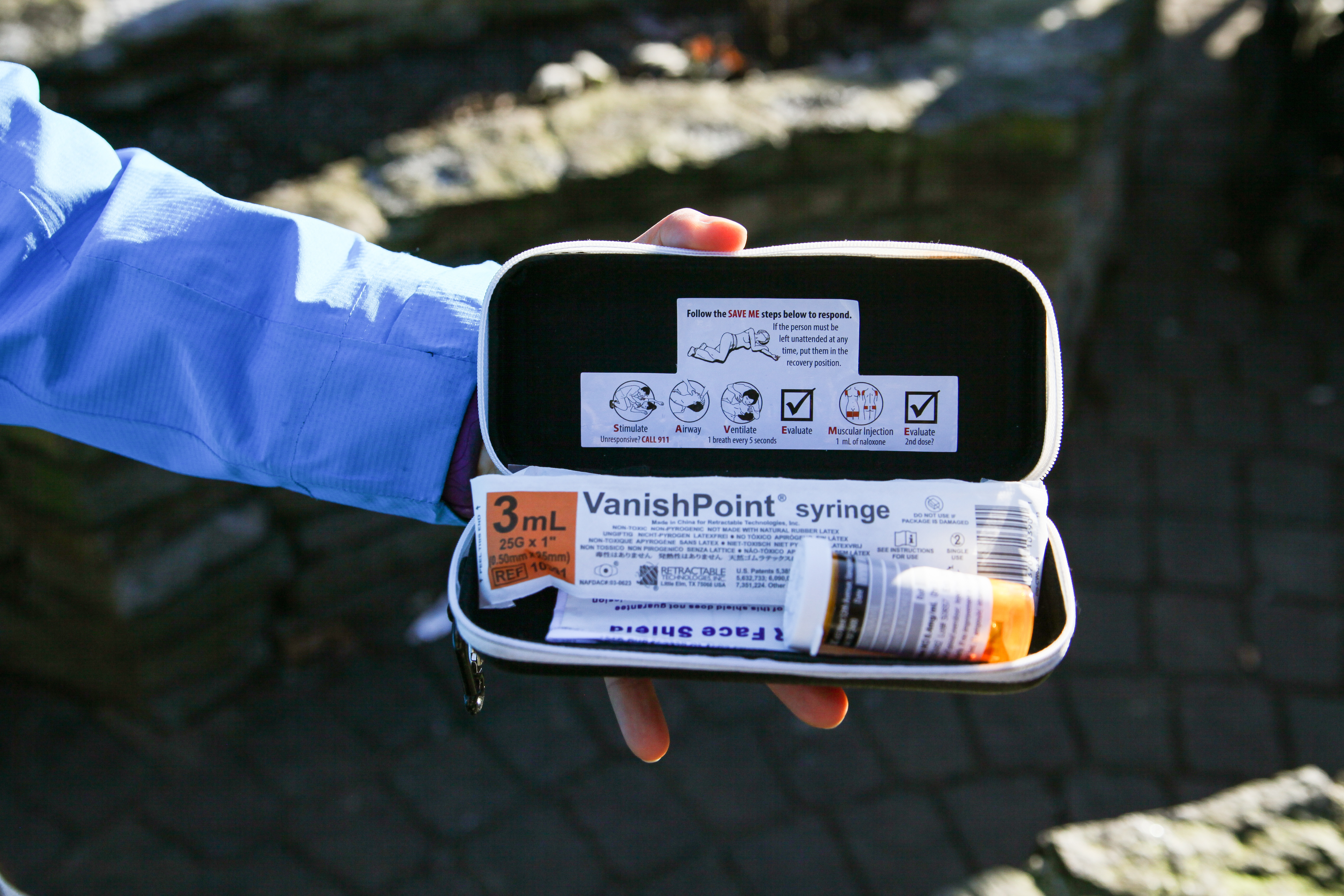 'We've been here before'
One of the most gutting aspects of B.C.'s overdose crisis is its sense of familiarity.
"We've been here before," says Donald MacPherson, who authored A Framework for Action: A Four-Pillar Approach to Drug Problems in Vancouver, the City of Vancouver's drug strategy in 2000. Today, he's the director of the Canadian Drug Policy Coalition.
MacPherson spent his 30s as the director of the Downtown Eastside's Carnegie Community Centre from 1987 to 1997.
He remembers the grief on the streets when 354 British Columbians died of illicit drug overdoses in 1993 — less than half of 2016's overdose deaths.
Public institutions were slow to act. "It wasn't till 1997 that there was an emergency declared," he says. That's when the Vancouver-Richmond Health Board, under pressure from VANDU co-founder Bud Osborn, declared a public health emergency for Hepatitis A, B, C; syphilis; HIV; and overdose deaths.
That was almost 25 years ago. "We've had time to prepare in case it ever happened again. But we couldn't prepare for a whole bunch of reasons," MacPherson says.
"All of the same reasons: the stigma of addiction. The stigma of illegal drugs, the stigma of any services to help people use illegal drugs — it's just stigma across the board, and political timidness."
Back at VANDU headquarters, Hugh Lampkin is emphatic that decriminalizing drug use will be instrumental in turning the overdose crisis around. "This is a direct result of bad drug policy," he says. "Once you take away the black market, you take away the danger."
For now, an illicit black market for drugs still thrives. And people are still dying of illicit drug overdoses.
It's not surprising people keep using opioids, despite the risk. Opioid withdrawal, better known as dopesickness, is a violent illness that can put already vulnerable people in even more dehumanizing circumstances, especially if they are living in deep poverty with few places to go but the streets or bedbug-infested single room occupancy hotels.
"I've seen people hit, or punched, because they've defecated on the sidewalk because they're so sick. It's awful," says Ronnie Grigg, a mental health worker who works nights at Insite, Vancouver's safe injection site. Withdrawal symptoms include diarrhea, vomiting, nausea, fever, chills and severe body aches. "Put that in a homelessness environment. Where how do you get to a washroom? And if an accident happens, where do you get a change of clothes?" Grigg says. "It's just humiliating all around."
All of it creates a situation where drug users living in poverty continue to face the deep stigma that MacPherson says helped create yet another public health emergency — this time not only in the Downtown Eastside, but across the province.
"The messaging they're getting all the time is fuck off and die," Ann Livingston says.
"And then they do."
Next in the series: What if illicit drug use wasn't a crime, and people didn't have to steal to pay for drugs? A look at life inside a program that provides injectable opiates as part of a treatment program.