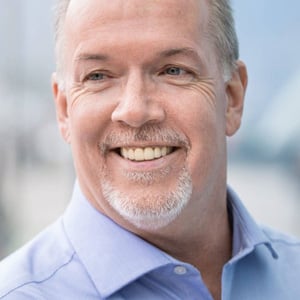 NDP leader John Horgan said that if his party wins the next provincial election it would work towards providing $10-a-day child care, though he declined to say how long the program would take to implement or what it might cost.
"We're going to be more specific when we get a look at this year's budget numbers," Horgan said in an interview. "Our goal is to begin the day after the election to put in place affordable, accessible child care for British Columbians."
Many families face a crisis as they struggle to pay upwards of $1,200 per month per child for care so that parents can work, he said, noting that West Coast LEAF this week gave Christy Clark's government a D- for its child care policies.
Cutting child care fees to $10 a day would mean families would instead pay roughly $200 a month per child.
Horgan mentioned the policy in his late September speech to the Union of B.C. Municipalities convention in Victoria and highlighted it again this week with an event at a Vancouver daycare.
Making child care affordable makes economic sense since expensive care makes it difficult for half the population to work, he said. "That's going to have a negative draw in the long term."
His government would look at the needed spending as an investment that would build healthier communities and reduce poverty, Horgan said. "It pays for itself over time. It's the 'over time' part you have to figure out."
Governments have many options for raising or reallocating money, he said. "Government is about choices, and the Liberals made a choice to give a $250-million tax break to top earners... That would go a long way to delivering these services."
Quebec, which has provided low-cost child care since 1997, limits fees to $7.55 a day for families who make less than $50,545 per year.
Paul Kershaw, a University of British Columbia professor in the school of population and public health and the founder of the advocacy group Generation Squeeze, has been campaigning for $10-per-day child care. He welcomed the NDP's announcement.
"The support for it is absolutely timely, and they deserve credit for strong leadership on it," he said. "Now is the time to start adapting to the pressures facing younger Canada."
Kershaw said it would cost about $1 billion a year to provide $10-per-day care for all children younger than six and school age kids who need it. The NDP needs to commit dollars to support their promise, he said, adding they should make the investment as soon as possible and not delay it until the end of their mandate or later.
For many families, paying for child care for two kids can be as expensive as a mortgage payment, Kershaw said. Young British Columbians are squeezed, having seen their wages stagnate over decades while housing prices have soared, he said.
Taxing housing wealth would be one way to fund paying for child care and redress the generational inequality, he said.
A spokesperson for the ministry of children and family development said in an emailed statement that the government estimates it would cost $1.5 billion to implement a universal child care program in the province, on top of what the government already spends.
That "simply isn't feasible," the spokesperson said.
"That said, we acknowledge the challenges that many parents face when trying to balance raising a family with pursuing work and training opportunities, and we recognize that access to quality child care is an important part of finding that balance."
The government is committed to creating 13,000 new licensed child care spaces by 2020 and already spends hundreds of millions of dollars a year helping those who need it most afford child care, she said.
UBC's Kershaw said he's still hopeful the BC Liberals will commit before the election to $10-per-day child care. "We haven't managed to have the sit-down with the premier and the finance minister we'd like to have as they're shaping their platform, and we're still working on that."
The NDP's Horgan said he expects to be talking about the policy a lot in the coming months. "We're going to make it an election issue. Absolutely."
The election is scheduled for May 9, 2017.