Canada's year-old Liberal government is promising to fix our national housing crisis. But in the two decades since one of its predecessors abandoned responsibility for housing to the provinces, what looks like one problem has become several intertwined crises.
One is the issue that most big-city urbanites are familiar with: affordability. Since 1990, the percentage of Canadians forced to pay more than 30 per cent of their total income on shelter (one benchmark of when it becomes "unaffordable") has nearly tripled to 12 from 4.6 per cent.
Another is that 12 per cent of Canada's greenhouse gas emissions come from buildings burning fossil fuels — a direct challenge to the government's climate target of reducing Canada's emissions of 30 per cent below 2005 levels by 2030.
But nowhere do the cost, adequacy and energy use of housing come together in quite the way they do on First Nation reserves, where shelter is a federal responsibility under Canada's constitution. The Assembly of First Nations reports that fully half of on-reserve homes have unsafe levels of mould, while one-third have insufficient heating systems.
For many reserves meanwhile, the cost of replacement housing is too high to permit anything but a triaging of the worst of the worst cases, while backlogs of needed repairs and replacements continue to grow.
Ottawa says it is taking steps to address all these problems, but the challenges are steep. Now a British Columbia company is trying to show it has the house to address all three at once.
What is 'net zero' housing?
Ongoing consultations for a promised National Housing Strategy have highlighted energy efficiency as a priority. The Canada Mortgage and Housing Corporation already offers refunds up to 25 per cent on insurance for mortgage loans taken out to buy new or renovate existing housing for energy efficiency. And the federal government is funding research into "net zero" housing: designs that capture as much energy as they consume from renewable sources like daily sunlight, using details like extra insulation and triple-paned windows.
The government is also directing millions of dollars to both clean energy and housing initiatives in Indigenous communities.
But while people living on-reserve might seem to be among the Canadians who'd benefit most from net zero housing, the roughly 10 per cent those extra features add to costs puts such housing out of reach for most communities more concerned with providing their members with safe basic shelter.
Smithers-based Net-Zero Structures Ltd. says it doesn't have to be that way.
The construction company believes it's found the sweet spot of "good design, efficient manufacturing and efficient procurement" that, according to founder and president Michael Sawyer, allows it to build a 1,200 square-foot "net zero" house for under $200,000.
While it's not an Indigenous business and will work with any community, Net-Zero Structures has focused on Indigenous communities, retrofitting houses in Gitsegukla, a Gitsxan reserve just north of Hazelton, and building four two-bedroom homes in Moricetown, a Wet'suwet'en reserve 35 kilometres northwest of Smithers.
"They're really good houses — nice top-quality stuff," said Lacey Naziel, Moricetown's housing co-ordinator, of their new Net-Zero homes. Each comes with a woodstove, brand new energy-saving appliances, triple-pane windows, insulation above provincial building-code requirements and heat recovery ventilation systems to trap heat inside over winter and outside in summer.
For Moricetown, the benefits of the four new homes extend beyond energy savings: they offer more social housing for childless couples and singles, a group that was underserved in the community up until three years ago, in favour of family-sized housing.
Now, "We rotate from bachelors to family homes every year when it comes to new construction," Naziel said. "It has to do with overcrowding. The majority of people on our housing list are still living with family members, and they're just wanting to get a home of their own."
Energy saving comes second to safety
Naziel confirmed that environmental sustainability was an important element in the band's choice of housing, but she saw it more in terms of home safety than money savings: "The whole point of the housing department is to provide safe housing for community members so that they don't have to worry," she said.
She's got good reasons for prioritizing house safety. According to Statistics Canada's most recent data, nearly half of on-reserve First Nations and one-third of Inuit housing needs major repairs. Every third house in both community groups is too small and overcrowded.
One of the most expensive repair costs is for mould removal and remediation. Poor insulation, cheap housing materials, extreme climate conditions and residents' own failures to catch and clean mould up before it spreads, all contribute to high rates of damage. Long-term exposure to high concentrations of mould can cause persistent respiratory ailments for householders.
"We do about 10 mould renovations every year," Naziel said. Although these are funded by Indigenous Affairs and Northern Development, the limited dollars available for all housing purposes mean that other repairs and renovations are delayed.
Net-Zero Structures claims that its use of anti-fungal and anti-microbial structural insulated panels (SIPs) eliminates mould growth in the walls. That's what drew Naziel's predecessor to the company's bid to build the four houses in the first place.
Another element new to Moricetown houses are "screw-pile" foundations. Compared to digging holes and trenches to build a cement foundation, these footings fitted with an augur at one end screw into the ground, making installation easer and more energy efficient, while also keeping the house they support off the ground, helping to keep ground moisture from seeping into it.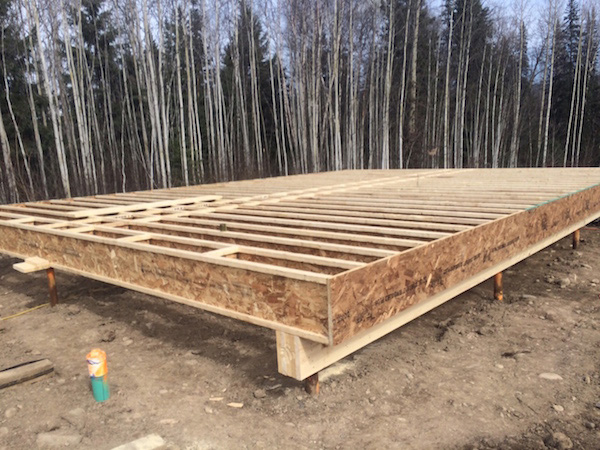 "That's a benefit for us, because with these [housing] lots, that's a hit or miss with water tables," Naziel said. "When lots have a near-surface water table, it increases the chances of mould in the future."
How 'net' is Net-Zero's zero?
Technically, Net-Zero Structure's houses aren't "net zero" but "net zero-ready." That is, they claim a very high degree of efficiency but still need some extra heat and electricity — a combo of electrical and woodstove heat in the Moricetown houses. The company leaves it up to owners whether they want to install higher-tech renewable heating or power systems like geothermal or solar.
It's part of the company's drive to keep its costs down. That's also extended to forgoing claiming expensive net-zero certifications for finished projects.
"We've realized that with our clientele, it's going to be relatively rare that they'll have the extra resources to bump it up to actually becoming net zero," said Sawyer, although he adds that the extra investment would benefit remote communities that still rely on diesel generators for electricity to run their homes and other buildings.
Demonstrating energy performance after construction is a difficult task, Sawyer said, and one he's not planning on investing his company's "limited resources" into for every project. However, they have done less formal followups, including one with a non-Indigenous couple for whom they supplied SIPs to build a 900 square-foot house three years ago in Telkwa, less than 15 kilometres south of Smithers.
Monthly hydro bills in their previous "normal house" were well over $100 in winter, not including the oil bills for their furnace. The couple now reports BC Hydro bills of $70 max. "That includes their lighting, cooking on the electrical range, the refrigerator, and their heat," Sawyer said.
Most Indigenous communities see energy efficiency as a bonus, Sawyer said on his own experience. "There's a glimmer of interest, but the reality is they're just so pressed for cheap housing that they really don't care."
Yet if Moricetown's new houses are as efficient and soundly built as Sawyer says, in the long run they should not only decrease the need for repairs and replacement houses, but also save money for their residents and the band.
Hiccups on the road
Indigenous Affairs and Northern Development provides housing grants to reserves in B.C. But even with top-up funding from the band or a bank loan, they're usually not enough to go beyond basic building code requirements for energy efficiency.
Nor are incomes in rural reserves like Moricetown enough to bridge that gap. The average household income for a B.C. reserve is $43,000, compared to $77,378 province-wide. Individuals living on reserve make just over $15,000 a year — less than half the provincial average.
Without higher government funding, it's up to industry to innovate solutions to on-reserve housing problems while still keeping costs low, Sawyer said.
Even with its bulk buying and other cost-reduction tactics, Net-Zero Structures' Moricetown houses cost $165,000 each to build. But thanks to band and bank financing, Naziel said the rents will remain affordable for someone on income assistance.
Naziel admits Net-Zero's cost made the company the band's second choice in builders.
"The majority of the time we do go with the lowest bid," she said. But in this case the lowest bidder was already doing work in the community, and the band didn't want to overload him.
"So we went with the second [cheapest], which was Net-Zero," she said, adding that she also believes the energy savings will mean the houses cost less over time than houses built to minimum codes.
Not that the relationship between the band and Net-Zero has been entirely smooth sailing. Naziel said the houses were three months late for completion this past August, and attempts to reach Sawyer haven't always proved fruitful.
Sawyer has his own gripes, that despite signing a contract with the band in June 2015, the deposit to get work started didn't arrive until November, when frozen ground and other site problems delayed construction until March 2016.
And despite working twice with Sawyer — with one project started and finished after I interviewed him in early August — neither the band manager nor housing co-ordinator for the Gitsegukla nation responded to repeated interview requests.
All of this to say Net-Zero Structures Ltd. is a business with a bottom line to meet, and it doesn't always see eye to eye with every client. But Sawyer, who refers to himself as a "conflicted capitalist," said his goal isn't a big payday, but to offer the best houses for the least money to the people whose need is greatest.
"Lack of housing is linked into all sorts of other social problems: education, family violence, drug abuse, poverty, the list goes on and on," Sawyer rightly observes. All of it comes back to the lack of adequate housing, he said. Without a safe, warm and dry space to come home to, everything else in your life starts falling apart.
Which suggests that while the execution may still have some hiccups, Ottawa's goals of better housing for First Nations communities and more energy efficient housing might be met with the net zero model.