Sailing aboard the Martin Sheen for a couple of days can quickly crush every expectation one might have about the Sea Shepherd Conservation Society.
Yes, the direct action society may be known in some quarters for ramming Japanese whaling boats, throwing smoke grenades and cutting illegal fishing nets, but the Sheen, a 24-metre ketch with an aluminum hull, doesn't do any of that.
It may fly a Jolly Roger, but it remains a different kind of boat with a peaceful mission.
In fact, the former 40-year-old Caribbean yacht now sailing up Vancouver Island operates much like its hardworking and respected Hollywood namesake: Martin Sheen.
(Every boat in the society's growing armada is named after a famous society supporter — from the Bob Barker to the Farley Mowat.)
Nor can one find any "hippie terrorists" or "militant activists" on board. Like many Sea Shepherd vessels, the Sheen is staffed by a savvy and committed crew of mariners from around the world.
"The boat is a great tool for diving, for filming and for research," explained 38-year-old skipper Francois "Fanch" Martin, a lean Briton and master mariner whose daily attire consists of shorts, T-shirt and sunglasses.
Martin, a veteran campaigner who once helped hide Paul Watson in the South Pacific after INTERPOL issued a wanted persons alert on behalf of Japan, is the kind of avid sailor who can read Richard Henry Dana's Two Years Before the Mast and actually understand the 19th-century rigging lore.
When not taking on difficult sailing assignments for the society, Martin operates a whale sightseeing business on Reunion Island in the Indian Ocean, east of Madagascar.
"My favourite part is helping the researchers accomplish as much as they can," said Martin, and that's what he and his tight crew are now doing with the activist/biologist Alexandra Morton.
Paul Watson, the society's larger-than-life director and still a fugitive on INTERPOL's Red List (he has been granted amnesty in France), loaned the scientist the boat's services for two months this summer.
In addition to attracting the Canadian government's attention, the goal is to "address the destruction of natural habitats and indigenous salmon species by domestic fish farms," Watson wrote in a Facebook post.
Morton, who credits steady declines in wild salmon populations to the impact of diseases from fish farms, has not only parked the boat outside Atlantic salmon feedlots in the Okisollo Channel but documented one major fish die-off. She has also collected samples of mussels both near and far from farms for virus testing in a B.C. lab.
In response, the foreign-controlled industry has accused one of its most vocal critics of harassment along with "strange and unusual behaviour." It has called the operation a costly PR stunt.
But Martin is not fazed, because he said observing fish farms with cameras or drones is pretty tame stuff in the scheme of things.
Unlike other ocean campaigns that operate with military-like precision and often for TV cameras, "Operation Virus Hunter" is a fairly laid-back affair and follows the instincts of Morton.
"With Alex nothing is planned, and for me that is OK. She is fantastic," said Martin.
The Sheen, like all Sea Shepherd vessels, is entirely staffed by volunteers from all walks of life and only the skipper is paid. The volunteers seem to share an abiding passion for ocean life, and that most basic of human desires to do something meaningful.
Take Katja Walther, the ship's 21-year-old cook and deckhand.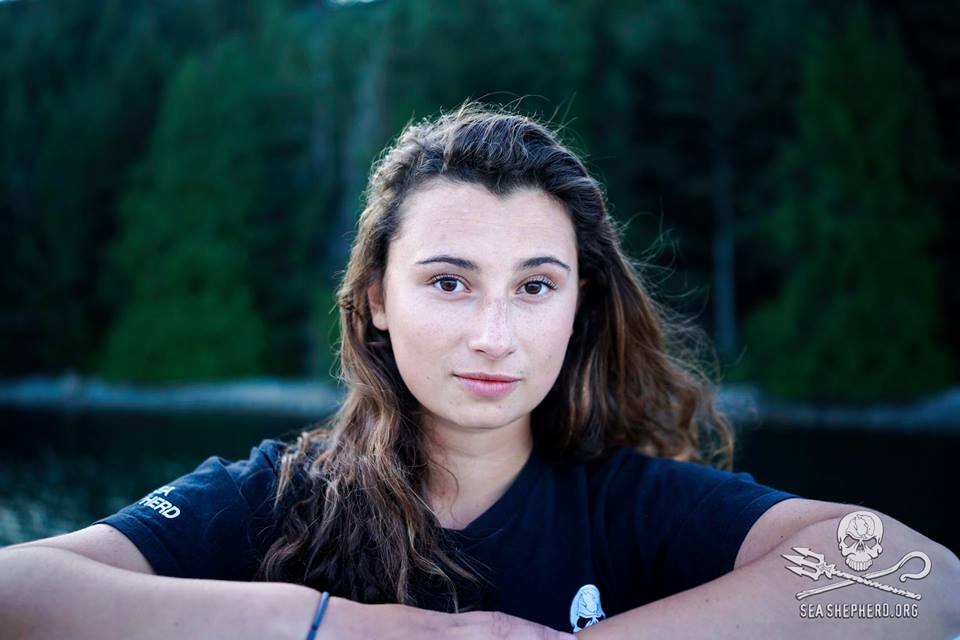 Born in the Comox Valley, she recently volunteered to serve on the Farley Mowat in the Sea of Cortez to protect a small, endangered porpoise, the vaquita, from illegal gill-netters.
The Mexican campaign illuminated a typical global mash-up. Chinese market demand for the bladder of an endangered sea bass combined with local fishermen funded by drug cartels had encouraged a wholesale massacre of sea life.
Rays, hammerheads and vaquitas all perished in gill nets set for the sea bass. Poachers cut out the bladders — known as "aquatic cocaine" — and then threw the rest of the fish back in the water.
Although Walther found the campaign in Mexico rewarding (even the Mexican navy and government supported "Operation Milagro"), she prefers working on issues closer to home. "The ocean and salmon are the backbone of B.C. Everything is so interconnected. Fish farms put the entire coast at risk and people need to know that."
One of the quirks of the society is that all Sea Shepherd vessels have been serving vegan meals since 2002. You won't find eggs, honey or even cheese in the galley of any of the vessels, explains Walther. She even became a vegan three months prior to sailing with the society.
A Sea Shepherd blog explains that that veganism offers "powerful alternatives to eight billion human beings and their domestic animals eating the oceans alive."
The society has its own book of recipes (Cookin' Up a Storm), but Walther says her favorite cookbook is the profane Thug Kitchen: Eat Like You Give a Fuck.
Each volunteer seems to bring a different perspective and history to the vessel.
Ivan Alexis, a 42-year-old California software design manager, was born in Argentina and has sailed both the Atlantic and Pacific oceans. He volunteered to serve on the Sheen "to help give back to the ocean in a way that is meaningful."
Whenever completing his duties as deckhand, Alexis routinely nurtured an ever-present cup of mat&eacute, a caffeine-rich herbal Argentine tea.
What surprised Alexis most about Operation Virus Hunter with Alexandra Morton was its focus on people and culture.
"If the wild salmon disappear, the culture of First Nations and a way of life disappears... here we can save a way of life and that's what attracted me about this project."
Mike Rigney, the 31-year-old first mate and engineer aboard the Sheen, expressed similar sentiments.
With more than 15,000 nautical miles on sailing vessels, the Michigan-born Rigney caught the conservation bug while working for an environmental NGO in Africa protecting rhinos.
When he learned about the Sea Shepherd Conservation Society in 2013, he felt he had found the perfect match.
The notion that "hippie terrorists" somehow operate the society is grossly outdated, explains Rigney.
"The Martin Sheen is removing that stigma. We facilitate science. We are a research vessel."
Rigney noted that the society, whose popularity keeps on growing, recently secured a whopping $8.3 million euros from the Dutch postcode lottery.
One of the boat's most seasoned mariners is Matt Kimura, a native of San Francisco.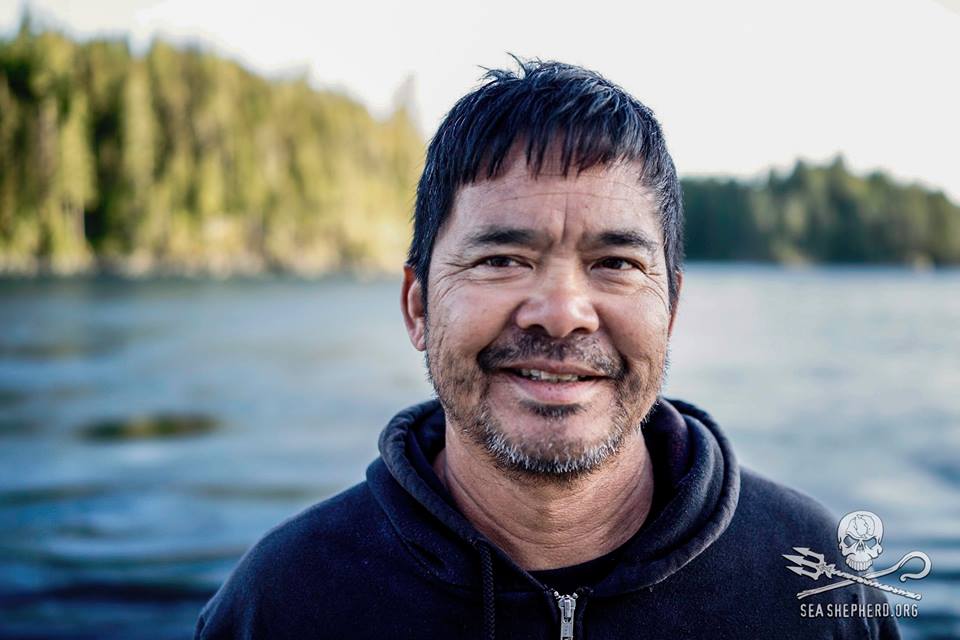 Prior to becoming a physical education schoolteacher, Kimura worked 16 years on oil tankers and barges owned by Exxon. He got his first taste of Sea Shepherd work by serving as bosun on a notorious anti-whaling campaign in 2010.
During that tempestuous outing, a Japanese whaler sideswiped the Ady Gil. (You can watch Kimura in Animal Planet's highly popular TV series, Whale Wars).
But Kimura prefers patrolling fish farms in B.C.'s waters to battling the Japanese whaling fleet in the Antarctic Ocean.
"I'm very impressed with Alexandra Morton and her commitment and non-stop work ethic," Kimura said.
The marine engineer is somewhat baffled by Canadian complacency about the state of the ocean given what so many people get from it.
"I'm surprised there isn't more public outcry about the fish farms from commercial and sport fishermen."
But to skipper Martin, the biggest surprise of the voyage so far has been the clear-cut logging around Vancouver Island.
Every time the Martin Sheen parked itself outside an Atlantic salmon feedlot, the crew found itself staring at well-logged landscapes replanted with what Martin described as tree-like matches.
"That's terrible to see."
As for the plight of wild salmon, Martin doesn't understand the logical appeal of fish farms to government regulators.
"Can't you make more money from wild salmon in terms of tourism and sport fishing than the fish farms? There is something missing here."