The idea that Canada should catch up with the other G8 countries and create a national school meal program has been on the public radar since at least 2011.
Last year, Food Secure Canada put a price tag on a program -- $1 billion over five years -- and launched a campaign to win support for a national initiative that would provide a healthy meal or snack for every public school student. The program would build on existing programs, and be free or low-cost depending on how much provinces were willing to kick in. Schools and school boards would get a say in what kind of food is served.
But Canada is a huge, diverse country, with about 5.1 million students of varied cultural backgrounds. How could such a program actually work?
Brazil offers some clues. That country spends $1.3 billion per year on its national student nutrition program, known as the Programa Nacional de Alimenta&ccedil&atildeo Escolar, or PNAE. The program has been around since 1954, but over the past 15 years it has been transformed thanks to a series of pro-food security reforms -- in particular, legislation passed in 2009 that said at least 30 per cent of food purchased for the program must come from small family farmers.
The result? As of 2012, according to the International Policy Center for Inclusive Growth, the PNAE was funneling about US$500,000 into local farmers supplying fresh fruits, vegetables, milk and other products to schools. Although some states aren't yet meeting the 30 per cent requirement, others are surpassing it.
Referred to as an "inspiration for other countries" by the World Food Programme, the Brazilian program is an example of what's known as structured demand. Simply put, this means connecting small farmers with large, predictable sources of demand -- from schools, hospitals or other public institutions.
The system is not perfect. It's not reaching all students equally. In regions and communities where there's been less investment generally in social and economic development, the program has predictably lagged.
Earlier this year, I had the opportunity to spend six weeks in Brazil reporting on this policy. What I heard from teachers, parents, cooks, students, farmers and administrators was that, yes, the program has been hugely beneficial. Although many complained that funding wasn't enough to cover the nutritional needs of all 45 million school kids in Brazil, they said that, overall, there's now better, healthier food in schools, and more money going to small-scale farmers.
So what can Canada learn from this experiment?
Lesson 1: Delegate decision-making power to local governments
For most of its history, Brazil's school feeding program was run from the capital, Brasilia. A federal agency bought the food and distributed it using large food service companies. Menus were more or less the same across the country.
Then, in the mid-1990s, the federal government decentralized the program. It provided dedicated funding to states based on the number of students. State education departments control this account, and the purchasing of food. But school cooks and principals get to craft menus (according to state guidelines and with help from state nutritionists) and report back to the state on the quality of food received.
In the state of Paran&aacute in southern Brazil, local producers have begun to enrich their bread with vegetables, including beets, carrots and cassava, a tuber native to South America and an important part of the traditional diet in the region.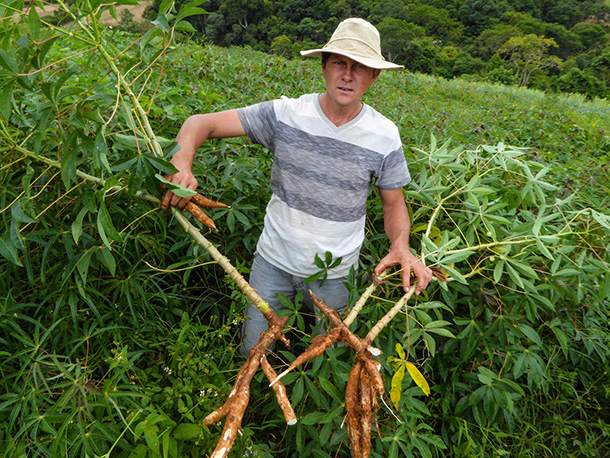 "We want to rescue traditional and healthier eating habits," explained Andrea Bruginski, co-ordinator of student food and nutrition for the state's education department. "Cassava, for example, is a traditional food that also offers more fibre, more vitamin B and complex carbohydrates."
"Different schools have different menu requirements, depending on what grows in the region, depending on what the culture of the school is like, depending on what students are used it," said Bruginski. "For us as nutritionists, we feel students should be familiar and comfortable with what they're eating."
Lesson 2: Craft policies to support small farmers
Brazil has a long history of agrarian activism rooted in the Movimento dos Trabalhadores Rurais Sem Terra (MST) -- Landless Workers' Movement -- that emerged in the 1970s to fight for the rights of rural families pushed off their land during years of military dictatorship. The movement is known for bold direct actions, like the massive demonstrations it has organized, but it's also an effective political force.
In the mid-1990s, it pushed to ensure small farmers could benefit from agricultural policies -- like loans, insurance, price stabilization and market access -- already enjoyed by big agribusinesses. The government responded with the National Program to Strengthen Family Agriculture -- and created a separate ministry for small-scale farming, the Ministry of Agrarian Development. The ministry and the MST were crucial stakeholders in drafting the law mandating 30 per cent local purchasing.
The law has provided an incentive for farmers to organize in co-operatives so they can meet schools' demands for large quantities of high quality produce.
The AOPA co-operative in Paran&aacute sold about $2 million worth of produce to 382 schools in the state this year. The co-op works with 400 farmers in Paran&aacute and three neighbouring states.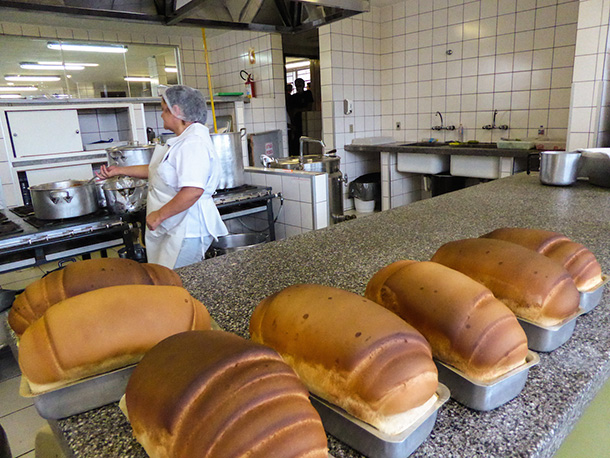 Jos&eacute Ant&ocircnio da Silva Marfil, the co-op director, told me it has been able to "expand and access more and more opportunities" because of the new demand from schools. The co-op has been able to build new cold storage facilities at its warehouse, and the office now employs a full-time staff of five, including two administrators, two bookkeepers and a floor manager -- the people who "make the wheels go 'round."
"What's important is that the administrative organization is polished," Marfil told me. "That's what makes us work."
Lesson 3: Regional and local government commitment means more success
Although the PNAE is a national program, state and municipal governments are responsible for implementing it. All states are expected to supplement funding for food (which they do, to varying degrees). Some municipal governments also contribute. State education departments are responsible for food purchasing and maintaining cafeteria infrastructure.
So the program's level of success depends heavily on how much state and municipal governments consider student nutrition a priority.
In Paran&aacute, for instance, state officials can brag about having one of the highest rates of local food purchasing in the country (40 per cent of food served to students is from local farmers and processors) and one of the highest rates of organic food purchasing. In 2011, they delivered nine tonnes of organic produce to schools; now they deliver 2,414 tonnes.
Buying local required a big shift on the part of farmers, nutritionists and school administrators here. The two biggest challenges for farmers who wanted to participate in the program were getting through the application process (which consists of about 28 different forms) and then figuring out distribution logistics. Although non-perishable items go to a central warehouse, perishables must be delivered by the producer directly to schools once or twice per week.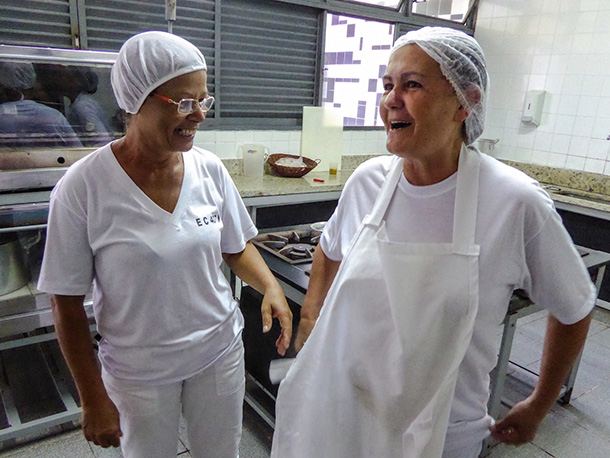 In response, program administrators tried to simplify the process. They revamped regional boundaries to better match participating farmers with schools near them. They created YouTube videos to walk farmers through the application process. And they adjusted produce prices monthly, instead of annually, to better reflect market rates.
Lesson 4: Change can be slow, but will pay off
Brazil's legislature passed the 30-per-cent local law in 2009. Implementing it required a major logistical shift for state education departments that were used to working with large food manufacturers and distributors. Farmers had to become accustomed to the paperwork required to do business with the state.
Even in states where progress has been slower, the school food program is having positive effects. Bahia, in northeastern Brazil, has not met the legislated goal of purchasing 30 per cent of food from family farmers -- last year, it was around 20 per cent. But the year before it, it was only six per cent.
Eleneiole Alves Cordeiro is the manager of a farmers' co-op in Bahia, Arco Sert&atildeo Central, that launched three years ago and now has 47 members producing everything from cassava and papaya to bread and the tapioca crackers that are so popular in the region. She said that although the prices offered by the state government through the program are too low, "it is opening doors for our product, spreading our products and interests in different markets."
And this exposure is proving that small agriculture can produce good quality processed products -- the kind of value-added products that can make farming more profitable.
"This spread, this growth, is breaking a paradigm... the stereotype that people believe that family agriculture does not have good products," said Cordeiro. "That's a lie. We know we are able and capable of producing quality products, good, dignified products that can contribute to the school feeding program."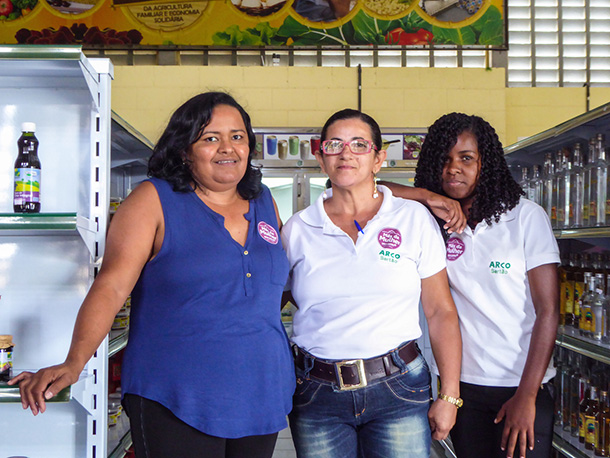 Lesson 5: There must be broad public support
When Brazil created its national student nutrition program in 1954, it was out of dire necessity. At the time, more than half the children in the country suffered from malnutrition. Much of the food used in the program was a commodity donated by USAID and other wealthy countries. For much of its history, the focus was on feeding kids, not feeding kids well, according to Daniel Silva Balaban, director of the World Food Programme's Centre of Excellence Against Hunger.
Former president Luiz In&aacutecio Lula da Silva began reforming the national school meal program in the early 2000s as part of a much broader vision for food security known as Fome Zero (Zero Hunger).
By then, Brazil had become an economic powerhouse. Industrial agriculture was booming and there was a rising middle class, but many Brazilians, particularly in rural areas, weren't seeing much improvement in quality of life. Hunger, although not as prevalent, was still a big problem. People were hungry for change -- hungry for a more equitable distribution of resources.
Is Canada ready for the same?