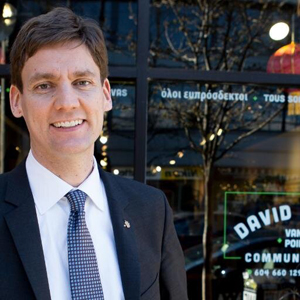 NDP MLA David Eby is demanding answers from Speaker Linda Reid over the apparent leak of the conflict of interest commissioner's report that found nothing wrong with Premier Christy Clark's high-priced fundraisers.
Conflict of Interest Commissioner Paul Fraser ruled Wednesday that Clark was not in a conflict of interest because "helping to boost the BC Liberal Party's financial wellbeing is a political benefit, rather than a private financial one."
Eby and Democracy Watch co-founder Duff Conacher had filed separate complaints about Clark's role in Liberal fundraisers where donors paid up to $20,000 for access to the premier at dinners or other events.
Fraser's report was tabled in the legislature just before 7 p.m. on Wednesday.
In a letter to Reid, Eby said Clark's communications director Ben Chin had indicated to members of the Press Gallery that he had advance notice of when the report would be tabled and what it contained.
"He was allegedly encouraging these journalists to 'watch Hansard' because it 'was going to be good,'" Eby wrote. "It is unlikely in the extreme that the premier's professional head of 'issues management' would encourage journalists to obtain copies of the report without first obtaining a copy himself to review and prepare for any issues that arise. It is unlikely further still that he would allegedly describe a report he had not read as 'good.'"
Eby wrote that he didn't expect the report for at least a week because he had provided an extensive submission to Fraser at 2 p.m. Tuesday.
Eby said when he heard about Chin's comments to journalists he raised the issue with Fraser.
"I wrote to the commissioner at 6 o'clock saying I've heard that the Liberals know that this thing is going to be tabled today, how did they know that?" Eby told The Tyee. "That's why I believe the issue is with the Speaker's office, not with the commissioner. The commissioner wrote back saying no, I delivered that straight to the Speaker's office and nobody else knew."
Reid did not respond for comment, but, on Friday, Chin said via email: "I only learned about the timing from journalists. I shared that with other journalists." He declined to name the reporters.*
Eby said B.C. law requires reports from statutory officers like the conflict commissioner and auditor general to be tabled in the legislature. That usually happens after Question Period, not at the end of the day.
On Tuesday, Reid accused Representative for Children and Youth Mary Ellen Turpel-Lafond of contempt of parliament for releasing a report before it was tabled in the legislature.
Turpel-Lafond fired back that she took the action after the Speaker's office told her there was no time available on April 28 to table the report. Turpel-Lafond also said someone in the Speaker's office immediately leaked the information that the report was completed to Ministry of Children and Family Development.
More than three hours after the conflict report had been tabled, Conacher had not received a copy and it was not available on the commissioner's website.
Considering bid for judicial review
Conacher said Thursday that he may ask a judge to overturn Fraser's decision.
"The commissioner himself suffered from an apparent conflict of interest and so he should not have ruled on this situation involving Premier Clark and instead should have referred the complaints to someone else," Conacher said.
Fraser's son is John Paul Fraser, who is deputy minister of government communications and public engagement. He is a long-time friend of Clark and volunteered on her leadership campaign.
In 2012, Paul Fraser recused himself from investigating former Liberal MLA John van Dongen's complaint about Clark's possible conflict in the BC Rail privatization. Van Dongen had raised concerns that Fraser was in conflict. (Clark was cleared.)
Conacher said Fraser's ruling is disappointing, but not surprising. Even without Clark's $50,000-a-year stipend from the BC Liberals, Conacher said, donations at an exclusive event should be illegal. The controversial stipend "just made the personal benefit for the premier even more direct."
"Despite the commissioner's dangerously flawed ruling, British Columbians will recognize that it is deeply unethical for politicians to sell access to themselves to wealthy private interests, and that this fundraising has a corrupting influence on B.C. politicians and political parties," he said.
"Hopefully Premier Clark will wake up to this reality sooner than later, and voters across the province will contact their MLA and call for key changes to make B.C. politics more democratic by strictly limiting donations so wealthy interests can't use money as an undemocratic and unethical way of influencing provincial politicians, and also municipal politicians."
Deputy Premier Rich Coleman defended Fraser and his ruling and called on critics to accept the decision.
"Everybody could take their shots while this complaint was going on, and pre-judging what this commissioner might do," Coleman told reporters. "He has ruled. It's time these guys accepted the law as it's written and the decision of a commissioner with this much integrity and professionalism."
Clark appeared unconcerned by the controversy during a Thursday afternoon news conference in Vancouver before the Western Premiers' Conference.
"I was always thinking that the conflict commissioner would rule against the NDP in this; I never thought they had much of a case," she said.
"A conflict arises when there is an obvious connection between the decision the government has made and money the government has received. That's right, that's what the system is there to protect us against. I don't think anybody has made any allegations that that's happened under my watch."
Eby said he would accept Fraser's ruling, but it is further evidence of a broken system in B.C., one of few provinces with no laws to limit fundraising.
"The idea that it's legal for the premier to sit down for a dinner with someone who paid $20,000 for the privilege and then walk into the cabinet office and make a decision on that person's interests is astounding to me," Eby said. "It's going to be a live issue right up until the election."
The election is scheduled for May 9, 2017.
With files from Andrew MacLeod.
*Story updated May 6 at 10:30 a.m.