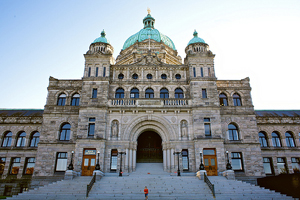 Less than a month after working his last day as Premier Christy Clark's press secretary, Sam Oliphant named Clark as one of two cabinet members he intended to lobby on behalf of a Toronto-based healthcare app developer.
Oliphant filed with the Office of the Registrar of Lobbyists for Think Research from March 23 to Jan. 1, 2017, to help Think "get their products used by the B.C. government." Health Minister Terry Lake is the other target contact.
The registration mentions Oliphant was Clark's press secretary from July 15, 2013 to Feb. 26 of this year. It does not mention that he was a researcher for the Liberal caucus in 2011 or that he worked as the spokesman at BC Liberal headquarters in 2012 and 2013.
Oliphant filed under Oliphant Public Affairs, whose website he registered on Feb. 11 while he was still working in the Office of the Premier. All of which is perfectly legal in British Columbia, which has no rules to stop close aides to cabinet members from instantly switching careers to lobbying their former bosses.
A one-year lobbying ban contained in B.C. government post-employment guidelines applies only to deputy ministers, associate deputy ministers and assistant deputy ministers. They must not lobby the agency or branch of government in which they worked.
"The idea that prominent Liberal staff members do their time at the legislature and then go off to cash-in on their time at the legislature is something that produces incredible cynicism from the public, and demands far more rules and regulations in this province to help at least address some of the cynicism the public has," said Dermod Travis of IntegrityBC.
Oliphant has also become a senior communications advisor for Kirk & Co., the BC Liberal-allied Vancouver public relations company that holds several high-profile provincial contracts, including one with BC Hydro's Site C dam project. The company's senior associate, Mike McDonald, is Clark's former chief of staff and the party's 2013 campaign manager.
Oliphant did not respond to phone calls, but by email explained he is working "as an independent consultant" under his sole proprietorship. "I work with a variety of clients, Kirk & Co. among others, to provide services from communications support to strategic advice," he wrote.
Other aides-turned-lobbyists
Oliphant is not the first Clark aide to cross the street into a lobbying job.
In late October 2013, Gabe Garfinkel left the Office of the Premier to join FleishmanHillard as an associate vice-president. Garfinkel was Clark's executive assistant since September 2011 and was promoted to director of community and stakeholder relations for ethnic communications after the May 2013 election.
Garfinkel began lobbying sooner than Oliphant. His first target was not Clark, but instead Energy Minister Bill Bennett. Garfinkel began an undertaking for EDF EN Canada on Nov. 1, 2013. Since then, he has represented Chevron Canada, Multi-Material BC, Port Metro Vancouver and Hoffmann-La Roche. His current clients are Vertex Pharmaceuticals and Lifescan Canada.
Meanwhile, ex-Coquitlam-Burke Mountain BC Liberal MLA Doug Horne registered as a lobbyist for two clients from March 1 to June 30. Horne quit last summer and ran unsuccessfully for the Conservatives in last fall's federal election.
He is representing Urban Gate Inc., a restaurant, bar and store specializing in Persian food, to lobby three ex-caucus mates, Jobs Minister Shirley Bond, Liquor Minister Coralee Oakes and Coquitlam MLA Linda Reimer, "to improve B.C.'s Provincial Nominee Program [for skilled immigrant workers] to make it more accessible for small businesses."
Horne's other client is Skydance Media, a Hollywood film, TV and video game producer, "regarding the importance of stability for production tax credits." Finance Minister Mike de Jong and North Vancouver MLA Jane Thornthwaite are the lobbying targets.
Meanwhile, former deputy minister Dana Hayden, who quit as BC Pavilion Corp. CEO in January 2014, has a pending registration to lobby various cabinet ministers and PavCo on behalf of Westbank Projects Corp. "to initiate the disposition of land held by the BC Pavilion Corp." Hayden was appointed by the BC Liberal government to chair Partnerships BC, the government's infrastructure and privatization middleman.
Westbank owner Ian Gillespie also owns the Creative Energy steam power plant next to BC Place Stadium. He wants to move the plant to False Creek Flats and build a tower on the property.
Nothing wrong with cool down period: registrar
Lobbyist Registrar Elizabeth Denham's January 2013 report suggested ex-public office holders serve a two-year cooling-off period. She later toned down her recommendation to one year.
"If a personal relationship between a lobbyist and a public official is durable, it is probably true that a cooling-off period will not affect the lobbyist's access to the public office holder, no matter how long the cooling-off period," Denham wrote.
"Nevertheless, a cooling-off period could give 'hot' policy issues a chance to move along to the point where the current knowledge of a former public office holder would no longer be of advantage."
Travis said the undertakings by Oliphant, Horne and Hayden are further evidence that B.C. is "becoming a closed shop for the BC Liberal family."