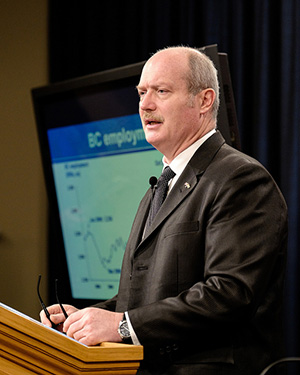 Taking action to reduce housing prices in Vancouver could sap the equity people have built up in real estate, British Columbia Finance Minister Mike de Jong warned last year.
The hit from anything the provincial government might do to drop real estate prices in B.C. would be particularly painful for investors like de Jong, who has a personal ownership stake in seven investment properties in Abbotsford, an hour's drive from Vancouver.
"You've got to be careful about intervening, about having the state intervene to try and regulate pricing, or depress pricing," de Jong said last May as the #Don'tHave1Million campaign drew attention to the negative effects of high house prices in the region.
"Those who are expressing a concern, I think if you really assess what they are seeking, it is a reduction in the value of homes in Vancouver and that will have consequences for a lot of families," de Jong said.
"If property values in Vancouver were to reduce by, let us say five per cent, that could easily translate into a reduction in equity for families that own homes in Vancouver of 60, 70 or $80,000," he said.
"All I'm saying is you've got to be careful about how you use the tools and levers of taxation, and you have to be clear on what your objective is."
Stake in seven properties
If de Jong sounded more sympathetic to people who already own homes than to people trying to enter the market, it could be because like them he would be personally exposed to the pain that would come with dropping prices.
As an MLA, de Jong must make a financial disclosure statement each year. The most recent was released publicly in early December and was current as of July 12, 2015.
It shows de Jong owned or part-owned seven investment properties in Abbotsford, plus the home he lives in on the family farm where he grew up. It shows he received rental income from all seven of the investment properties.
De Jong's biggest stake is in a condo on Old Yale Road, which the BC Assessment database for 2015 says is valued at $158,600. There's also a condo on McCallum Road worth $82,600 and one on George Ferguson Way worth $98,100. The disclosure form indicates he's the sole owner of all three properties.
He also holds a one-third interest in a $259,500 house on Oakridge Crescent, a half interest in an $86,500 condo on George Ferguson Way, and a one-third interest in two condos on Gladwin Road. The Gladwin Road addresses listed on de Jong's disclosure statement do not appear in the BC Assessment database, nor could an assessment authority official reached by phone find them.
Not including the two Gladwin Road condos, de Jong's stake in the investment properties is worth about $470,000. His disclosure says there are mortgages on those five properties.
The home de Jong lives in and the farm it is on are valued at $247,718. His disclosure form does not list a mortgage for the property. De Jong is also the mortgage provider to the owner of a property on Ashwell Road in Chilliwack that is valued at $178,000.
A finance ministry spokesperson said that de Jong was unavailable for an interview.
Inaction unexplained, NDP says
"I think it's entirely reasonable to look at the financial interests of government officials who could make a difference and ask why are they not acting, because there's really no reason I can think of," said David Eby, the housing critic for the NDP opposition and the MLA for Vancouver-Point Grey.
The high price of real estate compared to the wages people earn is one of the top issues in B.C., particularly in the Lower Mainland, he said. "I don't think anybody looks at real estate prices and says, 'This is sustainable.'"
And yet the provincial government has avoided taking any action that would reduce prices, Eby said. "I'm racking my brains trying to figure out why the provincial government is so out of touch on this issue," he said. "Politically, I can't understand it."
Not that he thinks the finance minister's real estate interests are driving government policy. "Frankly, I don't think it's as simple as [the fact that] Mike de Jong owns a few condos, either," Eby said.
Saeid Fard, a digital designer and blogger who helped with the #DontHave1Million rally and campaign, said the government has consistently supported existing owners rather than taking steps to make homes more affordable.
That makes political sense, given that 70 per cent of Canadians are property owners and that they are more likely than non-owners to vote, Fard said. "It's political suicide to not favour them."
Homeowners losing some equity would be unfortunate, but for people living in their homes for the long term, some drop in prices would be no big deal, he said. "I don't think that's something we should cry over given the number of social justice issues we have in the province."
People who see real estate primarily as an investment have a different view, he said. "You care about price changes. You want a return on your investment."