At the New Democratic Party's convention in Vancouver in early November, leader John Horgan told an anecdote in his keynote speech that summed up the challenge he and his party face.
Horgan was traveling with former BC NDP leader Carole James, who is frequently recognized throughout the province. "People would come up and hug Carole and she'd say, 'Oh, and this is the leader of the NDP,' and they'd go, 'Oh, really?! He seems very tall.'"
With less than a year and a half until the May 2017 election, in a province where voter turnout has been as low as 50 per cent, getting known to voters is obviously key for anyone hoping to form the government and become premier.
Horgan must have thought he was making headway one day when he and James were in the Surplus Herby's store in Williams Lake, looking to replace Horgan's broken sunglasses. "A guy came around the corner of an aisle and he looked straight at me and he said, 'You're the leader of the opposition.' I perked right up."
But as they spoke, a second person came around the corner, Horgan said. "He looked straight at Carole and he goes, 'The premier of B.C. is in Surplus Herby's!'"
Horgan said he and James let it go, and didn't bother to correct the guy. Later as they were preparing to leave, however, "This guy comes running up to me and he says, 'I hear you're the leader of the opposition.' I said, 'Yes, I am.' He said, 'What are the chances of the premier and the leader of the opposition being in Surplus Herby's at the same time?'"
Laughing, Horgan managed to draw a hopeful conclusion. "In Surplus Herby's and communities around B.C., anything is possible," he said.
In a year-end interview this week, I reminded Horgan of the anecdote and asked if it didn't speak to a bigger problem. Here are his responses to that, along with his thoughts on telling (and selling) his story to British Columbians, prosecuting Premier Christy Clark's "appalling" record, 2017 election strategy, and why the recent Rachel Notley and Justin Trudeau breakthroughs give him hope.
The Tyee: What did you take away from the Surplus Herby's encounters that you spoke about at the convention?
John Horgan: What started me telling the story -- and I've told it a few times since -- is people don't know who I am. I need to be more present in communities outside of Vancouver Island, where I'm very well known. The further out you get, the less known I am.
What are you doing about that?
What I've been doing is going around meeting as many people as possible. Not to sell a political message exactly, but to allow people to judge my character and be able to then compare it against other politicians in the future at election time. We can see quite clearly from the last provincial election and the last federal election that people make their voting decisions closer to election day. We're 73 weeks today from the next election, and people will be shaping their opinions of the individuals, but not necessarily the platform planks... People want to know who are you, and what are you all about.
So who are you, John Horgan, and what are you all about?
I tell people wherever I go, if I'm given an opportunity to speak for any length of time, about where I come from and what's shaped my views of the world today -- and that's my single parent family, a bit of a rough teenage period, and some good breaks, some luck and some hard work along the way, to find myself where I am today. Always I've been given opportunities to succeed. Sometimes I've failed, and sometimes I haven't. I believe that what separates me from the premier is that I am genuinely concerned about the well being of the people of B.C., and I think the premier's more interested in the well being of the powerful.
The last polling I saw showed you had a 39 per cent approval rating, but I didn't notice how many said they didn't know who you are.
Those who have formed an opinion on me have formed a positive opinion, but the last survey that I saw still had a high degree of unknown... I'm at the halfway point between when I took on the leadership and when the next election will be held. I spent a lot of time here in Victoria holding the government accountable, leading the charge in the legislature, and I think to fairly good effect... What I'm going to focus on in the second half of my term as leader of the opposition is to engage with people in their communities about issues that are important to them, and I believe that will lead to success.
Looking at the breakthrough in Alberta, what do you think went right for the NDP there?
I draw parallels to change in government rather than the party that's the vehicle for that change, and that helps me talk about the Trudeau phenomenon in the context of the Notley phenomenon, and maybe the hope that there would be a Horgan phenomenon in the future. [Federally], the Tories were going to lose. Tom Mulcair did excellent work as the leader of the opposition, holding them accountable... While he was doing that, Mr. Trudeau was going about the country building relationships. In Rachel Notley's case, the arrival of [Jim] Prentice as the great saviour of conservatism in Alberta was a clear failure, and she took full advantage of that as a capable woman who was the right person at the right time in a multi-party election... She became the obvious vehicle for that change, as Mr. Trudeau did in the last election. I believe in British Columbia, the obvious vehicle for change is a John Horgan government.
What do you think went wrong for the party here in 2013?
A whole bunch. We lost. You and I have talked about this in the past, and I've talked a lot to the media about that. I'm focused on what we do to succeed, and I'm looking at the two recent examples of success. The Trudeau Liberals, many of whom vote New Democrat in British Columbia, and the Notley New Democrats across the Rockies. Those were successful campaigns that captured the imagination of voters.
Any update on who will be running the BC NDP campaign in 2017? Will it be the same people who were involved in both the 2013 campaign in B.C. and the last federal campaign?
I'm going to look at that as we get closer to the election... Michael Gardiner is the new provincial secretary at the provincial office. He's a new generation of New Democrat, a younger head of the operation, and we're bringing in younger people all the time to try to engage with the new generation of voters. But there are also some very good people like Gerry Scott who've been around B.C. politics for a long, long time. I personally have a great deal of time for Gerry, and if he's available and still wants to participate I would certainly want to have him very close to the campaign team. Quite honestly... I'm not engaged in who the campaign team will be at this stage in the mandate. We've got a long way to go. Talk to me next summer... I'm not skirting it; I'm not thinking about it. Obviously you want to look at the people who've been successful, rather than those who've been unsuccessful.
You were talking about being the natural vehicle for change in B.C. You have Andrew Weaver running to be leader of the Green party. How big a factor do you expect them to be?
I'm certainly not discounting the Greens, certainly not here on southern Vancouver Island. But again, I look at the last federal campaign. Elizabeth May ran a national campaign between Sidney and Nanaimo, spent a lot of money between Sidney and Nanaimo, and didn't elect another Green member. In fact, New Democrats were successful. I believe the desire for change is quite strong, and I believe I can be that vehicle. [Dr. Weaver] will make his case, and I believe in every other part of the province the Greens are not really a factor. They are a significant factor here on the south Island, but this is my territory, this is my home. I think people here have confidence in me when I talk about an absolute necessity for balance between the environment and the economy, that I'm serious when I do that.
I want to work with Greens. I want to work with disaffected Liberals and disaffected Conservatives as well. I really do adhere to the Mike Harcourt approach of creating as large a coalition of interests as possible to ensure the government is a reflection of the people in this great province... I better serve my constituents and the people of B.C. trying to find ways for all of us to get along rather than just picking fights with people. That's Christy's approach. She wants to divide people. I want to unite them.
What about Dan Brooks and the Conservatives. How big a factor will they be?
I wish them well... strategically, and also because I believe people should have a right to vote for their values. Mr. Brooks' values are not mine.
So is May 2017 all about change? Is that the ballot question?
I believe it will be. I think the Liberals want to make it about something else, and it's why I don't dwell too much on the failings of the last election. I think we need to focus our attention on what will be the issues, as you say the ballot questions, at the next election. Many people have said to me they're all about positive; they want to hear positive solutions to the challenges of our time, but we need to hold the Liberals accountable for the choices they've made, and I will absolutely do that... I think one of the failings of the last campaign was we did not hold them accountable for their record, and they've got now four more years of appalling government to be accountable for.
And will the party have the budget to do that effectively through advertising and other means outside the legislature?
I hope so. Fundraising is always a challenge, but we did very well in the federal campaign. The federal party raised more money than they've ever raised before. In the last [B.C.] election we raised more money than we ever raised before, and I expect we'll do that again.
Especially if the polls are such that it looks like you might be government.
That's right. Though I have to say I'm not as wed to polls as I have been in the past. I think most people would come to that conclusion as well.
It amazed me in the federal campaign how much the narrative was shaped for the press by polling, despite the industry's well-known challenges.
When Tom Mulcair was ahead by six points, it was a three-way race. Those were the headlines. Those were the stories. And when Tom Mulcair was one point behind, it was a two-horse race. That's demonstrable by looking at the headlines and the reportage of events. Again, I think it's a mug's game for me to predict or even care about that. I have to go out and talk to people and convince them in real time. Not just 19 times out of 20, but all the time, that we're a better choice.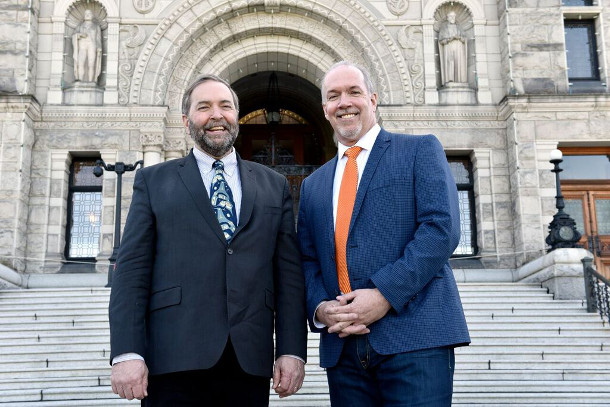 Are you suggesting it remains hard for the NDP to get a fair shake in the press?
I think it's always difficult to make your case, and I do believe we've been quite successful in the past year in breaking stories. My views have evolved on these things, and you know after knowing me now for many years, that I'm not the same person, or I don't respond the same way to different stimuli, and I'm working really hard at that. And I think I'm getting a better break than I had maybe expected, and that's a good thing...
A year and a half in, this is tougher than I thought it was going to be, and I knew it was going to be really tough. But I'm very well supported by my family, I'm well supported by my staff and the party... At convention I got a good strong vote of confidence from the people there, and I'm getting that from regular people as well.
When you say tougher than you expected, how so?
It's hard work. This is not easy what I'm doing here, just in terms of the time, the grind, the travel. 'Where did I park my car?' Just remembering, day to day. I got off a plane last night after being away for a week and I started walking out to the parking lot thinking, 'Where the heck did I park my car,' and remembered that my wife dropped me off... It's the toll of being on the go all the time. I knew intellectually [the job would be tough], but living it is another matter altogether. I'm not at all uncomfortable about that, and I think it's helped me come to the conclusion that I'll just do the best I can. That's what everyone expects of me and I shouldn't put additional pressure on myself. There's already plenty of pressure out there.
The other side is characterizing you as 'Dr. No.' How do you respond to that? What are the things you're for?
I'm for good economic development. I'm for a robust environmental assessment process so that investors can come and make their case, and if the projects... are good projects, they should succeed, and if they're not they shouldn't... When [Mike Harcourt] established the Environmental Assessment Act, it was to try and get away from these constant battles in British Columbia over land use. We established the Commission on Resources and the Environment, and land use planning that we now take for granted did not exist in any meaningful way before the advent of an NDP government. I want to make sure the public has confidence in our processes, and I want to make sure investment understands that if they do come here, they can have a fair shake. I think we have a great deal of work to do with First Nations and I've been focusing a lot of my attention on that... I continue to work with First Nations wherever I go to try and make sure we find ways for genuine partnership.
But they'll characterize you as wanting to shutdown the province, as against liquefied natural gas, gas exploration, Site C...
But I'm not against LNG. I've said that repeatedly. I'm against bad projects. I'm against short-circuiting decision-making. I'm against giveaways. I'm against taxpayers subsidizing industrial activity. I'm in favour of the Red Chris mine, for example, in the northwest. Highway 37 was electrified at $400 million more than Hydro had budgeted, largely to provide electricity to that mine. Now I think that's a big subsidy, and we should say so, and the Red Chris mine owners should understand that the taxpayers are helping them make money, and I think taxpayers should understand that they're helping them make money as well. But the Liberals refuse to have a discussion about that. The fact that I raise this issue does not mean I'm against Red Chris or against mining. It means I think the public should have a clear understanding of why these decisions are made and what the consequences of them are. I don't think that's "Dr. No," as the interns in the Liberal party like to propose. I think that's what the public expects from their political leadership.