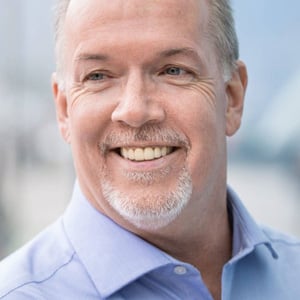 The leader of the New Democratic Party in British Columbia, John Horgan, said that despite the NDP's national decline in the federal election, the result bodes well for the provincial party.
"It's going to be an exciting time in Canada, I believe, as we look at new options, new opportunities," Horgan said about Justin Trudeau and the Liberal Party of Canada's victory.
The fixed date for the next provincial election is in May 2017. "I'm delighted the country voted for change in massive numbers, and that's good news for me as well, because in 2017 there's going to be desire for change," Horgan said.
He said he thought Trudeau would lead "an activist government I suspect more closely aligned with my values, I think, than with the current government here in British Columbia."
Trudeau campaigned on a plan to invest in building the Canadian economy rather than continuing Conservative policies of restraint, Horgan said. "Those are values that I share."
BC an outlier, says Clark
Premier Christy Clark thanked Conservative Stephen Harper for his leadership through a difficult economic period and congratulated Trudeau on his win.
"I know he and I and British Columbians share in common our hope to build a strong economy and create jobs across the country," she said. "I had a good working relationship with prime minister Harper, and I expect I'll have a good relationship with prime minister Trudeau as well."
Clark's BC Liberal Party is generally seen as a coalition between federal Conservatives and Liberals, though in her words, "The BC Liberal Party is a coalition of every single person who wants to grow the economy and create jobs."
The BC Liberals believe in low taxes and reducing public debt, which many people across B.C. voted for in their support of various parties, she said.
Both the NDP and Conservatives had promised balanced budgets, while the federal Liberals committed to running deficits for three years. The BC Liberals have made balanced budgets a centrepiece of their policy, but when asked about Trudeau's plan, Clark said, "It's a big country and in this country B.C. is a true outlier economically."
The prime minister needs to come up with solutions that will work for the whole country, all of which is doing worse economically than B.C., she said.
NDP vote strong in BC: Horgan
Nationally the election result was disastrous for the NDP, shrinking from a record 2011 high of 103 seats to just 44 in a Parliament that had 30 new ridings up for grabs.
But the party held steady in B.C., winning 14 of 42 seats, giving it the same proportion as the 12 of 36 the party won in B.C. in 2011.
"On balance, certainly from a New Democrat perspective in British Columbia, we're happy with the result," Horgan said, noting a loss in Surrey but gains on Vancouver Island, in the East Kootenay and in Penticton.
Several senior party officials on the federal campaign also worked on the 2013 provincial campaign, which the BC NDP lost despite being widely expected to win. Asked whether they would be working on the NDP campaign in the 2017 provincial election, Horgan said he is focused on doing his job.
"I'm nowhere near making those decisions, and we'll see how it goes," he said. "We'll worry about what the campaign team will look like when we put one together. We don't have one today; we won't have one tomorrow."