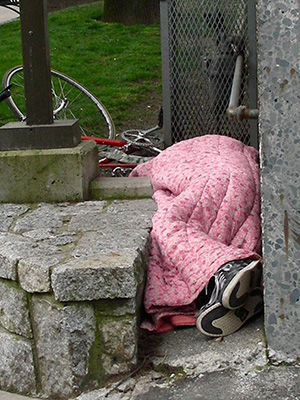 On any given night in Canada, some 6,000 to 8,000 young people between the ages of 13 and 25 have no home to go to. It's a problem that tugs at the heartstrings, but one that has proven frustratingly hard to fix.
Katherine McParland knows this. She helps youth find housing as part of her job with Interior Community Services in Kamloops, B.C. But her experience is first hand: she was homeless herself for two and a half years after aging out of the foster care system.
"When you're in foster care, all of your supports are paid supports, and when you turn 19 you lose everybody," said McParland. "Youth don't have the family privilege or that natural support network in place to not be homeless."
In that, McParland was like 70 per cent of homeless or recently homeless Kamloops youth surveyed in 2012 that had received support from child services at some point.
In one sense, the problem of homelessness has an easy solution: if someone doesn't have a home, give them one. That's working for adults in communities daring enough to try it.
It's more complicated with people of an age group that are not only struggling with the adolescent transition to independence, but still undergoing a fundamental reorganization of their brain networks that will continue into their mid-20s.
What works for an adult -- a subsidized apartment, say -- won't necessarily work for a young person who has never learned to budget, cook, and or get a job; whose family home has been a source of conflict or abuse, or who is suddenly stripped of all public foster care support on their 19th birthday.
"Youth homelessness is a little more complex, unfortunately, because there are so many different drivers," said Melanie Redman, director of the national initiatives program at Eva's Initiatives, a youth homelessness charity.
Eva's Initiatives is part of A Way Home, a coalition of national homelessness and poverty organizations that also includes the Canadian Housing and Renewal Association, Raising the Roof, and funders like the Catherine Donnelly Foundation and Home Depot Canada Foundation. (Disclosure: the Donnelly Foundation is among the sponsors of this series of reports; Tyee Solutions Society has also partnered with the Housing and Renewal Association in public events promoting housing awareness.)
A Way Home believes it has the solution to Canada's persistent youth homelessness: help individual communities design and implement their own action plans, using services they already have, in collaboration with young advisors who know how youth end up homeless and what they need to stay housed.
The model is working now in close to 10 communities in five provinces and one territory. Late in October, A Way Home officially launched its vision to take it national.
The coalition aims to do that by "supporting as many communities as possible from the ground up" to create local plans, said Redman, while "also working with [senior] governments to enable those plans through funding, policy shifts, all the things that need to happen at that level."
Piloted in Kamloops, Kingston
The strategy emerged from brainstorming on two questions: First, how could coalition members bring all their collective resources to bear in communities to house homeless youth? And how, together with those communities, could they influence public policy toward the goal of preventing youth homelessness entirely?
Their answer was something that goes by a mouthful of a name: the Mobilizing Local Capacity to End Youth Homelessness Program, or "MLC."
Starting in 2012, coalition members piloted MLC in two communities: Kamloops and Kingston, Ontario. In each, youth-focused service providers and youth themselves formed committees to research and design a homelessness action plan. The plans were unique to each community's needs and resources, but all met some common criteria:
Engaging youth in the planning and implementation processes;
Designing all services with adolescents and young adults in mind;
Providing all necessary resources, like affordable housing and youth services, with the goal of ending homelessness;
A buy-in from everyone involved -- stakeholders, businesses, general public -- that youth homelessness can and should end;
Adopting a "Family First" philosophy where youth and their families have access to the supports required to keep them housed.
'Wrapped' in support
Kamloops' homeless youth is estimated to number just over 300 kids, most of them "hidden," meaning they couch surf or otherwise crash with friends, extended family, or strangers. About 20 are believed to be living on the streets.
After two years of the city co-creating a plan with homeless youth, community service groups like the United Way, and city staff, McParland led the steering committee in charge of putting it into action starting this past May.
So far, it's focused on creating new transitional housing beds for youth, and an all-embracing responsive "wrap force" of 15 different youth-serving agencies that work together on youth client intake.
A youth that contacts any one organization for housing support has access to all 15 member agencies. He or she is assigned a "wrap force team" that works with them to line up the support they need to find and keep suitable housing.
Unlike more conventional "supportive housing" where services are tied to a place, the wrap force team follows the youth wherever they live, providing a continuous support presence particularly for those aging out of foster care.
"It's really revolutionized the way we work," said McParland. Since May, 11 formerly street youth -- more than half of Kamloops' street kids -- have found housing.
Local businesses have chipped in significantly. "We've partnered with businesses to subsidize [individual youth's] rent for a year," said McParland, after which youth are expected to take over their own lease. "We have a Subway house; Honda's donated $10,000, so we have a couple of Honda houses; and Home Depot has also [donated]."
Alberta leads
But serving homeless youth without extra resources has stretched the organizations thin, Redman said. The coalition soon realized it wasn't enough to break down silos between existing services. They also needed money, and change at the provincial level.
"The drivers for youth homelessness, those changes have to be made at the provincial level," she said. Municipalities can't change provincial laws that cut off foster care support to young people at 19, for example.
In response, the coalition is stepping its community strategy up a level, with a 10-year plan to work with provinces, territories and the federal government to end youth homelessness nationwide. It hopes to break down silos between ministries, change youth policies, and secure more resources for homelessness prevention and housing support.
Collaborations have begun already with governments in Ontario, Newfoundland and Labrador, Manitoba and New Brunswick. Coalition members sat on an expert panel commissioned by the Ontario government, which released its own report on tackling homelessness on Oct. 28.
Alberta is ahead of the coalition: it released Canada's first province-wide youth homelessness plan on its own earlier this year. It came after an earlier plan successfully housed adults, but failed to significantly reduce youth homelessness.
The 2009 10-Year Plan remains "an overarching document," said David French, plan manager with Alberta Human Services. "The youth plan is one of the specialized responses underneath the 10-Year Plan."
French led an across-government committee to break down ministry silos and identify policy changes that could end or prevent youth homelessness. He also oversaw research consulting more than 400 Albertans -- half of them youth -- about what needed to be done or provided.
"We're kind of charting new territory," French said in an interview last April. "The plan will do two things for communities: validation of the work that's already occurring, and then direction setting of what needs to occur [next]."
The plan mirrors A Way Home's strategy in putting more emphasis on prevention and housing supports than on transitional or youth shelter housing. It also supports family reunification where possible, and assistance to keep families together in the first place.
It all comes with $3 million in new government money, as well as new municipal authority to redirect general homelessness funding to youth-specific needs.
"I don't think [communities] feel like they have enough [funding]," French said. But he points to Medicine Hat, whose mayor boasts of ending homelessness in his community. Medicine Hat didn't receive extra funding, but put what resources it had into a Housing First policy that ensures no one remains on the street or in shelters for more than 10 days.
Getting 'upstream' from the street
"In a time of fiscal constraint across all governments in Canada," French said, he considers it "impressive" that his province delivered new dollars for youth homelessness.
Until recently, Redman said, similar constraints have hobbled federal officials too.
"It's not their fault," Redman said. "There are some phenomenal folks who care about youth homelessness within the federal government. But they were in a situation where there was a scarcity mindset: 'We can only invest in one priority.'"
The coalition's work-around has been to offer solutions and partner with provincial and federal program managers, not politicians, to help implement those solutions province-wide.
"It's not traditional advocacy of 'we want more housing' -- which is critical," said Redman. Rather, it's directing governments that want to help to achievable solutions.
Alberta's government was so impressed with the coalition's goals that it partnered with the coalition. French, a provincial staffer, has assisted it with government relations and overall strategic direction. But other provinces needn't mirror Alberta, Redman said. "It needs to be unique to how [places] already function, where the leadership already lies. It's not a one-size-fits-all solution."
And it will cost money, though how much won't be determined until plans are developed and costed out. New investments in prevention and long-term housing for the homeless must not come at the expense of funding for emergency services until homelessness numbers start to drop.
But Redman sees a long-term payback. "If we don't do the work now, we're going to pay for it down the road," she said, noting that preventing youth homelessness today helps prevent adult homelessness later.
"How are we ever going to stop the taps," she asked, "if we don't start thinking further and further upstream and looking at all the systems' drivers?"