It was a surprisingly small crowd, but you couldn't tell that from the jubilant cheering that erupted in a Vancouver ballroom to celebrate Liberal Jody Wilson-Raybould's victory in Vancouver Granville.
Wilson-Raybould, like many of her Liberal comrades across Canada who swept into power from third party status, won handily in the newly formed riding.
"We did something amazing right across this country," Wilson-Raybould told supporters in her victory speech on Monday night. "We can do better in this country, and we can build a better future for everyone."
The former B.C. aboriginal leader rode her party's October surge in popularity to a commanding win, defeating Conservative Erinn Broshko and New Democrat Mira Oreck.
The outcome in Vancouver Granville appeared foretold early in the evening after the CBC declared Liberal leader Justin Trudeau the new prime minister over an hour before polls closed in B.C.
Liberal campaign volunteer Dale Hunter said he "started out the campaign being skeptical" about Trudeau, but ended up feeling "extremely impressed and proud" to be associated with the leader and the party.
"I dreamed about this, I hoped for it, but I thought it was an outside chance to get both a Liberal majority and Jody Wilson-Raybould elected -- this is like a fantastic trifecta. The third part of the trifecta? It would have to be Harper gone."
Seventy-six-year-old Piara Singh Kailay, who sat quietly alone at the back of the ballroom, boasted of holding Liberal membership for 51 years. He reflected on the party's return to power.
"This is a multicultural country; we should not be making enemies of each other," he said. "Everybody wanted change, especially immigrants who feel like they're second-class citizens of Canada. But all citizens should be the same."
'People wanted change': NDP's Oreck
NDP candidate Oreck was at a loss afterwards to explain why she finished third after earlier polls by Environics put her either in the lead or within striking distance of victory.
"We felt really strong in areas where we were strong, and in the last couple of weeks things changed," said Oreck, at the NDP election party a downtown Vancouver hotel. The New Democrat said she didn't pay attention to polls during the campaign, just to what people told her on the doorstep.
"And what we heard was that people wanted change. They were unhappy with what they saw."
As to why Vancouver Granville residents saw the Liberals as the party of change, Oreck said: "People were desperate. They felt desperate for change. And they were scared to take... I don't know... I honestly don't know."
Oreck also indicated that she never felt like the front-runner despite the Environics polls conducted for Leadnow, a group promoting strategic voting in the riding. "What I can tell you is that what happened in Vancouver Granville is something very special. People didn't expect -- our opponents did not expect -- to run like this. We gave them a really hard campaign to run against."
David Smith, a volunteer on the Oreck campaign, said that she fell victim to the national move towards the Liberals. "We had tremendous support and had an unbelievable campaign. But it was absolutely the national momentum [to the Liberals] -- there is no doubt in my mind.
"The moment Mira declared her candidacy, I was sure she would win given the point we were at in the polls. But once the polls began to go south, I began to have doubts."
Newly elected Vancouver East MP Jenny Kwan said the night was "disappointing" -- and that Canadians clearly wanted anyone but Harper. "And in this instance they choose the red bus, and not the orange one."
Unpredictable triumph
Wilson-Raybould's triumph wasn't easy to predict.
In an Environics poll conducted in mid-August, the Liberal trailed badly in third with only 21 per cent of support, compared to Oreck at 32 and Conservative Broshko at 27.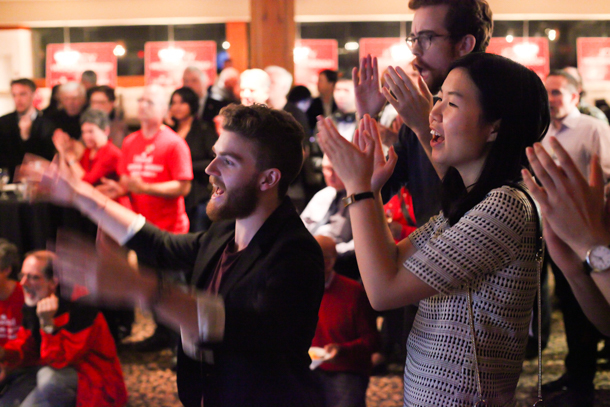 But in two subsequent Environics polls -- during weeks in September and October when the Liberals' appeal grew nationally -- Wilson-Raybould climbed into second and then recently into a razor-thin lead within the margin of error.
Despite the Liberal's momentum, Leadnow supporters in the riding voted to endorse Oreck as the candidate best-positioned to defeat Broshko. In the end, the Leadnow endorsement wasn't enough to save Oreck from the Liberal wave that swept across much of Canada and in Metro Vancouver.
Wilson-Raybould, a 44-year-old former lawyer, was elected regional chief of the Assembly of First Nations (AFN) in 2009. Three years later, during meetings in Ottawa, she denounced the Indian Act in front of Harper. Wilson-Raybould so impressed leader Trudeau when he met her that he talked her into joining the party and ensured she faced no opposition when she sought the nomination.
Oreck, 37, has worked for Mayor Gregor Robertson and Vision Vancouver and has been active in the city's Jewish community and in U.S. presidential politics.
She helped produce in 2012 pro-Barack Obama videos featuring actors Samuel L. Jackson and comedian Sarah Silverman, who sent out a tweet recently endorsing Oreck.