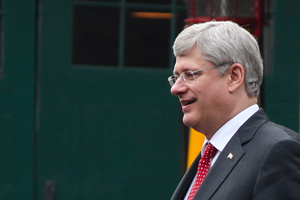 After rhetorically asking New Democrat leader Tom Mulcair how one holds a secret meeting with the media during the English debate in Calgary, it appears Stephen Harper did just that today.
Harper met privately with select media outlets at the Red Truck Beer Company in East Vancouver this morning, The Tyee has learned.
A Tyee reporter was checked into the event, but not allowed into the main conference room where Harper and Conservative candidates including Jason Kenney, Alice Wong, Wai Young, and Jojo Quimpo met with select reporters.
The invited reporters were mainly from Russian and Chinese language media outlets. "Great to join PM Harper at cultural media roundtable," Quimpo posted on his Facebook page this morning, along with a photo.
When asked why some reporters were allowed into the main event, but not others, a Conservative team member said he was not authorized to answer.
Other outlets not permitted in the main conference included CTV and CBC.
The event was not included in the usual notice of Harper's campaign stops to the press, though two other Metro Vancouver events were announced Wednesday. It is not known if any media travelling with Harper were made aware of the event.
Those invited were asked to submit three questions days ahead of time, then told which ones they could ask the Prime Minister, a source told The Tyee.
No other roundtable today: Teneckye
After waiting at Red Truck for almost two hours, reporters not allowed into the private roundtable were permitted to speak with Conservative spokesperson Kory Teneycke for less than five minutes.
Asked why only a few media were invited to the event, Teneycke said, "For the same reason other media aren't invited to interviews that we do with your networks."
He added the Prime Minister had already done interviews with CBC and CTV at their stations. "The notion that you're allowed to come with your camera to somebody else's interview is kind of crazy."
Asked if the Conservatives would do another roundtable with media not invited to today's event, Teneycke said, "That's something that would be up to us. We're not doing one today."
The Conservative spokesperson denied the party vetted questions from reporters invited to the roundtable ahead of time.
"We decide how many questions we take, the reporters decide which questions they're going to ask," he said. "I'm not aware of us ever knowing a reporter's question before it's asked. Ultimately if a reporter wants to share the topic that they want to ask, that's their right, but it's certainly not a requirement from us."*
Johann Chang, a reporter with Vancouver's Fairchild Radio, tweeted a photo from inside the meeting: "Harper roundtable w/ ethnic media in #Vancouver. English media not allowed. Will I be shut out in future?"
He added: "Harper touched on Economy, TPP, C24, refugees... All questions were screened and we are only allowed to ask the question #CPC chose."
'I don't know how you have a secret meeting'
During the Sept. 17 debate in Calgary, NDP leader Mulcair referenced a media roundtable that Harper held with reporters from ethnic outlets in January 2014, accusing Harper of holding secret meetings with media.
"Well, I don't know how you have a secret meeting with media," Harper chirped back.
The January 2014 meeting was not on the Prime Minister's itinerary either. Audio of the event was later obtained and posted by 24 Hours Vancouver.
It revealed Harper telling the reporters that the Temporary Foreign Worker Program had flaws. The PM also said the employment situation in Canada had improved since before the 2008 recession, though the unemployment rate had risen in that time.
Invitations for today's event were made by telephone, a source said.
'A semblance of accountability'
Mount Royal University journalism professor Sean Holman said the practice of excluding media is not in keeping with democratic values.
"This is a continuation of the Conservative government media relations tactic," Holman said. "What we've seen repeatedly in the past is willingness by the Harper administration to only engage with the media when it serves their interest and when they think they are going to get good coverage."
He said that Canada's politicians should put themselves on the line and allow open questions from all media to keep the nation's democracy healthy.
That, he said, is something the Conservatives haven't been doing.
"This is not real democracy, this is the semblance of democracy and the semblance of accountability," he said.
With files from Katie Hyslop.
*Story updated Oct. 8 at 12:55 p.m. to include Kory Teneycke comments.