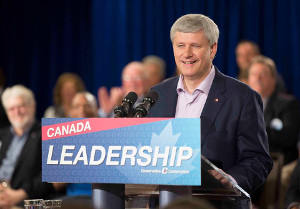 The battle for votes in Vancouver's large Chinese community is being complicated by deep divisions over immigration issues here and across the Pacific in Hong Kong.
Chinese-language radio talk-show hosts say callers are more worked up than ever about the federal election.
And their support seems largely determined by where they came from in China and their attitude toward tougher immigration rules introduced by the federal government since the 2011 election.
Cantonese-speakers, mainly people from Hong Kong and southern parts of Mainland China, tend to be staunch Conservative supporters.
But for Mandarin-speakers, from northern China and Taiwan, new immigration rules have become the focus of opposition to Stephen Harper's party.
It's an important political battle. About 14.8 per cent of Greater Vancouver residents reported Chinese as a mother tongue in the 2011 census, with 5.8 per cent reporting Cantonese and four per cent Mandarin. Five per cent didn't specify a Chinese language.
On 'Public Forum,' supporters chatter
Johann Chang hosts Public Forum, a weekend Cantonese language show on the Richmond-based Fairchild radio. He said phone lines light up with support for Harper.
"The Conservatives have a strong support base in the Cantonese community. They've been working for that base for a long time," he said. "Conservative supporters call into our show and basically take up the phone lines."
Callers are concerned with NDP and Liberal stances on marijuana legalization and chide the media for talking so much about the Mike Duffy trial, Chang said. They also complain the NDP satellite office issue hasn't been brought up as often as they would like.
But the community is most divided over tougher immigration rules. The elimination of the skilled-worker program in 2012 and immigrant investor program in 2014 made it harder for Chinese residents to make a new home in Canada. The replacement programs set a tougher standard for would-be immigrants.
The Cantonese community, especially people from Hong Kong, welcomes the changes, Chang said.
"Part of the Cantonese community who are from Hong Kong feel like that city has been flooded with immigrants from Mainland China," Chang said. "So whatever policy makes it harder for Mainland Chinese, or even stops them, from coming to Canada, they can relate to."
Hong Kong's special status in China, created when the United Kingdom ceded control of the territory in 1997, provides freedoms not available in the rest of the country.
The influx of mainland immigrants and tourists to Hong Kong has increased as wealth in China grows, which has led to protests in Hong Kong.
On 'News Frontline,' foes grumble
But if you tune into Fairchild radio during drive time and catch Debbie Chen's show News Frontline, disgruntled Mandarin-speaking callers aren't happy with Harper.
Chen said immigration rules are the bullseye on a dartboard of policies that many Mandarin speakers oppose.
Generally, Mandarin speakers think the immigration changes are intended "to block out people from Mainland China," she said.
Most of Chen's Mandarin callers are not happy with Harper, she said, and don't care for policies like income splitting, which critics say favours wealthier Canadians.
"They think Conservatives only benefit the rich people," she said. "They think paying more taxes would be good to get more social benefits."
Chen said the anti-Harper callers appear to be split fairly evenly between support for the NDP and the Liberals, with the Liberals enjoying a slight edge.
Chen said many recent immigrants from China are more working class than the long-established Hong Kong community.
Divisions not unexpected: Houlden
Gordon Houlden of the University of Alberta's China Institute said the link between issues in China and Canada is not entirely unexpected, but still fascinating.
It's a reminder that the Chinese community isn't as monolithic as outsiders assume, he said.
New immigration rules focus more on skill set and education than family reunification, he said, so it makes sense that Mandarin speakers would be upset about the changes. The changes reduce the opportunity for relatives to join family members already in Canada.
On the other hand, the Cantonese community may support tougher immigration rules because it tends to be older and more established.
"If you've been here longer and you're more settled, you may not welcome a wave of people who are similar in some ways, but different in others," he said.
Houlden said protests in Hong Kong last year over Beijing's refusal to allow open elections may have added to the divisions between the two groups.
Chen, who is originally from Taiwan, said that Mandarin-speaking Taiwanese immigrants who call in generally also voice opposition to Harper.
"We have the free election right in Taiwan, so we don't like the government staying too long," Chen said. "The Conservatives kept power over 10 years, so some Taiwanese people think it's time to change."