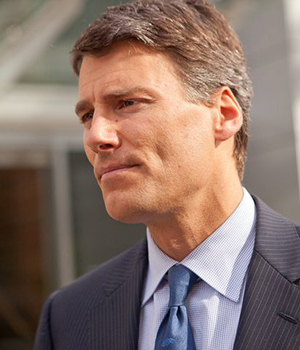 This spring, Vancouver hit another milestone as one of the world's most expensive places to live.
The month of May set a 10-year record for total real estate sales in the Lower Mainland, with detached home prices leaping 15 per cent in the past 12 months to an average $1.1 million across the region. Condominium prices rose even faster, by a full quarter.
Zoom in on the city of Vancouver itself and the situation is even more extreme. May hit a record average selling price of $2.2 million for single detached homes, 20 per cent above last year.
Skyrocketing prices have sparked heated arguments over the role of real estate speculators and foreign buyers in the crisis, and rallied crowds under the #DontHave1Million and #GiveUsData banners.
Reporter David P. Ball talked to Vancouver Mayor Gregor Robertson about what he thinks must be done to keep the city livable for its residents, and to answer questions raised in a recent Tyee Solutions Society series on the city's out of control housing market. The interview is edited for clarity and length.
Tyee Solutions Society: In a June 17 speech for the Urban Land Institute, you talked about the need for a "new conversation" about tools to create a "more level playing field" in the housing market. What brought that to the fore at that time?
Robertson: "The conditions and the context keep getting tougher and tougher in Vancouver as the city gets more and more expensive and more desirable to people all over the world to invest in and move into. We're basically at a breaking point where we need interventions in the market to ensure that people who live and work and grow up here in Vancouver have the opportunity to stay in the city and to keep being part of it and contributing."
Many of the proposals that you've discussed involve taxation shifts. Both you and real estate marketer Bob Rennie proposed a speculation tax on the same day. What exactly would that look like?
"A flipping tax is a way to take some of the profit -- and there's major league profit that's happened in speculation and flipping of properties -- and transfer it over to affordable housing, making sure people can afford to live in the city, particularly in that first six months [after purchase]. It's not a home; it's a business transaction. Housing is not just a commodity; it should not be treated that way.
"We've also been talking about a luxury tax and increasing the property transfer tax on properties of very high value. The number floated around was $4 million and up. There was 26 per cent growth in the activity of $4 million-plus homes over the past year. A small portion of that coming out in additional tax is another source of revenue for affordable housing, whether that's for new home buyers, young people being able to get into the market, or rent subsidies for people on lower income."
You wrote a letter to the premier about this last month, and her response in the media was that a foreign ownership or speculation tax could damage the equity in people's homes.
"I think it's completely wrong. It's a totally different subject. What we're talking about is taking some of the profit out of flipping and speculation, which doesn't have to do necessarily with foreign ownership or homeownership or the value of homes. This is a business activity that's taking place every day here in Vancouver where there's a lot of profit, and it's an option to transfer some of that profit so people can afford to live in the city. They went off on a completely different tangent in their response at the provincial level, and that's unfortunate. The premier has said that affordable housing in Vancouver is a problem. Well, we need some action to deal with that."
So what about a foreign ownership tax, or at very least collecting data on the residency status of people as they transfer properties?
"It would be useful to see the data on that. There's been a lot of discussion about foreign ownership. I prefer to talk about empty homes and the profit-related activity -- that's where we need to focus our efforts. I'm concerned about a lot of fear mongering around that, and the racism that gets attached to it. That's part of our history, but it should not be part of our present or future. Let's get the best use of the buildings that we have and make sure, where there's big profit in a commodity-trading exercise, that there's a benefit that goes to those that need it to actually get housing they need."
You mentioned "fear mongering." You would acknowledge that there is a fair bit of outside capital flowing into Vancouver even if we don't know where it's from, whether it's from Toronto or Los Angeles or China?
"Oh yes, Vancouver's on the map. We're one of the cities in the world that's most highly desired to live in, to visit, to invest in. The federal government has some of that data; they could certainly collect more and make it more readily available.
"Other countries and cities have taken much more dramatic actions -- certainly Hong Kong, Singapore, cities in France and Australia -- there's much more intervention with respect to foreign ownership. In Canada, generally, we've had a much more open approach to immigration and offshore investment. But let's understand what the numbers are and what the implications are and make decisions based on the facts and the evidence and make sure that we're focused, at the core of this, on making sure people can live here in our city."
Penny Gurstein, director of the University of British Columbia's School of Community and Regional Planning, has said that it seems like a political game -- that the city knew what the province's response was going to be before your letter was written. She called it "grandstanding." How do you respond to that?
"I don't agree. As a city, we've done a lot of work on affordable housing. We don't have a lot of tools, but we've put city land in the mix; we've got another seven parcels of land available to build affordable housing, which is a quicker way to get housing built on that public land. We're doing what we can as a city -- we're doing more than any other city in Canada right now to create more affordable housing and more rental housing. We're going to walk our talk as a city, but our powers are limited.
"Other cities like Hong Kong, New York, San Francisco, Sydney or Singapore have dramatically more power to make these kinds of changes and control their destiny, particularly with affordable housing. The Canadian system is broken. Until we get changes by the federal government and the provinces to actually do something to change the course of history with affordable housing, we're in a tough spot."