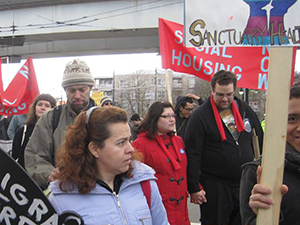 As an inquest into the in-custody death of an undocumented Mexican woman in Vancouver opens today, the Canada Border Services Agency revealed it has completed its own internal review into the apparent suicide.
The week-long inquest launched in a Burnaby courthouse this morning. Five jurors will determine the facts surrounding the hanging death of Lucía Vega Jiménez, a 42-year-old hotel worker and failed refugee claimant arrested by Transit Police for not paying her SkyTrain fare. She died nine months ago.
Yesterday, CBSA revealed that another immigration detainee died in its custody on Sept. 27 after suffering undisclosed injuries at Ontario's Niagara Detention Centre. It is unclear who was guarding that facility.
Meanwhile, the CEO of Vancouver-based Genesis Security, the private security firm contracted to guard CBSA holding cells and transport detainees, confirmed that his contract with the agency remains in place and that Genesis will continue to provide services.
"Nothing has changed; it's the same," said Camil Dubuc by phone. "I don't want to make any comments until [the inquest] is finished."
Questions about private security
The inquest will hear from four Genesis Security Group representatives -- Jivan Sandhu, David Li, Ron Tabalujan and Mike Henke -- the latter in charge of the airport holding cells, according to a lawyer at the inquest. Its five-member jury can make recommendations for preventing similar deaths in the future, but is not allowed to assign blame.
The inquest will examine the use of private security guard contracts at CBSA detention facilities across the country, a fact that concerns immigration and civil liberties lawyers, as well as the union representing the agency's officers.
Historically, federal CBSA officers have guarded and transported detainees. Since 2012, those jobs have been increasingly contracted out to several private firms -- including Genesis, G4S and Corbel Management Corporation -- at holding facilities across the country, according to the Guardian. No data was immediately available on what proportion of public ver-sus private guards are employed by CBSA.
In an earlier interview, former CBSA officer Kelly Sundberg said private contracting of guards seems to be a "trend." He said he has major concerns about the hiring of a private contractor to be "responsible for the safety and security of those in detention."
"There's some areas where savings by outsourcing doesn't make sense to me. Security is one of them," said Sundburg, who is now an associate professor of Justice Studies at Mount Royal University. "They'd have to have an incredibly robust police and training program for these individuals -- which would probably negate the savings from contracting it out."
CBSA completes own review
CBSA spokeswoman Stefanie Wudel said via email that the agency has completed its own internal review of Vega Jiménez's death, including a review of contractor services.
"CBSA welcomes the opportunity to provide information and clarity on our detention procedures and we will continue to cooperate with the B.C. Coroners Service in their investigation into this tragedy," she said.
The B.C. Civil Liberties Association is one of two groups granted participant status in the inquest, along with the Canadian Council for Refugees. A coalition of immigrant rights groups was rejected from participation, including members of the Mexican community who knew Vega Jiménez.
Josh Paterson, BCCLA's executive director, said his group has "real, deep concerns about the involvement of private security in detention.'
"We intend to ask questions around what role, if any, was played by Genesis," he said. "We question whether or not the training private security officers have is comparable to that which peace officers would have employed by CBSA. It is potentially very problematic to have the government pawning off those responsibilities to private actors."