"Do you mind if I smoke?" asks Aaron Levinson as he pulls an empty Charlie Parker record cover from the top of a pile and sets it on his lap.
Levinson, not yet 22, is deeply acquainted with the work of Charlie Parker as well as that of Louis Armstrong and Charles Mingus. Such jazz greats from the last century are muses for Levinson and, even younger, Noah Gotfrit and Sky Lambourne. The trio spend most of their days composing, practicing and performing jazz, Levinson on drums, Gotfrit on bass, Lambourne on trumpet. They call their group the Carlo Rossi Gang, because their busking tips afford them only the cheapest wines. They host Sunday jams in their home, play regular gigs at a medical marijuana dispensary, busk some more when the food and wine run low. They are part of a new vintage of bohemia flowing on the east side, the less polished side of Vancouver, at the same moment the city is vying to be the most expensive place to live in North America.
As Levinson lights up, a lazy cloud of smoke drifts among the eight young men and women crammed into the living room of a three-storey East Van home where reside not only members of the Carlo Rossi Gang, but a fluid number of housemates and couch crashers. This warm evening personal space seems non-existent as uncovered shoulders and knees rub against each other. Conversation flows, friends share every laugh, story, even sentence, as if they're all thinking the same things.
These are kids of Grea$ Van (the term they've given their scene), a tribe of artists, writers and musicians, most of whom haven't hit 20. The house on Henry Street is their headquarters. Bookshelves are overstuffed with worn copies of Dickens, Hemingway and Kerouac. Brass instruments hang from racks on the walls, a makeshift darkroom occupies a bathroom, soft music echoes from a record player set in the corner.
Slouched on the couch beside Gotfrit, with his slicked-back hair, Lambourne seems to belong to a different decade. His body is bare except for the gold chain around his neck, a hoop in his left earlobe and a pair of distressed jean shorts. When he lifts his arms, the focus of his faith becomes clear: an upside down, cross-shaped Grea$ Van tattoo is etched on his side. If Gotfrit has tats, none are visible. His chest, too, is bare. His hair is messy, his smile is sweet. His voice is too soft to be heard except when the conversation tones down. Levinson has more energy than the two of them combined. He sits in a chair in the middle of the room, quick to offer his two cents on every story being told, his enthusiasm peaking when they talk of New Orleans -- a city so full of music and exuberance that it seems to Levinson to be "the opposite of Vancouver."
"I always wondered like, what was cool about where we're from," says Levinson. "It might be the fact that there's nothing cool about where we're from, so if you wanna do something cool, you gotta make it happen."
'You feel it'
Ask Aaron Levinson what drew him to jazz and he is quick to say it was the classy suits, the kind worn by today's trumpet master Wynton Marsalis. Lambourne and Gotfrit, on the other hand, place the blame on the late, great bassist and band leader Mingus, who died 35 years ago.
"He is just so far beyond like what anyone else does," explains Lambourne. The three agree that Mingus's style is unique, soulful and exciting, full of improvisation and collaboration between the musicians who share his stage. They live to recreate that feeling, while creating anew. While the gang idolize past jazz virtuosos, many of the songs they play are original, written by either Gotfrit or Lambourne, keying off events from their own lives. Their ability to relate to the material on a personal level, they claim, allows them to put their hearts into the craft and play better together.
"When Sky or Noah write a song, I really dig it cuz they're my boys. I know where they're coming from. We have a lot in common with how we hear stuff," says Levinson.
"You gotta have young people in the show," adds Lambourne, "and if they're not smiling and tapping their feet and dancing and singing along then you're not doing it right. And why would they smile and tap their feet if you play old ass songs, right? Old ass songs they don't even know about?"
Gotfrit plays Mingus's instrument of choice: the upright bass. "I started thinking upright bass looked really cool. I was like, I got to get myself one of those. So I started renting one and taking lessons and then my teacher showed me this Charles Mingus record and then from there I was gone."
He has paid a price. "I have fucked up my back, I've bled all over my bass. But at the same time it is a really beautiful instrument. It's so rewarding because you get to feel it against your gut, you know, you play and you feel it."
The Carlo Rossi Gang have become a nucleus for an assortment of other young Vancouver musicians who join the band every now and again. The line between performing, socializing and just getting by is a smudge, as Lambourne explains: "Busking money is love money. You're putting your love out there and people are giving you their money because they're loving what you're doing. And so with this good money you got, you wanna do good things like buy your friends drinks and take 'em out."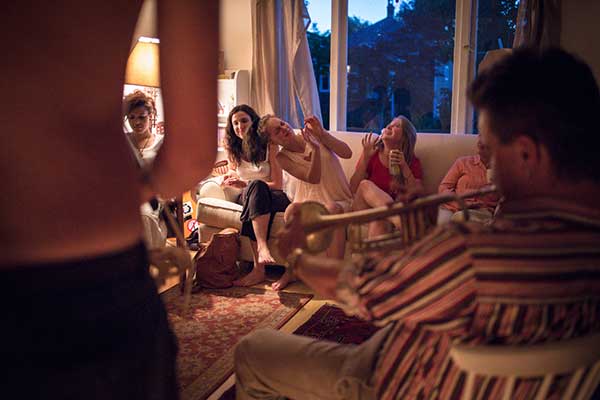 But the trio are getting restless. At the end of the year they plan to head to New Orleans with any other Grea$ Vanners who might want to join the adventure. The plan is to rent a house and live there for as long as they can make it.
This will be their second "pilgrimage" as Lambourne calls it, to the source of their inspiration. "I never really understood pilgrimages until we went to New Orleans," says Lambourne. "Halfway there, I realized, wait a minute, we're going to a holy place of jazz because that's where jazz comes from, New Orleans."
Levinson's view is this: "Nobody got any love in the Northwest. Down there, it's all love!"
Cahootification
When the Rossi Gang look at other kids who have recently graduated from secondary school, they see themselves as less "suave" (a word they use a lot). What they lack in technique, they say, they make up in ambition and hard work.
The boys say they got "cahootified" as young teens roaming Commercial Drive, playing here and there with other musicians from the neighbourhood. They weren't rich kids, but they weren't poor, and angsty rebellion against parents isn't part of their stories. Levinson used to think he would learn to become a plumber. Instead, at Vancouver Community College, he gave himself over to studying music alongside Gotfrit and Lambourne. "I also convinced him to quit two of the jobs that he's had," says Lambourne, smiling.
The three never ended up completing the program. "It seems really weird for me to be taking that many lessons and paying for school of music when you can actually be playing more and practicing more, and studying more for gigs and getting paid," says Lambourne.
"They want to teach you about the harmonic series and they want to teach you about the history of like, all this stuff," adds Levinson. "I could know how to write counterpoint, but if I can't fucking play, I'm not gonna work."
An average day of busking on Vancouver's streets will drop $20 an hour into the pockets of each member of the gang. But busking isn't always an option in a city that sees rain more often than sunshine. In order to make it through the winter, the musicians rely on other paid gigs such as weddings and private parties.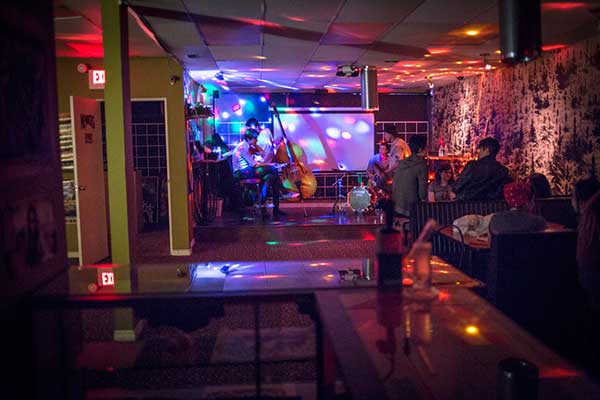 On Friday nights, the Rossi Gang plays at the Vancouver Pain Management Society, a medical cannabis dispensary on Commercial Drive. The blacked-out windows of "British Columbia's first safe inhalation site" makes it feel like it is always night.
Performance starts around 8 p.m. During their first set, the familiar crew of Grea$ Vanners start showing up. They sit in one of the booths along the main wall decorated with wallpaper that gives a visitor the sensation of swimming in a cannabis plantation. Dense smoke circles around the patrons. Some are sitting down watching the show, others are chatting, and the occasional one takes a hula-hoop from a pile and twirls it to the rhythm of the music.
After a while, a fourth member joins the band. Joseph Abbott stands taller than the others and plays the clarinet, an instrument he picked up just a year ago. He pulls the reed away from his lips and begins to bellow out a song from the 1930s that Louis Armstrong and Frank Sinatra both famously swung: "On the Sunny Side of the Street."
"I used to walk in the shade with my blues on parade," Abbott sings. "But I'm not afraid... this rover's crossed over... "
The sweet life
On another day, Sky Lambourne is aching with longing for the "cool car" that once gave him such pleasure. This was before Lambourne had his New Driver "N" suspended, for driving with more than one person in his car too many times.
"I had a Cadillac. A bunch of young men, jazz men, with a Cadillac, doin' our thing, like havin' a really good lifestyle."
Lambourne would load up the Cadillac with the other Rossi Gang members, their drum kit and stand-up bass jutting from the back seat, maybe a few more Grea$ Vanners wedged in if there was room, and he would drive the streets of Vancouver like a person who deserved to be here by virtue of the music and creative joy he daily helped produce.
"People who witnessed our lifestyle enjoyed it. It made them happy. We were happy. Everyone was happy," Lambourne says. "Now I have to wear these shorts and ride my bicycle around. I used to wear pants and boots. Now I gotta wear sneakers and shorts, you know what I'm sayin'?"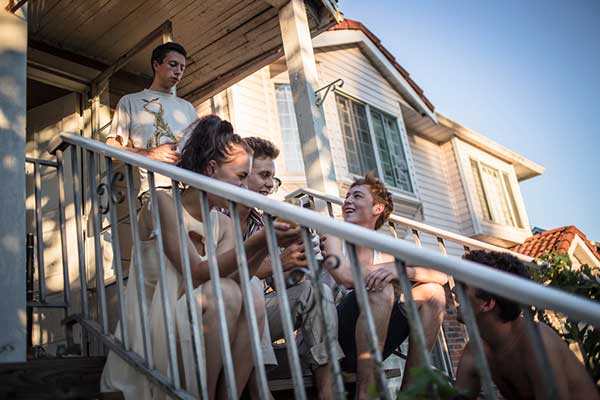 A few nights later, a Sunday around 8 p.m., Dr. Martens boots and bare feet start climbing up the front steps of the house on Henry. The main floor fills with committed Grea$ Vanners and new enlistees, there to hang out and see the Carlo Rossi Gang perform. They share their drinks, their smokes, their space. These living room sessions are free and open to everyone.
"We try to bring everyone out," said Lambourne. "It's not like we just bring young people, we bring our parents out, our grandparents come. Even sometimes I get to have my little niece and nephew out, so we got like four generations going on."
As the night progresses, older visitors call it quits, girls start dancing, feet stomp louder, empty beer cans pile up. By the end of the performance, the air is clammy and hot, thick with smoke and muffled chatter. The party hasn't necessarily ended, it is evolving. A few people move into the kitchen to play music, some smoke on the porch, some put their shoes back on and head into the warm summer night, passing by, without noticing, a pile of bills lying on a side table, unopened.