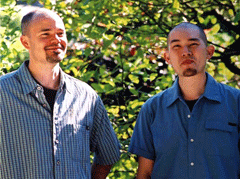 Ugetsu is a Japanese word that means "fantasy." It's also the title of the 1963 album by Art Blakey's Jazz Messengers, which inspired local drummer Bernie Arai and saxophonist Jon Bentley to start their own sextet. They're already in more than 20 bands between the two of them, but couldn't resist starting up another.
In Ugetsu, there are three horns and a front line, which is not a very common setup for a jazz ensemble. Standard jazz arrangements for trios, quintets and quartets won't work with their setup. Thus both their presentation of the standards and their original compositions offer their listeners a rare sound.
The real challenge for them is to be true to the artistry of the Jazz Messengers sound that inspired them without having it sound like "a carbon copy of something written in the 1960s, since a lot has happened compositionally since then," says Bentley.
Many of Arai and Bentley's bands will be playing in the Vancouver International Jazz Festival, which runs to July 2. Ugetsu plays Wednesday, June 28, at the Cellar, and July 2nd at the Festival Hall Roundhouse as part of the Vancouver Jazz Festival.
They spoke to The Tyee recently about Ugetsu and jazz. What follows are excerpts from the conversation.
On a teenager's Night in Tunisia:
Arai: My high school music teacher brought the Art Blakey record A Night in Tunisia to school. At the time I was listening to a lot of, well, what any teenage kid would have been listening to. For me, it was hard skate thrash, that kinda of thing. But this record opens with a drum solo and the three horn players are playing percussion instruments behind the drum solo. I never realized until that moment that jazz music could have so much aggression in it; I always thought of jazz as old people music. I'd picture senior citizens dancing, with balloons behind them, and that kind of thing. But then I heard this record and I thought, "Man, that's aggressive, angry music." And I realized that just because it's an acoustic instrument doesn't mean there is any less fire behind it.
On not being a star:
Arai: As you get older you care more about your art and you care a little less about how it's received. Because nobody goes into jazz to become a superstar. The only reason I think that I could pursue a career, or any musician can pursue a career, is because they hear the music inside their head, it's so strong, they have to get it out somehow. So whether someone is going to listen, or not, really can't enter the picture. The only reason you do these things is that you have to play
On why hip-hop is the new jazz:
Arai: I think there is a parallel between hip-hop and jazz. Both of them came out of African American culture, both of them were co-opted into commercial mainstream culture. Jazz went that way, became a big thing, developed, and left the crowd behind. And so right now hip-hop is at the part where it is a big mainstream industry. So you wonder, is the parallel going to continue? Is hip-hop going to develop to the point where all the people really want to make hip-hop music? Then maybe it will leave people behind.
On the lame life in London:
Bentley: I lived in London for a couple of years and I went there thinking that there would be more opportunity. Probably what I learned the most was that there is a lot of opportunity living in Canada but also in particular in Vancouver.
Wherever I play in England and Europe, people would say, "Oh, I always wanted to move there and live there and play and be a part of that community." And that was a real eye-opener for me because I never expected people to say that, worldwide, about our scene here.
The players here are amazing, they're world class. I think maybe there aren't quite as many paid places to play as some cities in the world, but still, it's not bad. London was horrific, in the sense that if you wanted to go and have people listen to what you were playing, forget it, it didn't exist. In that sense, we're lucky because we have The Cellar and Rime also, for now. But at least we have one place where you can hear the music over the talking, which is probably more than what there was in London.
On what we take for granted:
Bentley: In London, just to get together and play we would literally have to rent a place. That was just to have a session, not to perform or anything, just to get together and have fun and play. We'd pay 25 pounds an hour or something crazy, just for a place to practice. Whereas here, any time I can call people and say, "Hey, you want to come over? I've got Bernie's new drum kit at my house." It's dead easy for people to get together to play. That's the first thing.
The second thing is that we have access to funding. So we can apply to the Canada Council, we can apply to Factor, we can get funding to do a recording. Also we can apply after that and take a group on the road and get a travel grant. Those opportunities aren't everywhere and really we take that for granted, that it's common around the world, and it's not. It's a real luxury to have those things. When I would tell musicians there about that, they couldn't believe it. For me, Vancouver is a great place. There are so many great players, I can't imagine wanting to live anywhere else.
Jeffrey Helm is on staff at The Tyee.