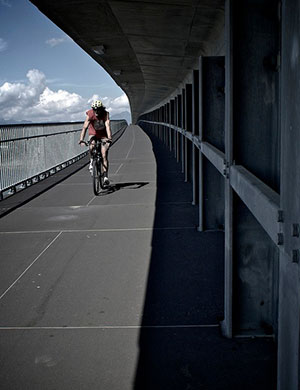 In the world of cycling, the Spanish city of Seville is a superstar. In six years it went from a city with no cycling culture to speak of, and less than one per cent of daily trips made by bike, to a city renowned internationally for its cycling system, where more people choose two-wheelers than the subway to get to work each day.
According to transit experts and advocates the main reason for this shift is the city's 120-kilometre network of connected cycle tracks built over the course of just a few years. The large, well-connected web of paths increases both the number of locations accessible by bike and the number of possible trips between them.
In Metro Vancouver, a few elements of such a network are in place, but Erin O'Melinn believes much more must be done before the region's infrastructure rivals Seville's. As of now, the network is "fragmented and incomplete," said O'Melinn, who leads the Vancouver-based cycling advocacy organization, HUB.
In general, cyclists within Vancouver city limits enjoy far better infrastructure than those in adjacent municipalities, she said. This makes trips to and from Vancouver by bike more difficult and it also limits options for cycling within the suburbs.
"If you start looking out into the neighbouring cities -- Burnaby, Surrey, Coquitlam and beyond -- they are not there yet," she said.
Gaps in the regional network discourage all but the most experienced riders from attempting certain trips by bicycle, keeping total trips in the region down, O'Melinn said. One place where this is happening is the main transport artery between downtown Vancouver and the North Shore: the Stanley Park causeway.
Ministry promises causeway safety fixes
Last year, two days before the start of Vancouver's spring Bike to Work Week, a 61-year-old cyclist fell off the west sidewalk of the causeway into traffic, where she was struck and killed by a West Vancouver bus.
The accident prompted a petition, which prompted a Vancouver Park Board resolution, which prompted Transportation Minister Todd Stone to say it was "not a matter of if," but "when" his ministry would make improvements to the causeway for cyclist and pedestrian safety.
A year later, improvements have yet to materialize. The ministry has studied the situation and hopes to have designs available for public discussion later this summer, but that's not quick enough for HUB's O'Melinn.
Improving safety on the causeway, which she described as easily "the most direct and obvious route" between Vancouver and the North Shore, should be a priority, she said. (There are no available statistics for how many cyclist commuters use the causeway each day.) Cyclists on the causeway currently share the narrow sidewalk with pedestrians, and there is no barrier between the sidewalk and the roadway, where the posted speed limit is 60 km/h.
HUB would like to see the causeway's sidewalks widened to provide more room for cyclists and pedestrians to pass each other. Historically, proposals to widen the roadway into the park have been met with passionate opposition, but O'Melinn said she thinks this instance will be different.
"We don't ever want there to be unnecessary paving of green space, but we think that this is quite justified as an important way for people not only to get places in a sustainable, eco-friendly way, but to enjoy the treasure that Stanley Park really is."
Graeme Schimpf, operations manager for the Ministry of Transportation and Infrastructure's Lower Mainland District, said the ministry is working on an "all-encompassing review" of the causeway. "The balance that we're trying to find is user safety and impact on the natural environment, so [we've been] looking at all design options."
Once a plan for improving the causeway is developed, the ministry will seek approval from city council and the parks board.
Safety woes in the burbs
While the causeway presents a set of challenges to cycling infrastructure improvement, it's far from the only place in the Lower Mainland that HUB sees as unsafe for cyclists.
Other significant gaps in the network are routes between New Westminster and Coquitlam, a direct route through Pitt Meadows and Maple Ridge, Low Level Road on the North Shore, and the Pitt River and Pattullo bridges, O'Melinn said. There are more gaps as well, particularly south of the Fraser River, she said (see sidebar).
HUB believes that filling these gaps to complete the region's cycling network would go a long way toward improving cycling's "mode share" -- the percentage of total trips taken by bicycle -- across Metro Vancouver.
Rebecca Slaven, an avid cyclist who writes an occasional column about cycling for Scout Magazine, said she doesn't have trouble getting around the region by bike, but she knows people who are afraid to try it because of safety concerns.
"I have a number of friends that express that they don't want to cycle because it's too terrifying," Slaven said. "I think that one of the major problems is that all of this infrastructure keeps being put in, and it's not linked together well."
According to TransLink's most recent "Trip Diary" survey from 2011, cycling accounts for 1.8 per cent of total daily trips taken in Metro Vancouver, approximately 106,500. Of that total, 66,500 took place in the City of Vancouver, according to a 2013 report. This puts cycling's mode share within the city at 3.8 per cent.
At present, the limited data appears to show that cycling in Vancouver, where the network is more robust, is safer than cycling elsewhere in the region.
Based on TransLink's 2011 numbers, roughly 62 per cent of the region's cycling trips take place within Vancouver, but according to data from ICBC, only 55 per cent of motor vehicle accidents involving cyclists in the Lower Mainland between 2009 and 2012 took place in Vancouver. Similarly, of 21 cyclist deaths in motor vehicle accidents in the Lower Mainland between 2008 and 2012, only two took place in Vancouver. The 2013 death on the causeway isn't included in that total.
For O'Melinn, safety is an important part of the argument for improving the network on a regional basis. The question is how such improvements will be funded.
Cranking up funding
Earlier this month, HUB sent a letter to TransLink's Mayors' Council on Regional Transportation recommending that the region spend $36 million annually on cycling infrastructure and education. This would be a dramatic increase from the $1.5 million currently allocated for such improvements in the TransLink budget, but it's not far off from the amount TransLink has said it would like to spend.
In a 2013 document called the Regional Cycling Strategy Implementation Plan, TransLink planners recommend investing $34 million in cycling annually across the region.
In either case, the total cost would be split between TransLink and local municipalities, with funding from the former used to match funding from the latter.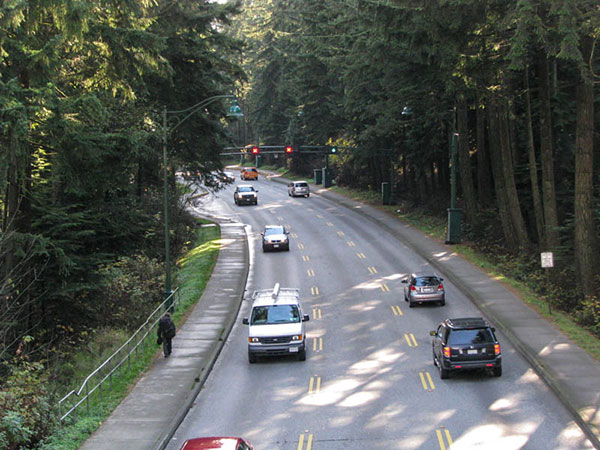 TransLink's ability to fund its plan will likely depend on the outcome of a regional referendum on new funding sources for transit, which the provincial government has said must happen before June 30, 2015 if local municipalities want provincial help with the cost of running the polls.
TransLink's cycling plan would help build out the cycling network on municipal streets, but there are a number of places like the causeway where maintenance is managed by the province and not beholden to the referendum's results.
O'Melinn said she hopes that working on the causeway has made the provincial government more aware of cyclist concerns and the value of investing in a stronger regional network. She said it shouldn't take an accident to motivate the province to take action on the roads it controls.
"Right now, it seems like that's been the most effective motivator for them," O'Melinn said. "I hope that they can be more thoughtful, more proactive than that, and that they're not going to just wait to have to react to something awful."