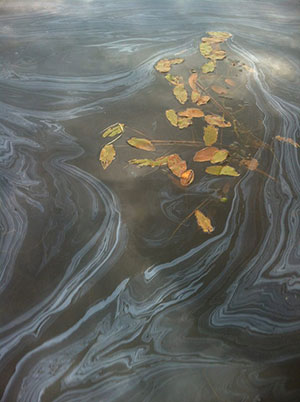 When Sage Birley landed work last summer dabbing sticky bitumen off ducks and frogs and sending them to rehabilitation 300 kilometres away in Edmonton, he knew his job was not run-of-the-mill.
But one August day struck him as particularly odd -- the "media day" when oil industry operator Canadian Natural Resources Ltd. invited the press to see how much progress it was making in cleaning up the nation's biggest ongoing oil spill, near Cold Lake, Alberta.
That spill, first reported a year ago yesterday, continues to ooze. But Birley looks back on that arranged photo-op for reporters and uses words like "insane" and "pathetic."
To recap: CNRL blames faulty wellbores, scientists warn the underground rock formations might have cracked under pressure and several levels of government are still investigating. Despite these pending investigations, CNRL was given a green light to restart steaming operations on the site last month.
As a wildlife restoration worker, Birley lived and worked behind the scenes at Canada's longest-running bitumen leak.
"The smell is one of the first things that jumps out at you," he recalls of his first day in camp. Birley arrived in mid-July 2013, just as the spill made headlines across the country. "It's a full nature scene -- it's really pristine country; there's wildlife all over the place, it's a beautiful area -- then all of a sudden the wind would change and you'd get this waft of bitumen-asphalt-stench and it sticks in your nostrils."
From the day Birley arrived, his superiors were optimistic about the clean-up schedule. "They were like 'You guys are going to be out of here by the end of July,'" he recalls. His job involved catching live ducks and frogs, cleaning them up and sending them off for rehabilitation near Edmonton. "Every day we found out how much worse it was getting, but people were more and more hopeful that it would be better soon."
'It was insane'
A Fort St. John native, Birley was familiar with the oil and gas industry. But when he applied for summer jobs in ecological restoration, Birley didn't expect to become so heavily embedded in what he calls a public relations operation. While praised for "saving cute animals" after the gig, Birley says he can't shake the feeling that his work was largely aesthetic -- forcing public perception away from the spill's root causes.
"More than anything I was a PR campaign for CNRL," he says. "They get to say 'we saved this many animals,' when really they're not investing as much as they should in dealing with the problem or avoiding the problem in the first place."
Birley says these fears were confirmed during the media visit. Ahead of the Aug. 8 "media day," he remembers the spill area became smaller, Tyvek tarps were replaced with shiny new ones, and an "Emergency Spill Response" trailer from the Alberta Energy Regulator (AER) was hauled in for less than 24 hours.
"It was insane," he says of the site transformation. "They set up this beautiful trailer -- Emergency Spill Response office -- in this really perfect photo-op position ... As soon as the media crews left, within two hours, the AER trailer got packed up and moved offsite."
On the phone with The Tyee, AER spokesperson Ryan Bartlett couldn't confirm or deny the brief trailer visit: "We have been out [to the site] numerous times and continue to monitor," said Bartlett. "The individual that would know about that in particular wasn't able to speak [before press time]."
Bartlett added he wasn't sure if the AER had anyone on site at the moment.
Safety guided moves, says CNRL
Birley says the trailer was just the beginning of a strange work day. "They [the company] clear out all the dirty Tyvek, put it in dumpsters, and truck these dumpsters two kilometres down the road," Birley continues. "They clean all the boats, remove all the bitumen they can possibly remove, and then move the boom that separates the clean zone from the dirty zone." Birley estimates booms on the unnamed lake were moved about 100 feet, making the "clean zone" appear 100 feet bigger. "There's a lot more guys with suits on, a lot more helicopter flyovers at the site," he adds.
Birley says he was instructed to check live amphibian and waterfowl traps early in the morning before media arrived -- then spend the rest of the day in camp. "We're told we have to stay on our side of the lake the whole day -- just don't work," Birley says. "Most of the labourers got the day off."
A CNRL spokesperson declined to respond to most of Birley's claims directly, except for the shrinking spill area: "Berms were moved as the flow-to-surface was contained, as surrounding vegetation was cleared away," wrote CNRL spokesperson Julie Woo in an email. "The impacted area was continuously reduced through the summer and fall of 2013."
As for the other aesthetic changes and Birley's instructions not to work, Woo pointed to safety considerations. "For the media tour in August 2013, the safety of our work sites was the priority in our preparations for the tour," she wrote. "These were active work sites with clean-up activities well underway and we worked to ensure that the sites were safe and safety gear provided for two busloads of visitors."
As the day wore on, Birley looked forward to seeing the nightly news coverage. "In camp, getting to watch that news story, we were laughing about how crazy the day was," he says. Birley remembers one story focused on the use of Dawn dish soap to clean ducks. "It was just so pathetic," he says. "You'd be sitting there watching and going 'You have no idea.'"
The total spill volume has been pegged somewhere between 1.17 and 1.89 million litres and growing. With steam operations resumed, and with deep sub-surface groundwater testing still unreleased, this disaster may see another anniversary yet.