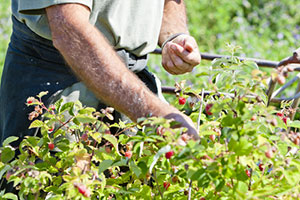 Being a temporary foreign worker in British Columbia got a little easier this month; the province made newcomers officially eligible to receive settlement help and assistance in the case of a crisis.
But the move comes without further funding for the settlement service sector even though its potential client pool has now more than doubled.
Chris Friesen, settlement services director with Immigrant Services Society Of British Columbia (ISSofBC), welcomed the change but said it does represent a challenge to the sector. "We will have to do more with less," he said.
A spokesperson for the province's Jobs Ministry said temporary foreign workers have always been able to informally access settlement services, but Friesen said that was not entirely the case.
"Prior to this we would serve temporary foreign workers under the table, so to speak," he said, explaining that since foreign workers weren't officially eligible for services, settlement organizations couldn't report them as clients to the province.
Under most circumstances ISSofBC could only help foreign workers who required quick services, lasting an hour or less, compared to the years-long relationships it could develop with eligible clients, he said.
Dramatically more workers to serve
The change better reflects the province's new immigration reality, with the number of arriving temporary foreign workers in B.C. booming over the past decade, Friesen said.
The dramatic increase causes concern around social integration and cohesion in B.C. communities, said Friesen, as temporary foreign workers receive little help to settle even though they're permitted to live in Canada for up to four years.
In 2003, roughly 22,000 foreign workers arrived in B.C., but in 2012 that number was almost 75,000.
Funding for settlement services is mostly provided through Citizenship and Immigration Canada (CIC) on a federal level but not all newcomer groups are eligible for CIC funding. B.C. covered the costs for some of those groups, but not for temporary foreign workers who officially had no rights to settlement services other than what employers chose to provide.
That changed when rejigs to federal funding distribution forced the province to renegotiate its contracts with service providers. For the first time, temporary foreign workers are now listed as recipients of settlement services.
The total provincial funding provided for clients ineligible for CIC funding is $3.92 million, which covers information and referral services, language classes and mental health services for refugee claimants.
Temporary foreign workers will only be able to access information and referral services, a government official said.
A 'small step' for worker rights: labour leader
BC Federation of Labour president Jim Sinclair said the official inclusion is only good news if the government also injects more funds into the settlement sector. As of now, it only further stretches a small pool of resources, he said. "Without the funding, this is a hollow announcement."
But, he conceded, the inclusion is "a small step" in the fight for stronger and well-enforced temporary foreign worker rights.
Friesen doesn't know how many temporary foreign workers will now seek help at his organization, but he plans to closely monitor the situation in coming weeks.
The potential number of clients more than doubled with the change, but Friesen doubts that many workers will seek settlement services right away.
He said the settlement service sector sent a letter to the federal government last year with a recommendation that companies bringing in foreign workers should pay an extra fee to cover services. The letter has yet to receive an official response.