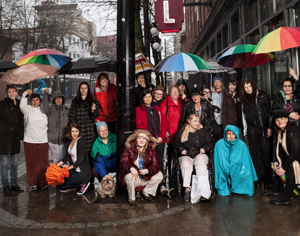 Earl Crow, a Mi'kmaq man with a history of homelessness and drug addiction, has no doubt that the social good done by Mark Townsend and Liz Evans through their Portland Hotel Society -- the lives saved, the suffering reduced in the Downtown Eastside -- far exceeds in importance any spending improprieties they may have committed.*
"I have a history of drug abuse and Mark and Liz were always there for me," said Crow on Thursday. "They supported me -- and I support the Portland."
On the morning that government officials released financial audits detailing lavish spending on questionable expenses for the PHS executive and management team, it wasn't hard to find tears, worried faces and declarations of support for Townsend and Evans at the various operations run by the sprawling, unconventional non-profit agency.
"They are very respectful people, these two: Mark and Liz. I was living in a park and they got me a room," said Crow, who was picking up coffee beans at the East Van Roasters Cafe near Carrall and Hastings Streets to bring back to the Radio Station Café where he works. Both operations are social enterprises run by the PHS.
"They brought change down here because they are non-judgmental people. They didn't tell us what we needed. They asked us: What does the community need? They let us speak for ourselves.
"And they took that voice of the community -- the voice of the back alley -- and they spoke in Ottawa."
The PHS took the Harper government to court over Insite, North America's only legal safe injection site, resulting in a Supreme Court of Canada ruling in 2011 that allowed it to stay open. Townsend and Evans, leaders in the international harm reduction movement, told the government that the PHS-run Insite has saved lives. So far there have been close to 3,000 overdose events at Insite but not a single fatality.
"All you have to do is look at the statistics 15 years ago," continued Crow. "Check out what were the rates of HIV infection and Hep-C in this neighbourhood. The overdoses. People were dying every day."
'A supportive culture of misfits'
Dani Moretto, a 28-year-old social work student who manages the Beacon Hotel for the PHS, was among the customers at the East Van Roasters. She was inspired to leave Kelowna as a teenager to work for the PHS in Vancouver after hearing Evans give a talk in the Okanagan about harm reduction. "I listened to her speak and decided I had to work here."
Moretto is worried about the future of the over 300 people who work for the PHS, its 1,000 residents and hundreds of others clients who have struggled with mental illness, homelessness and addiction.
"I hope it doesn't affect our work or the culture of the organization. Because what Mark and Liz created is who we are. We are a supportive culture of misfits. And nobody here really fits in anywhere else. The PHS brings people in and gives them the courage to speak out."
Around the corner on Hastings Street, Brenda Grealis helps run the PHS-run Farm Craft Flea Market, growing flowers and vegetables in a large garden. She is one of many former addicts who has lived in PHS residences such as the Rainier Hotel and then found work and meaning through employment in the non-profit's various social enterprises.
"You can't just get people off drugs and then say goodbye. You've got to fill that hole. So these projects are all run by people who live down here and are part of the PHS's continuum of care. This has meant everything for me. It's given me purpose, dignity and now I am giving back."
Grealis praised Townsend and Evans for stepping down after receiving assurances from the provincial government that PHS services would be maintained. "I thought it was the most gracious thing that Mark has done, stepping down. It blows my mind that he did that -- so that, like he said, the village doesn't get burned down."
Townsend, Evans and two other managers, Dan Small and Kirsten Stuerzbecher, agreed earlier this week to step down by the end of the month and allow the province to take control. Victoria was threatening to cancel contracts if the four executive members didn't leave the PHS.
Praise for an 'unorthodox' style
Across the street on Hastings from Grealis and her garden is The Window, a consignment store run by the PHS. Staff member Gail Patenaude, a 65-year-old former resident at the nearby Rainer Hotel, is trying to make a new life for herself after years of battling depression and ill health. "This store is allowing me to stick my toes back into the workforce." She's afraid the PHS won't be the same without Townsend and Evans at its helm.
"Mark had a great love for the people he dealt with and you could tell that the people coordinating these ventures had a great deal of affection for him."
Katie Piasta runs sewing classes for recovering addicts in the back of The Window. She became quite emotional discussing the leadership shakeup. "Everyone here has so much love and respect for Mark and Liz. Like they are such idols. And when they come in the door here, I run and see them. They are just people you want to impress."
Sarah Blyth, a Vision Vancouver park board member, works for the PHS as a mental health worker at The Tellier Tower, a seniors' residence on Hastings. "We have this family of people in the PHS who are non-judgmental and we wonder, what is that going to be replaced with? Are they going to be creative people like Mark and Liz who can take an idea from a staff person and go with it?"
Patrick May works the front desk for the PHS at the Pennsylvania Hotel, site of the original Portland Hotel. "I feel a bit confused, kind of scared for the future, not only for myself but for the culture of the organization. We work in unorthodox ways and that is why we have been effective. It think it will be difficult for us if we have to be more bureaucratic."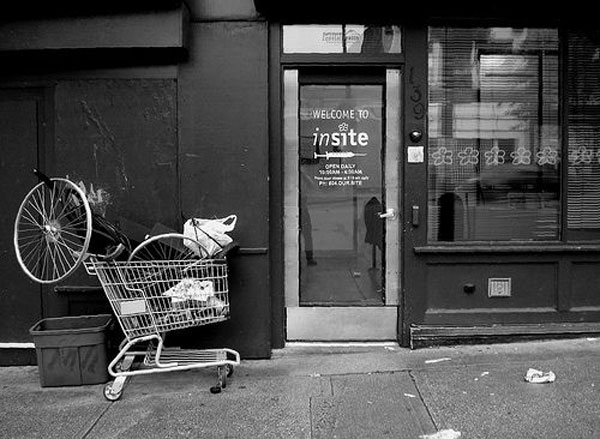 Over at the Radio Station Café, barista Debbie Krull, a goalie on the women's soccer team sent by the PHS to the Women's Homeless World Cup in Paris, broke down talking about the recent resignations. Krull, who has struggled with mental illness for years, said she ran into Premier Christy Clark at the recent Whitecaps opening game and urged her not to punish Townsend and Evans.
"They are the backbone of our league, they have saved all our lives, I could get you thousands of stories."
Krull said the PHS soccer team remains key to her life. "I need soccer even now, for daily maintenance. It pulled me out of depression and the PHS helped me transition back into the workplace."
PHS execs 'paid a heavy price in stress': Mate
Gabor Mate, who was a staff physician for the PHS for 10 years, described Townsend, Evans and their colleagues in an email as "extraordinary individuals whose energy and commitment will not be easily replaced."
Whatever happens with the audit, he said, "it will not make me forget their success in creating an island of relief in an unfathomable sea of suffering."
Nathan Edelson, who previously worked extensively in the Downtown Eastside as a city planner for the City of Vancouver, said in an email that the PHS was responsible for "so many innovative approaches on a wide array of initiatives that have contributed to saving and improving the lives of hundreds of people."
Edelson added that "one doesn't have to agree with everything this organization does -- or the ways in which it carries out some of its actions -- to know that PHS has made and will hopefully be able to continue to make a difference."
The financial reviews released by the province found alleged unsupported expenses, misuse of corporate credit cards and inadequate criminal record checks. The audits revealed a pattern of loose spending by PHS managers and directors, including a stay in a British hotel that cost almost $900 a night, $8,600 spent on limousine rides last year and a trip for two adults and two children to the Disney resort in Anaheim, Calif, costing more than $2,600.
Townsend has said that all of the money his organization receives from BC Housing and Vancouver Coastal Health goes to programs. The PHS has, however, used money from its administration fees (nine per cent of its budget) and private sources to provide some perks for staff in lieu of overtime and other benefits.
*Correction, March 21, 10:45 a.m.: A previous version of this story incorrectly identified Earl Crow as Earl Peach.