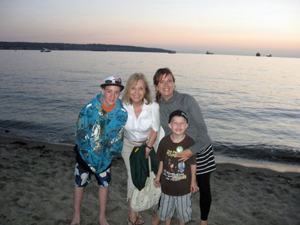 Merrill Oakey's children are worried that the price of the drug they believe reduces her symptoms from Alzheimer's disease is about to triple.
"It's the only thing that's helping," said Oakey's daughter Darlene Tandon. "If she wasn't on it she wouldn't remember who we were, I'm pretty sure."
Oakey, who Tandon said lives "semi-independently" in Vancouver, has been receiving patches of rivastigmine, brand name Exelon, for the last three years. It's one of three Alzheimer's drugs the British Columbia government has long considered adding to coverage under the PharmaCare public drug plan. The other two are donepezil (Aricept) and galantamine (Reminyl).
The three drugs are controversial, with disagreement about whether they work well enough to justify the public covering the roughly $5 per day for each person who takes them. Some 40,000 British Columbians have Alzheimer's disease, the most common form of dementia.
The cost to provide the drugs to even just the 25,000 people in the province with mild or moderate Alzheimer's would be in the order of $50 million a year.
Since 2007, B.C. has taken a novel approach by subsidizing the three drugs, cholinesterase inhibitors, while people participate in a study, the Alzheimer's Drug Therapy Initiative, which after much delay is drawing to a close.
Jason Oakey, Tandon's brother, said he and his sister expect after the study ends in February, so too will the subsidy, increasing what they pay from under $50 to $158 a month. The increase will be a challenge, he said. "She doesn't make any more money."
Tandon acknowledged the drugs available for Alzheimer's don't work for everyone, but said, "The drug has really, really helped my mom. There's no way she can go off it." It's not a cure, she said, but does help her mother function and make it possible for her to carry on a conversation.
Ministry still reviewing
According to health ministry spokesperson Ryan Jabs, there's been no change in the funding for Alzheimer's drugs and the ministry hasn't done anything that should cause a price increase. "We're still working through the drug review process," he said in a recent email. "I'll have more info available when we make the decision."
Officials from the Alzheimer Society of B.C. said their organization had been warning their members that changes to coverage in the drugs might come as soon as February, but they are now expecting a decision from the government later this year, likely in the fall.
"People were aware the ADTI was not going to last forever and the decision would come soon," said Barbara Lindsay, the society's advocacy director.
The society was glad the drugs were funded while the ADTI continued and is hopeful the province will decide to keep them in PharmaCare, said Lindsay. "It's important to us to make sure they're available to people who might benefit from them."
There is evidence the drugs work well for about one out of three people, but it's so far impossible to predict which people those will be, Lindsay said. "For some people, they do see some significant improvement," she said. "We would like to make sure people have the option."
Alzheimer Society of B.C. CEO Maria Howard said they're glad the government set up the ADTI to find out what difference the drugs make in people's lives. "A lot of other drugs don't get this level of due diligence," she said.
Study delayed by scandal
The government launched the ADTI in 2007 "to gather clear, clinical evidence on who might benefit from these drugs and what the benefit might be for people with Alzheimer's" in hopes of helping improve their quality of life, Jabs said.
The ADTI is a collaboration between the government, the Alzheimer Society of B.C., the University of British Columbia, the University of Victoria's Centre on Aging, drug manufacturers, clinical experts, researchers and practising clinicians, according to the health ministry's website.
As of last March, the B.C. government had spent $38 million on the ADTI, with about $35 million of that spent on the drugs, said Jabs. The original budget for the study was $78 million.
Along with information from the ADTI, the drug review process is taking into account evidence from other national and international research, he said. That process also considers input from patient and advocacy groups.
The ADTI, for its part, suffered a major setback in a 2012 health ministry investigation that then minister Margaret MacDiarmid alleged involved data breaches, conflicts of interest and contracting irregularities. People fired during the investigation included two who were key to the ADTI, special projects manager Ron Mattson and epidemiologist Malcom Maclure, both of whom are suing the government for wrongful dismissal and defamation.
MacDiarmid has since lost her bid for re-election in May 2013 and Premier Christy Clark replaced her by appointing Terry Lake as health minister.
Losing memory, losing lunch
Rivastigmine has been on the market for about 10 years, and in the pill form is known to cause nausea, vomiting and other gastrointestinal side effects in around one-third of patients, said Alan Cassels, a health policy researcher and author.
"You've got grandma losing her memory already, then you're going to have her losing her lunch too," he said, noting the patch version is less likely to cause those kinds of problems.
At the same time there's no evidence that any of the Alzheimer's drugs help people cope with the activities of daily living or stay out of long term care, he said. "Nobody has said they're super effective," he said. "That's why it was always controversial."
Cassels pointed out a recent study that found dementia drug coverage decisions are often political. "Impending elections appeared to affect the timing of drug funding announcements in this case study," the researchers found. "Despite an established structure for evidence-based decision-making, drug funding remains a complex process open to influence from many sources."
Many jurisdictions don't cover the drugs, and B.C. held off paying for them because of the lack of evidence of benefits, combined with the risk that they may make people sick, Cassels said. He referred to them as "drugs of hope," noting the strong desire from families and advocates to have a treatment available.
"Alzheimer's is such a devastating disease, a lot of people would just do anything," he said. "It's a product of desperation more than anything."
Cassels said it made sense to fund the drugs during the study, but not so much once the ADTI was stalled. "You kill the study and you keep paying for the drugs? What the hell's with that?"
Provincial plan needed
Jason Oakey said he remembers his mom coming to visit him in Calgary before she was diagnosed. While they were at a mall, they split up to do their shopping. When he found her she had a confused look on her face and didn't remember why she was there, or even that it was Christmas time, he said.
Merrill Oakey's now been receiving Exelon for three years. "It's made a massive difference to her quality of life," her son said.
Tandon's husband Amit said they heard from the Alzheimer Society, not the government, that the funding was ending. "At no point have we heard about why these are ending," he said. "Suddenly it's just ended... You're left to your own ideas of what's happened."
He said studying the drugs makes sense. "If it's a drug that's not working for the majority of people, that would be good to know."
He and his wife Darlene, who are also raising young kids, said they see withdrawal of support for the drug as part of a system that largely leaves patients and their families to cope on their own.
"It's a very difficult situation that seems like it's becoming more difficult," said Jason Oakey. "We're being faced with more costs and we still have no more support." He referred to Alzheimer's as being an "unsexy" disease and therefore short on funding.
Amit Tandon attributed the lack of support to the fact Alzheimer's mainly affects older people and that it's a disease many fear.
The Alzheimer Society's Lindsay said more leadership is needed from the province. "The best way forward is to develop a strategy," she said. "This medication issue is a way to support people in the community now, but we want a bigger, bolder plan."
The province's Dementia Action Plan from Nov. 2012, is a 24-page document heavy on pictures and light on plans for action. Premier Christy Clark has also said better dementia care is needed.
"What we want is something deeper, longer, where we're measuring progress," said Lindsay.
CEO Howard said there's hope for a provincial plan that will build on commitments the federal government made at a G8 summit in December.