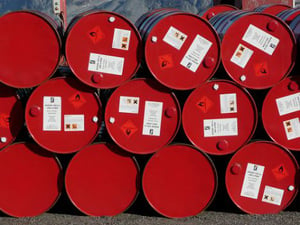 In some ways 2013 will be remembered as a year of stalemate for one of North America's richest and most influential industries. It marked 12 more months that President Barack Obama was unable -- or unwilling -- to make a decision on TransCanada's Keystone XL pipeline. In Canada the political and economic fate of Enbridge's Northern Gateway pipeline remained equally uncertain.
Yet the past few months have also yielded rare glimpses into the preparations major oil and gas companies are making for a disorienting future. The four headline-making disclosures listed below show them reckoning like never before with increasingly powerful opponents, a global energy system in transition, the financial risk of rising carbon emissions and bitter economic rivalries.
1) Shell is lobbying against Big Coal
Perhaps the most surprising disclosure of them all came late last month, when Shell made its rift with the global coal industry public, admitting to an Australian newspaper that its lobbying efforts may have influenced the World Bank's decision in July to restrict financing of new coal power stations, except in "rare circumstances."
"We found out most coal plants get their funding started by using the bilateral funding agencies, such as the World Bank," Maarten Wetselaar, head of gas at Shell, reportedly said. "So we were talking to them about the impact their policies have on the energy mix of the world," adding, "We actively influence the space."
This may be one of those rare instances when the financial self-interest of a major oil and gas company benefits the planet. Shell, after all, is investing billions of dollars worldwide in liquefied natural gas, a fossil fuel competitor to coal, and one with potentially lower climate impacts. Concluded RenewEconomy: "The real impact of Shell's lobbying is to leave Big Coal even more politically isolated than before."
2) Ottawa made oil expansion harder
Political actions often come with unintended consequences like when Canadian Natural Resources Minister Joe Oliver penned an open letter in early 2012 to environmental opponents of Enbridge's Northern Gateway project (as well as other west coast pipelines), denouncing them as foreign-funded "radicals."
Turns out Canada's oil sector wasn't totally thrilled by Oliver's comments, as suggested in a Calgary speech given by the president of Kinder Morgan Canada, a major pipeline builder, last October. "I was not a huge supporter of how actively the federal government was a year or two ago in promoting pipeline projects for its interests and taking on some of the opposers," Ian Anderson reportedly said.
The reason? Oliver may have been unwittingly "fanning the flames" of environmental opponents, which ultimately makes it harder for Kinder Morgan and others to win social license for their projects. "I don't need [governments] making the grassroots opposition any worse than it might already be," Anderson said.
3) Big Oil underestimated its opponents
Speaking of environmental opponents, we have Wikileaks to thank for publishing a detailed breakdown of the activist groups fighting against oil sands expansion, prepared by the Texas-based global intelligence firm Stratfor in 2010. (Canadian oil sands giant Suncor denies paying for the analysis, although its name is all over it according to InsideClimate News.)
What's clear is Stratfor -- which categorized almost two-dozen civil society groups as radicals, idealists, realists and opportunists -- underestimated the green movement's growing strength. "Activists lack influence in politics," it advised, and so oil firms shouldn't worry too much about appeasing them.
That might have been the case in 2010, when "activists [were] not stopping oil sands growth," Stratfor claimed, and their "chance of success with [the] U.S. government [was] slim." Yet three years later, TransCanada's Keystone XL pipeline is still stuck in political limbo. The analysis leaked this month, then, "shows how powerful these [green] movements have become," one campaign leader told InsideClimateNews.
4) Major firms are bracing for carbon pricing
One climate policy supported by nearly all green groups (as well as many economists and politicians) is a price on the carbon emissions that oil and gas firms currently emit for free. Not only do companies like Exxon Mobil, BP and Shell think such a price could become reality, they're factoring it into investment decisions.
That was the major takeaway from a report released recently by the Carbon Disclosure Project, an environmental data firm, which concluded that 29 major firms are using a so-called "shadow carbon price" in their planning to evaluate financial risk. "Companies acknowledge the process of ongoing climate change," the report read, "as a key relevant business factor for which they wish to be prepared."
The oil firms included in that list are looking at global warming "from a rational perspective, making a profit," report co-author Tom Carnac reportedly said. Carbon pricing in North America remains politically unlikely. But, he added, "companies see that the trend is inevitable. What you see here is a hardening of that understanding."