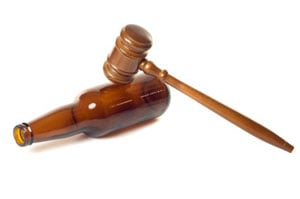 While the BC Liberal government spends this fall pondering the future of beer, wine and spirits sales and regulation in the province, the NDP's liquor critic wonders whether a surprise will be uncorked in the new year.
Like wheels on a tricycle, three significant pieces of liquor reform are rolling along and major changes are on the horizon, such as the laws about when and where liquor can be bought and consumed, how the province's Liquor Distribution Branch is governed and where its modern, new warehouse will be located. The latter is the sleeper issue, according to Shane Simpson.
"Is this government trying to find another way to get back to that conversation of LDB privatization?" asked Simpson in an interview. "If it is not the case, then Minister [Suzanne] Anton must be clear and unequivocal that this is just a search for new technologies to make [the LDB] work well."
The year before winning surprise re-election, the Liberals stopped short of privatizing LDB's non-retail operations. If the concept is revisited in the year after the election, the question is: who will it really benefit?
Exel-linked company wins relocation contract
On the eve of the government's Sept. 14 launch of the liquor review consultation website, LDB quietly announced Ohio-based Sedlak Management Consulting was chosen over 17 other supply chain management experts to help the taxpayer-owned company find a new warehouse site. The request for proposals was published May 24, just 10 days after the Liberals won surprise re-election.
Sedlak has worked closely on several projects with Ohio-based Exel, the company that hired prominent BC Liberals Patrick Kinsella and Mark Jiles, who lobbied over seven years for the third-party logistics unit of giant Deutsche Post DHL to privatize B.C.'s liquor distribution system under Gordon Campbell's government.
A request to interview LDB general manager Blain Lawson about choosing Sedlak was not fulfilled. The branch instead emailed a prepared statement that read: "We were impressed with the quality of submissions, and after a rigorous review, Sedlak best met the [request for proposals] criteria. We look forward to working with Sedlak as we move forward in preparing for the eventual relocation of our Vancouver warehouse to a new facility."
A request to interview Anton about contracting Sedlak and the possibility of privatization was not fulfilled. Her office referred questions to the LDB, whose spokesman Vince Cournoyer refused to identify the other two companies on the shortlist. Cournoyer said the first phase of Sedlak's "multi-phase" contract is worth US$277,450 plus expenses and includes "development of a conceptual design that will include potential new facility operations, work flows, etc."
"The specific details of this work are proprietary so the [distribution branch] is unable to provide you with the detailed approach the proponent is taking," Cournoyer said.
Sedlak president Will O'Brien and principal Patrick Sedlak did not respond to interview requests.
Westward, ho
"Project Last Spike," an internal Exel strategy memo from Oct. 2009 that was leaked to Business in Vancouver, said Exel built a relationship with then-liquor minister Rich Coleman and it hoped to use that connection to score a private/public partnership. If the government insisted on a public tendering process, the memo said Exel wanted to influence the writing of the request for proposals to gain an edge over competitors for a 10-year contract it estimated to be worth as much as $950 million.
While Premier Campbell opted to retain the LDB monopoly, his successor Christy Clark had different ideas. A year after she came to power, and with Coleman reunited with the liquor portfolio, Exel finally got its chance. The parent of Alberta's private liquor distribution monopoly Connect Logistics became one of four companies shortlisted by the BC Liberals to privatize the LDB warehouse in summer 2012.
The BC NDP opposed the 2012 privatization attempt, arguing the Liberals had no business plan and did not consult the public or industry. Citing the "Project Last Spike" memo, Simpson called the process "tainted" and boldly predicted its failure.
(In New Hampshire, a similar controversy erupted. Two unsuccessful bidders for a 20-year, $200-million contract to operate the New Hampshire Liquor Commission warehouse and supply 77 state-owned stores are contesting the November 2012 hiring of Exel. Law Warehouses claimed in court filings that the state amended the RFP in favour of Exel.)
Tendering was abruptly halted when the B.C. Government and Service Employees' Union reached a new government-wide pact on Sept. 27, 2012.
This time around, the Liberals are planning to turn LDB into a Crown corporation or agency, are consulting the industry and public about reforms, Sedlak is building a business case and the BCGEU contract, including its no-privatization clause, expires on March 31, 2014.
Profits flowing
When Clark announced Anton as minister responsible for liquor on June 7, the premier described liquor laws as "archaic," even though the hospitality industry has enjoyed massive deregulation and expansion since the first private store license was awarded in 1985 and Sunday pub openings were permitted for Expo 86.
For the year ended March 31, 2013, LDB poured $1.02 billion in profits into government on $2.95 billion gross sales. The branch's East Broadway land was assessed at $29.77 million and the 9.2-acre campus also includes administration offices, a test lab, security and data centres, training facilities, a cafeteria, daycare and the flagship location for the LDB's 195-store chain.
From its Vancouver and Kamloops warehouses, LDB supplies 670 private and 222 rural agency stores. But as the province's debt approaches $62.5 billion in 2014, liquor could be a convenient area to slash costs and squeeze more revenue.
During a budget estimates hearing on July 23, Anton told Simpson that the 220,000-square foot Vancouver warehouse is old and doesn't meet current standards.
"The ceilings are too low, the building is old. It's not a suitable facility any longer," Anton said, adding the property would go on sale this fall.
The solution could be under the LDB's nose. B.C.'s biggest purpose-built liquor warehouse is the 500,000 square-foot ContainerWorld in east Richmond.
ContainerWorld already has a pre-distribution contract with LDB and is associated with Gori, an Italian liquor-hauling subsidiary of Exel-parent Deutsche Post DHL.
ContainerWorld was the only B.C.-headquartered company among the four shortlisted bidders in 2012 and its proposal offered the branch $60 million in savings, to be achieved by automation and halving its Teamsters-represented workforce to 217.
In terms of liquor law reforms, Anton's Parliamentary Secretary John Yap is meeting with industry, local governments and health and social policy bodies in September and October and will report his findings to Anton by the end of November.
Yap's meetings have been varied and several of them publicized on the liquor review website. For example, he met Sept. 19 with Campaign for Culture, a couple of University of B.C. students pushing for happy hours and discounted drinks. On Sept. 11, he met with the Centre for Addictions Research of B.C., whose research found crime and health costs outweigh the revenue benefits of liquor.
The public component, however, revolves around the website and social media channels.
"That's not consultation in my mind, and in fact local government has a pretty big investment in this. Local government will deal with fallout issues whether it's policing, around noise, and they have a legitimate role to play in this," the NDP's Simpson said.
"Let's have that conversation and have that opportunity to have people get in one room to talk about these issues and not simply be limited."