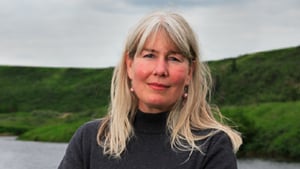 One of the continent's largest natural gas extractors has finally filed a legal defence in a landmark Alberta lawsuit that could change the way hydraulic fracturing, or fracking, is regulated in Canada.
In its statement of defence, Calgary-based Encana Corporation denies that it contaminated the drinking water well of Jessica Ernst, a scientist and oil patch consultant, and that it "complied with or exceeded the requirements of all relevant laws, directives and regulations in respect of its coal bed methane."
The short, six-page defence claims that the company, a struggling shale gas pioneer, did not frack shallow coal bed methane seams around Rosebud, Alberta, but instead "stimulated" them with nitrogen gas at high pressure.
The company, which has cut staff and sold assets due to low natural gas prices, adds that it tried to test Ernst's water well several times, but could not gain access to it.
Fracking is a brute force technology that blasts large volumes of water, sand and chemicals (many are known carcinogens) into rock and coal formations in order to accelerate geological processes and release small amounts of methane over large areas.
The high-cost technology inaugurated a temporary natural gas boom, which lowered prices on the continent.
The poor economics of shale gas have since challenged the bottom lines of Encana, Shell, Chevron and Exxon Mobil. Encana, which went on a land lease binge for the unconventional gas, now admits in its most recent Securities and Exchange Commission filing that the company "has more inventory in its portfolio of plays, particularly dry natural gas, than can be optimally developed."
But the controversial practice has done more than tank the fortunes of natural gas producers. It has also been responsible for earthquakes, land fragmentation, property devaluation, land subsidence and extensive groundwater contamination with methane and other hydrocarbons in rural Alberta, Wyoming, Colorado, Pennsylvania, Texas and Arkansas.
Suit alleges company fracked up groundwater
Two and half years ago, Jessica Ernst, now an anti-fracking folk hero in many countries including Ireland, the U.K. and the United States, launched a $33-million lawsuit against Encana, Alberta Environment and the Energy Resources Conservation Board. It accuses Encana as well as Alberta's oil and gas regulators of persistent negligence as well as breaching the nation's Charter of Rights and Freedoms.
The lawsuit alleges that Encana drilled and fracked shallow coal bed methane wells directly in the local groundwater supply between 2001 and 2004 near Rosebud, Alberta. (The firm's aggressive fracking practices also resulted in high profile contamination incidents in Colorado and Wyoming.)
As a consequence, Ernst claims, Encana polluted her water well with toxic chemicals and enough methane to make it flammable.
The drilling of 10,000 coal seams between Red Deer and Calgary over the last decade contaminated scores of water wells in rural Alberta and prompted the regulator to restrict shallow fracking in the region.
In addition, the claim details how Alberta's energy regulators, the Energy Resources Conservation Board and Alberta Environment "failed to follow the investigation and enforcement processes that they had established and publicized," despite direct evidence of industry-caused pollution and public admissions that shallow fracturing puts groundwater at risk.
"Encana now says that they didn't frack the wells. Yet Encana's own data says they fracked the wells," Ernst told The Tyee.*
Encana letters dated 2006 and 2012 obtained by The Tyee directly refer to "the drilling, perforating and fracking" of coal bed methane seams in the area.
A legal response to Encana's statement of defence adds that "'hydraulic fracturing' is defined as the process of stimulating a well by injecting fracturing fluids (whether liquid or gas) at high rates and high pressure into the perforated zone(s) of the well to create new fractures and enlarge existing fractures in the underground formations for the purpose of releasing and encouraging the flow of hydrocarbons."
Ernst also said that Encana did offer to test her water well, but the gesture resembled a Monty Python sketch.
In one case "they offered to test my water well in a registered letter with a limited deadline of acceptance. They mailed it to me 24 days after the deadline," she alleged.
Unknown chemicals
Ernst claimed she repeatedly told the company that they could test her water well as soon as Encana released a list of its fracking chemicals, so that groundwater technicians would know what contaminants to test for. She said the company refused.
According to Canada's auditor general, more than 800 chemicals have been used to frack open more than 200,000 oil and gas wells in recent decades. At least 33 of the substances are known carcinogens. Both Environment Canada and Health Canada admit that "a complete list of substances used in Canada is not known."
Two recent studies confirm the widespread contamination of water wells in areas of high drilling and fracking activity.
A study by the University of Texas found often dangerous levels of arsenic, barium, selenium and strontium in groundwater near the heavily fracked Barnett shale gas fields.
A Pennsylvania study discovered methane contamination in 82 per cent of drinking water samples taken from rural homes just one kilometre away from fracked natural gas wells in the Marcellus formation. They also found evidence of ethane and propane contamination.
The study concluded that, "Overall, our data suggest that some homeowners living less than one kilometre from gas wells have drinking water contaminated with stray gases."
No requirement to protect public interest
The government of Stephen Harper delayed Ernst's lawsuit after it abruptly promoted Madam Justice Veldhuis, just after she heard critical arguments in a Calgary Court of Queen's Bench last January.
Alberta Chief Justice Neil Wittman then volunteered to take over the case eight months ago by reading the transcripts. He has yet to rule on arguments by Alberta Environment to remove the word contamination and the mention of other contaminated wells in the lawsuit.
Lawyers representing the Energy Resources Conservation Board (now the Alberta Energy Regulator) also pleaded in the Calgary court that the regulator owed no duty of care to landowners, and claimed that Ernst was an ecoterrorist.
The Alberta Energy Regulator is now headed by Gerald Protti, a former energy lobbyist and a former Encana vice-president.
In a much-criticized move, Alberta Premier Alison Redford appointed the founder of the Canadian Association of Petroleum Producers to the job earlier this year.
Under Alberta's new Responsible Energy Act, the province's energy regulator no longer has a mandate to protect "the public interest."
The new act also introduced what some bureaucrats call the "Ernst Clause": it prevents landowners and citizens from suing the regulator for wrongdoing and negligence.
*Due to an editing error, a previous version of this story misstated the contents of Encana's filing.