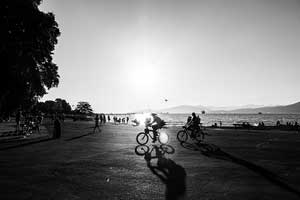 Recently released details of Vancouver's Point Grey-Cornwall bike route sparked passionate exchanges at a public debate at Simon Fraser University on Thursday, leading some to wonder whether a city council vote on the issue next week would attract similar drama.
The new route would transform just over a kilometre of the seaside Point Grey Road (between Alma and Macdonald streets) from a busy arterial road to a quiet residential street for local traffic and two-wheelers only.
The bicycle route would then continue along a newly traffic-calmed York Avenue, with improved connections to the Burrard and West First Avenue routes. Traffic would be rerouted to streets like West Fourth or Broadway.
According to 2012 statistics, at the peak of summer there are about 600 cyclists per day who use that stretch of Point Grey Road, and 900 who cycle along Cornwall Avenue. There are 10,000 people who commute by car along Point Grey Road per day.
City staff anticipate that safer conditions along the route will encourage more cyclists and help the city reach its goal of having at least two-thirds of trips completed by cycling, walking or public transportation by 2040.
While council seems set to rubber-stamp the change in a vote this coming Tuesday, a number of local residents and car-driving commuters, like those who cruise Point Grey en route to the University of British Columbia from downtown, are lobbying hard to slow down the process or stop it altogether.
Over 100 people packed into the classroom for Thursday's "City Conversations" lunchtime event to express their opinion. Audience members clamoured, waiting to be assigned a number or to give passionate appeals for or against the proposal. All of those who spoke were Kitsilano or Point Grey residents.
Slow down, speed up
On the anti-bikeway side were George Seslija and Duane Nickull, a former bicycle racer and BC Conservative candidate for Point Grey in the May B.C. election. Their main concern was with the driveways that would intersect with the proposed bike lanes.
One proposed idea for the Point Grey Road stretch of the bike route is to replace two existing car lanes with two bike lanes and a widened sidewalk. Seslija and Nickull suggested this would make it difficult for residents to access their driveways, and could increase the risk of collisions.
Nickull argued that diverting cars could create more stop-and-go traffic in the area, increasing carbon emissions. Nickull, a data analyst, added that he found discrepancies between collision statistics in the report and numbers he got from ICBC himself. He claimed his research found no cyclist-vehicle collisions along the section of Point Grey Road currently slated for the bikeway.
He added that the planning process felt rushed, and that there hasn't been enough consultation from the community.
"Should we proceed, or do we feel like this is going a bit too fast?" he asked.
On the pro-bikeway proposal side were Pamela McColl and former city councillor Peter Ladner. McColl lives on Point Grey Road and called the street "an unacceptable situation for everyone who uses it."
A growing segment of commuters are abandoning their vehicles for more sustainable modes of transportation, McColl argued, with fewer young people owning cars. She added that 30 per cent of car trips are less than three miles.
Ladner argued that Vancouverites need to cycle more because the city's infrastructure has reached a saturation point for cars and efforts to make cycling accessible for all ages and abilities is necessary.
"Cycling in the city is still kind of an elite thing," Ladner remarked.
Both Ladner and McColl also spoke of research that showed that bike lanes have been shown to be good for business.
Proposal could go farther, some argue
Throughout the discussion, City Conversations director Scott McLean struggled to keep hecklers in check to allow as many speakers as possible. Dozens were eager to share their opinions, but time constraints meant only about 10 people were able to do so.
About half of the speakers opposed the proposal, with many making the point that an established bike route already exists along Third Avenue, and should be sufficient.
Proponents who argued that cyclists don't use that existing route because it diverts them from the seaside up a hill were met with loud jeers from the audience. "Too bad!" shouted a handful.
While some opposed the proposal entirely, others argued that it doesn't go far enough.
The proposed route's York diversion would detour cyclists along the hillier York Avenue instead of continuing along Cornwall, which is flatter and closer to the beach.
"The average cyclist will take the path of least resistance," said Dick Dunn, a Kitsilano resident.
Another proponent argued that Cornwall and Point Grey Road weren't originally built to be main arterial roads, and that the roads were too narrow for the 10,000 cars a day they see now.
Proponents took pains to make it clear that one of Vancouver's top attractions for residents and tourists is its accessibility for pedestrians and cyclists.
Council votes on the meeting July 23. Anyone wanting to address council with feedback must sign up in advance by emailing mayorandcouncil@vancouver.ca.