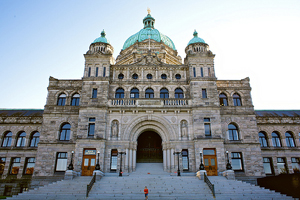 The people who planted what they thought were bombs around the British Columbia legislature before Canada Day crowds celebrated will not succeed in making the public fearful, said Premier Christy Clark.
"Let me say this to those who resort to terror," said Clark in a news conference in front of the legislature today. "You will not succeed in damaging our democratic institutions, but just as importantly you won't succeed at tearing down the values that make this country strong."
RCMP announced in Surrey this morning that they had foiled a plan to explode three pressure cooker type bombs, similar to the ones used at the Boston marathon in April, outside the B.C. legislature during Canada Day celebrations. The annual event attracts tens of thousands of people.
Charges against John Stewart Nuttall and Amanda Marie Korody include "conspiring to place an explosive in or against a place of public use, a government or public facility, with the intent to cause death or serious bodily injury, for the benefit of, at the direction or in association with a terrorist group."
The pair were arrested in Abbotsford on the afternoon of July 1 and made a first appearance in B.C. provincial court in Surrey July 2.
Threat disrupted: RCMP
"These charges are the result of an RCMP investigation named Project SOUVENIR, which was launched in February 2013 based on information received from the Canadian Security Intelligence Service," said RCMP assistant commissioner James Malizia, in a statement posted on the RCMP's website.
"These individuals were inspired by Al Qaeda ideology," he said. "Our investigation demonstrated that this was a domestic threat, without international linkages."
The investigation was coordinated by the RCMP's Integrated National Security Enforcement Teams in B.C., which includes employees from the RCMP, CSIS, Canada Border Service Agency "and other law enforcement and national security partners at the federal, provincial, municipal levels who investigate all national security criminal threats."
"I want to reassure our citizens that at all times during the investigation, our primary focus was the safety and protection of the public," said Malizia. "While the RCMP believes this threat was real, at no time was the security of the public at risk... We detected the threat early and disrupted it."
Assistant commissioner Wayne Rideout listed the charges against Korody and Nuttall, and said, "This self-radicalized behaviour was intended to create maximum impact and harm to Canadian citizens at the B.C. legislature on a national holiday. They took steps to educate themselves and produced explosive devices designed to cause injury and death."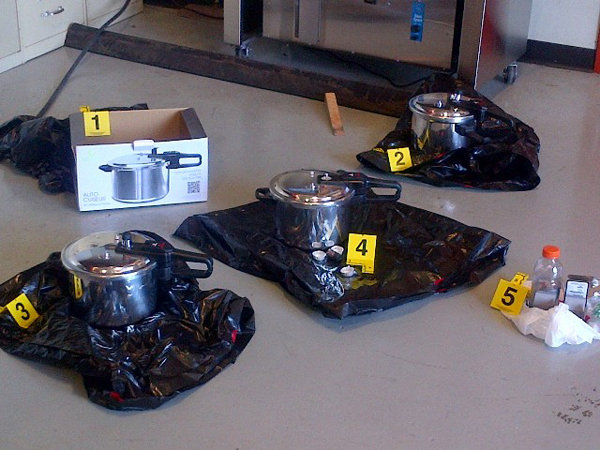 The RCMP has put resources into the case over the past five months, he said. "The suspects were committed to acts of violence and discussed a wide variety of targets and techniques," he said.
"In order to ensure public safety, we employed a variety of complex investigative and covert techniques to control any opportunity the suspects had to commit harm," he said. "These devices were completely under our control, they were inert, and at no time represented a threat to public safety."
Rideout said there are "a series of details" he can't discuss as the charges are before the courts.
'They hate things that make us Canadian': Clark
The Victoria Times Colonist newspaper reported in 2003 and 1996 on Nuttall's criminal record, which included hitting a man on the head with a rock to steal his briefcase and acting as an enforcer for a drug dealer. The full stories are available on reporter Tom Hawthorn's blog.
The 1996 story referred to Nuttall as "bigger and significantly less-intelligent" than his co-accused in the enforcement case.
Premier Clark thanked the RCMP and its INSET anti-terrorism unit and took the opportunity to speak about freedom and the threat of terrorism.
"They want us to be governed by fear," said Clark. "They want us to view each other with suspicion. They want us to be seized with anger. They want this because they hate the things that make us Canadian. They hate the values that make B.C. and Canada the envy of the world."
Clark said the RCMP told her yesterday morning about the plot. She was at the time in Kelowna, where she is running in a July 10 byelection, having lost her seat in the May general election.
Nuttall and Korody acted alone and have no ties to any terrorist groups inside or outside of Canada, Clark stressed.
Speaker Linda Reid will launch a review of legislature security, said Clark.
"We cannot let this event change who we are and how we use our public space," she said. "We will not let them win. We will not let them strike fear into our hearts. These public spaces belong to us, the people, and we're going to keep them."
After the news conference Clark spent a few minutes talking with people visiting the buildings, posing for pictures with some of them or exchanging hugs.
Asked about the review, Reid said, "It's always about continuous improvement. We're certainly going to review every aspect of how we go forward."
The operation was a success, she said. "The reality is our provisions worked. We worked in concert very carefully with all levels that came to us. That work will continue."
'No actual risk': Anton
"I think it is crucial we ensure people have access to these buildings," said NDP leader Adrian Dix, who mentioned his family connections to the Lockerbie and Air India bombings.
Dix noted that on Canada Day the legislature lawn would have been full of children. "We have to oppose violence in all its forms and we need to continue to do that."
Justice Minister Suzanne Anton called the incident "dismaying."
The RCMP let the plot play out until arrests could be made, she said. Komody and Nuttall appeared to be acting alone and were "unrelated to any external groups and unrelated to any Muslim groups here in British Columbia," she said. "They're just free agents apparently."
There was never any thought of cancelling the Canada Day events at the legislature as there was no danger to the public, she said. "It was very clear there was no actual risk."