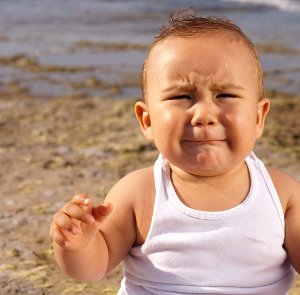 In 2008, researchers from the University of Calgary sampled populations of longnose dace, a silvery minnow, in Alberta's Oldman and Bow Rivers. The latter flows through downtown Calgary and supplies its drinking water.
To a casual gaze, a male dace is hard to tell from a female one, so it wasn't until the samples were dissected back at the lab that biologists noticed something very odd. Their random catch was overwhelmingly female. In some parts of the Oldman River, downstream from cattle feedlots and municipal waste treatment outflows, male dace had all but vanished from the population.
For Leland Jackson, the research leader who had directed the work, the alarm was personal.
"The water I use to make my kids' orange juice is the same water those fish are living in," he told one of the authors in an interview.
Toxic compounds in our midst
The Albertans were among a growing body of researchers to observe disturbing associations between waste-contaminated water sources and gender-bending effects among the organisms that live in or drink from those sources -- including humans. The leading suspect is a broad range of potent chemicals that act on or mimic endocrine hormones (EDCs), the chemicals that carry signals around the bodies of living creatures to trigger or turn off physiological activity.
These chemicals aren't limited to a few isolated "hot spots" down-stream from cities or feedlots. Some 23,000 toxic compounds are estimated to be present in the Canadian living and working environment -- with 1,000 new ones added every year. Another 7,000 pesticide formulations are registered with federal authorities; at least 60 of those are banned in most other industrialized nations.
What becomes of the molecular fragments of all these compounds when they mingle in the aquatic environment is unknown. Our lakes have become unsupervised laboratories conducting recombinant biochemistry in real time.
EDCs, meanwhile, are increasingly believed to act at very low dosages of exposure if these coincide with vulnerable developmental moments, such as conception or puberty, when an individual's body is particularly susceptible to a faux hormone signal. They are suspected in a broad spectrum of epidemiological anomalies -- many of them involving disruptions of gender, gender ratios, pregnancy, genitalia formation and other aspects of reproductive function.
Some EDCs come by their endocrine mimicry by accident. Polybrominated biphenyls were designed as another class of flame retardant. They were not supposed to cross the placental barrier in pregnant women. Yet according to the U.S. National Institutes of Health, they do, producing "significant adverse effects on normal pubertal development" for the children later on.
Other compounds in the same category intentionally meddle with the hormones of target species; it's how they do their job for us. The herbicide 2,4-d, for example, is a synthetic plant hormone that triggers uncontrolled, disorganized and eventually fatal cell growth in its targeted species.
Many of these active compounds rely on molecular mechanisms that are similar across many species (the very reason we test drugs meant for people on other animals), so it is not surprising to find they may also jiggle human chemistry.
"All vertebrates have similar sex hormone receptors, which have been conserved in evolution," former British government advisor Gwynne Lyons wrote in a report summarizing the "known or suggested" effects of chemical contamination on wildlife. All creatures with backbones, that is to say, respond similarly to endocrine chemistry: what is bad for birds and bears is also likely to be bad for human girls and boys.
'The basic male tool-kit is under threat'
The omnipresence of these chemicals and their engineered potency make them prime suspects in a global epidemic of gender-bending aberrations observed in wildlife as well as people.
"Population statistics indicate that fertility, reproductive success, and male/female live birth ratio are declining in the industrialized world," Colborn and Carroll observed.
In Canada, those researchers found that "[a] clear shift... toward fewer male births began to appear in 1970." Poring through statistics going back to 1930, researchers determined that by 1995, the shift in sex ratios had amounted to a decline of 2.2 males for every 1,000 live births nationally over the previous quarter-century. The Atlantic provinces lost the most males: 5.6 baby boys for every 1,000 births.
At that rate, and if no further shift in sex ratio has occurred in the years since, some 850 boys went "missing" from Canadian maternity wards in 2010. Estimates of the shortfall in male births around the world reached 250,000 "unborn" boys as of 2007.
Other boys are missing fully functioning parts. International surveys have documented a rising incidence of cryptorchidism (undescended testicle) and hypospadias (in which the urethral opening is along the shaft or at the base of the penis rather than its tip) in Britain, the United States and several Scandinavian countries. The incidence of cryptorchidism in England and Wales doubled over a thirty-year period in the second half of the last century.
Male sexual health appears to be under attack in other respects as well. Sperm rates in industrial countries have declined in country after country studied, along with sperm vigour. Testicular cancer is occurring roughly twice as often as it did in the 1970s.
In Florida, as many as 40 per cent of "male" cane toads in agricultural counties were found to be hermaphrodites. So, in Canada, were a smaller number of polar bears. ... Lyons's summary, for a British foundation, reported observations of abnormal testes in fish, frogs, turtles, birds, bears, mink, sea lions, whales and panthers; other physical deformities in the genitalia of alligators, otters and polar bears; and precursor proteins to egg-laying in otherwise male fish, amphibians and birds.
Concluded Lyons: "The basic male tool-kit is under threat."