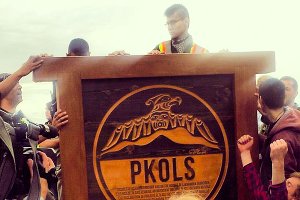 [Editor's note: Historically, the Saanich language is transliterated using capitalized letters, often modified with lines and other typographical symbols. To read more about the preservation of indigenous languages, visit First Voices.]
It may be apt that the WSÁNEĆ (Saanich) First Nation's name means "emerging people."
After more than 600 people ascended Mount Douglas to assert its traditional name -- PKOLS, meaning "White Rock" -- in an unauthorized sign-planting ceremony on May 22, an elder behind the act has vowed that the ancient names for landmarks throughout the peninsula will continue to re-emerge.
Next up: ȽÁU,WELNEW, the traditional name for Mount Newton, rising just south of Victoria International Airport, The Tyee has learned. 
The indigenous naming campaign launched on Wednesday evening, when hundreds of WSÁNEĆ hereditary leaders, supporters and municipal officials marched en masse up the popular tourist viewpoint, located near the University of Victoria. At the summit, the group raised a hefty carved PKOLS sign into poured cement, as actors dramatized the signing of a treaty with Sir James Douglas on the mountain in 1852; an agreement they say has since been broken.
"I was expecting a lot of people," Tsawout hereditary chief WEC'KINEM (Eric Pelkey) told The Tyee. "But I wasn't expecting that many people!
"We feel that our names are re-emerging. Even the general public is hungry for the knowledge about the local area; it's been repressed all these years. Peoples' versions of history never include our own history."
The story of PKOLS
Despite lacking a permit to erect a permanent wooden marker in cement, police and politicians alike watched and expressed support for the ceremony. Proponents of officially renaming the mountain said they wanted to send a message of collective strength -- waiting until after the sign-raising to submit a formal amendment request to B.C.'s Geographic Names Office.
"Leadership in the First Nation, on the traditional side, decided it was time to take some action on a long-standing issue in their community -- to take back the names," Taiaiake Alfred, professor of indigenous governance at UVic, told The Tyee. "It's important to reclaim the names, because names are symbolic of the attitudes and ideas people bring -- of their relationship to the land and each other. 
"If all indigenous names are erased, and never respected, it shows the white society's view of indigenous people: that we no longer exist; we've been erased.... It's about respect in a fundamental way. The future of this country is going to be one of peaceful coexistence based on mutual respect."
Pelkey first heard the traditional story of PKOLS decades ago, as a young man. An elder guided him to the summit, he recalled, and shared the account of two black rocks falling from the heavens, one landing on Vancouver Island and sprouting into PKOLS, the other becoming what today is the mainland community of White Rock. 
The elder's wish, Pelkey said, was that the traditional names and stories be shared widely -- something which inspired him to call for Wednesday's name reclamation ceremony.
"It really struck me at that time," the Tsawout-based Douglas Treaty office employee told The Tyee. "This is something that really needs to be told. It took all these years to get it out. One of his last dying words was to bring out our history."
A process of 'de-colonization'
As the community awaits word from the Geographic Names Office, Pelkey revealed plans for a similar naming ceremony next autumn for one of his nation's most sacred sites: ȽÁU,WELNEW (Mount Newton).
In WSÁNEĆ tradition, the mountain helped save inhabitants from rising floodwaters 10,000 years ago. Pelkey recounted that the only survivors of what is remembered as "the Great Flood" were those who heeded a warning from the Creator to build giant canoes and tie them to an arbutus tree at the peninsula's highest point.
"Like in the story of Noah, some people listened, but some didn't," he said. When the waters receded, the remnant on ȽÁU,WELNEW had earned the name "emerging people," or WSÁNEĆ.
Restoring indigenous names to geographic landmarks is not new. In 2010, authorities officially recognized Puget Sound and the straits of Georgia and Juan de Fuca as the "Salish Sea," retaining the European names as well. A year earlier, an agreement between Haida Nation and the government replaced the name "Queen Charlotte Islands" with Haida Gwaii.
For Alfred, author of the 2005 book Wasáse: Indigenous Pathways of Action and Freedom, any moves to celebrate cultural identity should be applauded, and restoring original names is just the first step in what he and others call a process of "de-colonization."
"All important landmarks need to be reclaimed in this way," Alfred told The Tyee. "They represent essential elements of the indigenous spiritual universe. To have them named after biologists or colonial figures that mean nothing to this to land is an injustice."
Although the Geographic Names Office would not comment on the application for it to recognize PKOLS, the provincial authority's website states that renaming requests are "investigated thoroughly and objectively" and in consultation with community and government, including tribal authorities.