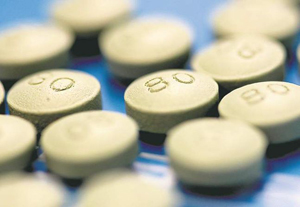 Pharmacies located in hospitals dispense millions of dollars worth of potentially addictive painkilling drugs to patients each year in British Columbia. But how well are those supplies being secured from theft?
More needs to be done to control narcotics distribution, according to an Oct. 2012 report by the Fraser Health Authority's internal audit branch, which was obtained by The Tyee through the freedom of information law. In its response, FHA management said it is bringing in new solutions to help obstruct and identify potential thieves, with a target date of the end of this June.
"FH staff have a critical role in ensuring narcotics are not abused or diverted," the auditors say. "There is a risk that people within the health care system [patients or health care staff] abuse narcotics due to addictions, or to divert narcotics for personal profit... There is a lucrative underground market for pharmaceutical products."
Many risks were noted, but the major problem was that, although there is a FHA policy on narcotics control for nursing staff, there is no such policy for pharmacists. As well, pharmacies do not have written procedures over the handling of narcotics, and so there are differing practices among pharmacies. There is also no such control policy for anesthesiologists, although they are developing one.
Michele Babich, executive director of the Lower Mainland Pharmacy Services since last July, told The Tyee that pharmacists have a draft policy now, and are currently fine-tuning it. The LMPS is the largest pharmacy department in Canada, a consolidated service that manages 31 pharmacies for all lower mainland health authorities -- Fraser Health, Vancouver Coastal Health (VCH), Provincial Health Services (PHSA), and Providence Health Care (PHC).
The FHA says that a recent VCH draft audit reported similar findings, and that the correct process for reporting losses to Health Canada has been reinforced with all Lower Mainland pharmacy staff. The Tyee asked the three other health authorities if they (unlike the FHA) had a narcotics control policy for pharmacists, and they replied yes.
Under the federal Controlled Drugs and Substances Act, anyone -- especially those in a position of trust -- who possesses morphine or other powerful painkillers for the purpose of trafficking can be imprisoned for life. An Ontario RCMP report said while the average pharmacy price for an 80 mg tablet of OxyContin (a brand of oxycodone, since replaced by OxyNEO) is $4, it can be sold on the street for $80. In some First Nations areas in northern Ontario, they added, the same pill could sell for $500. Babick does not know if thieves in pharmacies usually steal the drugs for their own usage or to sell them: "There's a whole variety of reasons."
At least 15 narcotics losses, no charges
Upon further inquiries, The Tyee has also learned of at least 15 other cases since 2010 in which health authorities across the province reported narcotics losses to Health Canada, as they must, although no criminal charges were ever laid over the losses.
The audit notes that because the reporting process is flawed, those numbers might not reflect the total: "Without consistent internal reporting of narcotics losses, management may not be aware of the magnitude of losses that are occurring." The health authorities' records retention period is only three years, and there is no requirement by Health Canada for them to keep narcotics records beyond two years.
One serious case that was noted in the FHA audit happened at the authority's Pharmacy Drug Distribution Centre in Dec. 2011." The FHA told The Tyee that 174 tablets of oxycodone 80 mg were stolen that year over a period of time by a pharmacy assistant, who was identified as a possible suspect and eventually fired. 
"The RCMP was notified of the loss of the narcotic," said FHA spokesperson Roy Thorpe-Dorward. "We do not know what the RCMP response was. After the individual is terminated we do not follow the case, unless it is to provide further information to police as part of the investigation. We have not been requested to do so." (He added that between Jan. 2010 and July 2011 there were two other losses of oxycodone in the FHA.)
The RCMP will not discuss the case. "We do not routinely disclose the details of our investigations," said B.C. RCMP spokesperson Sgt. Rob Vermeulen. He also refused to say if there had been any RCMP investigations of any narcotics thefts in B.C. health authorities since 2010, telling the media to apply for that answer through the Access to Information Act instead (a generally ineffective process that can be delayed for years).
Scope of audit
The scope of the audit included the FHA's Pharmacy Drug Distribution Centre (PDDC) and a sample of hospital pharmacies and clinical programs that store and dispense narcotics.
In 2011/12, the Fraser Health Authority distributed $730,000 worth of narcotics to patients. The FHA is one of six publicly-funded health authorities in the province (while one more entity, Providence Health Care, is a faith-based non-profit society that manages 16 facilities in Greater Vancouver including St. Paul's Hospital). It serves 1.6 million people in Burnaby, Surrey, New Westminster, Coquitlam, Delta, White Rock, the Fraser Valley and Hope. The 12 hospitals in its scope include Royal Columbian, Surrey Memorial, Langley Memorial, Abbotsford Regional, and the new Jimmy Pattison Outpatient Care and Surgery Centre.
Thorpe-Dorward spoke for all of them when he said that since 2010, "There have been no other reports of losses from hospital pharmacies at UBC/VGH, Children's and Women's, or St. Paul's." He added that St. Paul's Hospital does not have as many automated dispensing cabinets so they have locked secure narcotic cupboards on the patient care units. There is a capital request in for additional automated dispensing cabinets. (The Tyee made separate inquires of the three other regional health authorities in B.C., with the results below.)
Babick said the LMPS' authority does not cover private retail pharmacies such as London Drugs and Shopper's Drug Mart, which are overseen by the BC College of Pharmacists. The LMPS distributes narcotics to one mental health clinic in Vancouver's Downtown Eastside, although not to the needle exchange there (which works with a private community pharmacy). The B.C. College of Pharmacists mandates that all its professionals pass a criminal record check before they can be licensed.
When drug loss reports are sent to Health Canada, said Babick, officials there review the reports, and if they determine the case is "significant," they give recommendations that must be followed up on. The Dec. 2011 theft was the first time to her knowledge that Health Canada had ever sent auditors to examine the LMPS.
Oxycodone a big target for pharmacy thieves
In the past few years, the abuse of oxycodone in Canada, especially in its later OxyContin formulation, become a major problem. Oxycodone was widely available across Western Canada, but while methamphetamine and heroin are more popular in the larger cities, oxycodone was more common in rural towns. The drug was illicitly obtained through pharmacy theft, prescription forgery, doctor shopping, and over-prescribing.
OxyContin was described as twice as potent as morphine, dubbed "hillbilly heroin" on the street, and in 2007 its maker Purdue Pharmaceuticals paid $600 million in fines after pleading guilty to misleading the public about the risks of addiction from the drug. The health ministry said OxyContin was prescribed to 11,000 B.C. patients in 2011, mostly for short-term use.
Last year, Purdue replaced its OxyContin with OxyNEO, a pill that is nearly identical, but which is billed as harder to crush and so more difficult for addicts to snort or inject. Then in March 2012, B.C. became the seventh province to announce that it will not pay for OxyNEO except in "exceptional" circumstances, whereby doctors must prove that other attempts to treat a patient's pain have failed. In B.C. it is now also much harder to get a prescription for OxyNEO because of the new electronic health system that allow doctors to see when a patient was last prescribed a drug. This clampdown prompted some pain counselors in B.C. to fear that desperate addicts might turn to crime, or switch to heroin.
Last October, Interior Health medical health officer Dr. Trevor Corneil, in a research project co-authored with the B.C. Coroner's Service, warned that people in southeast B.C. were dying from prescription opioid overdoses at the same rate that they were being killed in drunk driving accidents.
Across southeast B.C., 21 people are dying each year, or two per month, from overdoses of prescribed opioids such as morphine, codeine, oxycodone, hydromorphone and fentanyl. "That's huge," said Dr. Corneil. "There are very few things that have that mortality rate." Looking at B.C. overall, he said that between 80 and 90 people die from prescription opioid overdoses each year. Today, Canadians are among the highest users of prescription opioids in the world.
THE AUDIT
Positive findings:
Management has thoroughly documented narcotics related controls for nursing staff, which mitigates the risk of narcotics diversion.
There are adequate processes over ordering and receiving of narcotics from suppliers, and there are adequate processes for narcotics issued from PDDC to the pharmacies.
For some sites, an Automated Medication Distribution System (AMDS or Pyxis) has been installed, a system that can be accessed by biometric scanning.
While there is some room for improvement, there are reasonable processes for narcotics issued from pharmacies to the units.
Concerns, all marked as 'moderate priority':
The Narcotic Control Regulations mandate that drug losses and thefts must be reported to Health Canada within ten days of discovering them, but this was sometimes delayed. There is also no consistent process for reporting such losses to management. (Northern Health told The Tyee it has a consistent process through Internal Audit for reporting losses to management.)
At the PDDC, the report notes, narcotics are kept in an open space, the PacMed area, outside the narcotic vault. Here the oxycodone was stolen in 2011. The PacMed area is where machines that pack patient-specific unit-doses have been installed. (Babick told The Tyee that, per the audit's advice, the LMPS bought a new PAC machine and are moving it into a vault with a combination lock, within a new room that had been specifically built to store drugs.)
When Royal Columbian and Surrey Memorial pharmacy staff issue narcotics to units, staff from pharmacy and nursing are required to note the amount issued and sign a manual record. This control prevents nursing staff from diverting narcotics on receipt. "However, there is no control from preventing the pharmacy staff from diverting narcotics. For example, a pharmacy employee can issue 100 units from pharmacy inventory, keep 10 units and only provide 90 units to the nursing unit."
(Thorpe-Dorward said that at VCH, PHC and PHC, the narcotics are bought directly and stored in each pharmacy, which all have a secure drug vault. The narcotics are then delivered from the pharmacies to individual automated dispensing cabinets on the patient care areas, to be then given by nurses to patients.)
Officials from FHA internal audit and a branch called Integrated Protection Services visited the PDDC and a sample of pharmacies and units to see if physical safeguards over narcotics are adequate. At some locations it was found that narcotics are kept in open areas (e.g. on an open shelf outside the vault), narcotics are stored where the cabinets or locks are not sturdy and cameras are not placed in key areas. Management pledged to fix these problems by end of 2012. (The other three health authorities said their narcotics are not left in open areas.)
The Langley Memorial Hospital pharmacy has an added control that was not followed by other pharmacies studied, though it should be. At LMH, a Meditech computer report is printed by pharmacy staff when narcotics are taken from inventory. This printout is then taken to the unit, along with the narcotics, and is signed by the pharmacy employee and the nurse receiving the narcotics -- this control can reduce the risk of diversion of narcotics.
The Narcotics and Controlled Drugs policy requires unit staff to maintain thorough records. "Instances of non-compliance with this policy were noted. For example, instances were noted where narcotics were destroyed without evidence of a witness' signature." (For example, of 12 narcotic destruction files studied, nine had no dates or signatures.)
"Situations of missing narcotics, possibly due to thefts, are rare, but do occur - as they do in every health care setting," said Sarah Plank, speaking for the Vancouver Island Health Authority.
"When narcotics are identified as missing, it is reported and investigated by VIHA's Protection Services and when appropriate, the police. We are not able to provide information on specific personnel issues or criminal investigations. I believe, though I am still awaiting confirmation, that none of the following has resulted in investigation by police as the quantities have been quite small and they have been one-time events with no pattern of loss identified and no conclusive evidence of theft."