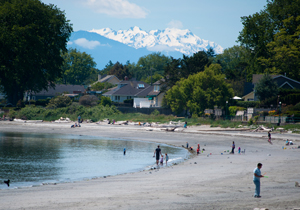 For most of the past two years it looked like the Victoria area constituency of Oak Bay-Gordon Head would be an easy win for the B.C. New Democrats in the 2013 election.
Instead it's become the Green Party of B.C.'s best hope to win a seat in the legislature, a vote-splitting test case and completely unpredictable.
"I believe the difference will be based on the hundreds, not the thousands," said Ida Chong, the incumbent in the riding and the BC Liberal government's minister of aboriginal relations and reconciliation.
Chong has represented the constituency, where housing prices are high and so are incomes, since 1996 when she won it from the NDP. Four years ago she held onto it by a slim margin of 561 votes over the NDP's Jessica Van der Veen, making it among the closest races in the province.
Today Van der Veen is again running for the NDP, and her party has built a strong lead over the BC Liberals since the last election and is poised to form a majority government. But added to the mix in the riding is Andrew Weaver, a climate scientist at the University of Victoria and a high profile candidate for the BC Greens. There is also a BC Conservative candidate, Greg Kazakoff.
Both Weaver and Van der Veen have already been campaigning hard, and Chong predicts the final vote count will be extremely close. "The three of us will be within hundreds, that's my best guess," Chong said.
Chong has a base: NDP
To hear Van der Veen tell it, the race is between her and Chong. "I'm actually running against the BC Liberal opponent," she said. "My BC Liberal opponent... has a strong personal base, so that occupies me much."
Told of Chong's prediction of a close three-way race, Van der Veen said, "I have a feeling she may well be right, actually."
Van der Veen pointed out how close the vote was last time and that recent polls have put support for the NDP on southern Vancouver Island up around 57 per cent. If people want change, the NDP is clearly in the best position to deliver that change, she argued.
While she said the closeness of the race could be "unnerving," all she can do is work hard and be ready to accept the result, win or lose. "It's a very character building experience."
Van der Veen said her team has already knocked on 4,600 doors before the official campaign period has even begun, the same number it hit by election day last time. They've opened an office and distributed some 20,000 flyers, most of them by hand. In the last month she's also hosted community meetings on education and skills training and on seniors' health.
She said she's also focusing on issues like protecting the coast from oil spills, cuts to postsecondary education and stopping the sale of public assets. "I feel no less urgent about protecting our public assets, services and resources as I did last time," she said.
While the campaign has been underway in the constituency for quite awhile, it's heating up, she said. "It's so intense," she said. "We're doing really well I think, but it's so intense."
Support for NDP where deserved: Weaver
The Green Party's Weaver said Liberal support has crumbled and he figures the race is between him and the NDP's Van der Veen. He too has been running a strong ground campaign, with teams of as many as 24 volunteers knocking on doors. He's ready to go with signs that will create a "sea of Green" as soon as the writ is dropped, he said.
While Chong has had a good run for the Liberals, people on the street really are saying they're ready for a change, he said.
Province wide, the result is a foregone conclusion, he said. "We all know the NDP will have a strong majority." Locally, voters have an opportunity to send someone to the legislature who will be a strong, independent voice on all kinds of issues, he said.
Weaver said he agrees with the NDP on registering 16 year-olds to vote, raising corporate taxes and reinstating a capital tax on banks. He said he also agrees with their past position to create a legislative budget officer modelled on the federal post and hopes they still hold it.
"Where I disagree with them is their fixation on liquid natural gas," he said. He called BC Liberal plans, largely supported by the NDP, to export LNG a "pipe dream." He pointed out B.C. would be competing with other players, including Russia, which has 25 times as much natural gas as B.C. does, has lower labour costs and is next door to China.
The Liberals have "lost the boat" on carbon pricing, having announced that they would freeze the carbon tax for five years if they are re-elected, he said. The NDP has an opportunity to keep growing the tax and use it for infrastructure, energy efficiency and mass transit, he said.
"They could own this portfolio," Weaver said, adding that they would receive his full and vocal support communicating it to the public. "They wouldn't need to do it themselves."
Many possible Green voters
The Green Party's recent federal results in the capital region suggest a victory for Weaver is entirely possible. Oak Bay-Gordon Head includes parts of the federal ridings of Victoria and Saanich-Gulf Islands.
In the November 2012 byelection in Victoria, the Green Party's Donald Galloway came within 1,000 votes of defeating the favourite and eventual winner, the NDP's Murray Rankin. Of 38 federal polling stations that overlap with Oak Bay-Gordon Head, the Green won 21 of them.
And in Saanich-Gulf Islands in 2011, federal Green Party leader Elizabeth May won handily. Her victory included nearly every poll in Gordon Head, the part of the riding that overlaps the provincial constituency.
Federal results obviously do not directly translate to provincial politics. They do, however, show a sizeable number of people who live in Oak Bay-Gordon Head are willing to vote for a Green candidate.
The point is not lost on Weaver, who posted a map on his blog overlaying the federal results onto the constituency. (A similar look at Saanich North and the Islands suggests Adam Olsen has a good shot for the Greens in other parts of the riding won by May.)
"Every single poll in Gordon Head was Green with the exception of one that was Conservative," he said. "That's consistent with what we're seeing on the doorstep today."
Weaver has a press secretary, Mat Wright, who has worked on federal Liberal campaigns. His team also includes federal Greens, Conservatives and NDP members, he said. "We're getting a lot of NDP support."
They also hope to attract supporters, including many young people, who may not have voted in the last provincial election. The dynamic suggests something is going on that's more complicated than a simple split in the anti-Liberal vote.
Attending to cabinet duties
The Liberals' Chong acknowledged that Weaver seems to be drawing support from across the political spectrum. "He's also taking away from my camp," she said.
While she's had little time to knock on doors so far, Chong said she has a healthy war chest saved to fight the campaign, even if it was depleted somewhat while successfully fighting off a recall bid in 2011.
The day we spoke, Chong participated in events for her ministry on the Saanich peninsula and in Metchosin, both of which are in the capital region but well outside the constituency where she's running.
"Some people think I should be out door knocking," she said. "The only time I have is evenings and weekends and sometimes even those are taken up… I don't have the same amount of time as other people have."
Chong noted that Van der Veen hasn't worked for four years and has been free to prepare for the election. Weaver, by the way, made a similar jab saying, "She's been campaigning for like six years. I have a job."
Van der Veen said in the last four years she did some consulting work for ACTRA, the actors' union she's been a member of, got heavily involved in campaigns to keep Oak Bay Lodge and Mount Tolmie Hospital public, and spent time with her mother before she died. "If I make personal comments about any opponents, they will be about policy and about specific policy," she said when told about Chong and Weaver's comments.
Constituency work
Chong said that while it is valuable to have independent voices in the legislature, it is good for a community to have a voice either in the government or the opposition. Weaver has acknowledged the Greens won't form government, she said. "If that's the case, what can you deliver at the local level?"
Being an MLA includes doing things for constituents who may want help for an aging parent, support for a sports team or funding for a festival. "These are the things you do as a local MLA," she said.
Having been a cabinet minister and an opposition MLA, Chong said she brings experience to the job. "If people are looking for a strong representative and a good constituency MLA, I'm that person," she said. "Why would you throw success out the window?"
She acknowledged that she's not perfect, but said she stands by her government's record in office and promises to work hard for constituents either in government or as a member of a strong opposition. "I think I could be of benefit to Oak Bay-Gordon Head regardless," she said.
Oak Bay-Gordon Head has a well-educated, astute electorate that will weigh the pros and cons carefully and hopefully decide to stick with her, she said.
In the 2009 election, the constituency was tied for second highest voter turnout in the province, at 66.8 per cent. The way things are going, with one of the few races in the province that's likely to be close, one thing that is predictable is its turnout will be among the highest again.