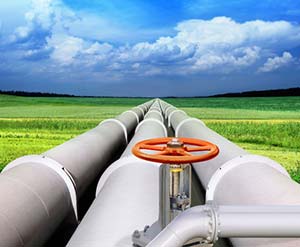 On February 28th Dave Core gave an impassioned presentation about "pipeline company bullies" before the Standing Senate Committee on Energy, the Environment and Natural Resources.
The media were not there.
But the 58-year-old farmer and landowner, an expert on pipeline regulation, directly contradicted the testimony of National Energy Board (NEB) chairman Gaétan Caron as well as that of Mark Cory, Assistant Deputy Minister of Natural Resources Canada.
Both Caron and Cory reassured the Senate Committee that pipeline regulations were safe and orderly in Canada.
But that's not what Core, who supports fair pipeline development, has witnessed over the last 20 years.
He told the Senate that the NEB, which is now overseeing the Northern Gateway hearings, is a captive regulator that does not work for Canadians but "protects the interests of pipeline companies."
He documented oil-pipeline spills that had not been cleaned up in Ontario, Manitoba and the Northwest Territories.
And he provided evidence that the National Energy Board has left the industry off the hook for multibillion-dollar abandonment liabilities on 70,000 kilometers of federally-regulated pipelines. In other words, pipeline companies can abandon their corroded steel pipes in the ground (a hazard to groundwater and livestock) and walk away.
Core is the founder of the Canadian Association of Energy and Pipeline Landowner Associations (CAEPLA) which represents the legal interests of landowners across the country. It is a landowner's version of Idle No More, the aboriginal movement now contesting the abuse of power by the Stephen Harper's omnibus bills.
The Ontario-born farmer has been advocating for changes to Canada's pipeline regulations since 1993. He knows more about the institutional history of the NEB than most of the nation's reporters.
Here are a few excerpts from Core's dramatic and timely presentation:
Kitchen table nightmare
"My goal this morning is to bring perspective to the issues of landowners when confronted by pipeline companies. That is, the issues when private property owners, like yourselves, come up against government supported and subsidized corporations that are allowed to come packing with government regulations to take our lands, our rights and leave us with annual risks, liabilities, a duty of care that we do not want, costs and the pipeline junk which includes the resulting safety and liability issues of historical contamination and pipeline collapse when the companies pack up and leave.
"Before I proceed I would like you to pretend you are sitting around a kitchen table with your family and a 'land agent' has just left you with a brown envelope with a Section 87 Notice, an NEB Regulatory Notice, stating that a pipeline company is going to put a pipeline in your backyard and the easement agreement and the compensation offer are included.
"The stress has only just begun. Next come teams of land agents, the men trained in profiling and in telling every tale they can to get the deal signed while they sit at your kitchen table drinking your coffee. He/she might even be your neighbour's son or daughter. It is like you have stepped into a spaghetti western with cowboys coming to your door, not packing a gun, but a big smile, lots of lies and packing government regulations that allow them to threaten you if you question them.
"As can be seen in the transcripts of your previous guests' presentations to date, pipeline companies have no real accountability to anyone and they haven't since 1959....The self-admitted 'industry partner' Gaétan Caron, chair of the NEB, said nothing to you but that everything is wonderful, safe and sustainable. Well, it is not, and it is time everyone understands what is really going on."
No spill liability
"Mr. Corey from Natural Resources Canada stated that pipeline companies are fully responsible for cleaning up spills. Then why are there spills and contaminated properties across Canada that have not been cleaned up? As I pointed out at the recent abandonment cost estimates hearing there is contamination in the Enbridge and TransNorthern pipeline corridor just east of Toronto, that has been there for 20 years. And more has recently been uncovered as Enbridge does integrity digs to repair the polyethylene coating disaster on line 9 in preparation for reversal. I also have a letter I read, at the hearing, from a Manitoba resident complaining of an Enbridge spill on her property that had never been cleaned up. I also know of other spills where landowners have signed confidentiality agreements and cannot talk about what was left behind. The NEB regulations and oversight protects companies from having to do due diligence to landowners."
A revolving door of special interests
"The NEB and the industry have a revolving door when it comes to employees. Brenda Kenny, Canadian Energy Pipeline Association (CEPA) President was a long time employee at the NEB, as were a number of other CEPA people past and present. At the recent abandonment-cost-estimates hearing, two of the regulatory people representing Enbridge had just recently worked at the NEB as regulatory officers....
"Landowners are not just stakeholders. Like you, Honorable Senators, we are property owners. We bought our property as a place to live, a lifestyle choice, an investment, to ranch our cattle, to crop farm or run any other business zoning allowed. We did not request pipelines. We live, raise families and work on these properties, yet we have had pipelines enforced on our backyards, that do not respect our stewardship or legal obligations. Our name is on title and the NEB legislation leaves our future to the whim of pipeline companies and their regulatory partners."
Expropriation of land without compensation
"In 1988, Section 112 of the NEB Act was created and the legislation was then reworked in 1990 since it was not properly done in 1988. A senator at that time stated that the legislation was questionable from a landowner rights perspective. It created new restrictions to the landowner's right to farm over the pipelines and also restricted 200 more feet of our land along the pipeline. That is 100 feet on each side of the 60 foot easement. Our original easements gave us the right to farm over the pipelines and stated that the company was to compensate for any land taken for the operation of its pipelines. Those old 60-foot easements are now 260 feet, that is, four-times the width with no compensation.
"Section 112 was created to allow pipeline companies the right to leave pipelines in the ground that are too shallow, corroded, too thin and designed with ineffective protective coatings that compromise safety. These regulations protect the companies and their shareholders from the cost of upgrading its infrastructure and addressing those safety issues. It is easier to restrict the activity of farmers over the pipelines than repair them. Imagine restricting traffic forever rather than upgrading a deteriorating overpass.
"For 20 years we have been asking that regulations be changed to have pipelines buried 6 feet deep and provide thicker pipes in rural areas because we farm over the pipelines and are concerned with our safety and the safety of the pipeline. The CSA standards are only 24" of cover and thicker pipes in highly populated areas. We have pictures at our web site of pipelines with only 1 foot of cover. They should be dug up, replaced and buried deeper."
Harper's 'criminal penalties for farmers'
"In the Omnibus Bill C38 (May of 2012) NEB regulations were changed to put monetary and criminal penalties on farmers if they do not ask permission to cross pipelines; on summary conviction, a fine of up to $100,000 and/or imprisonment up to one year; on conviction on indictment, a fine of up to $1,000,000 and/or imprisonment up to five years. Too bad the presidents of the pipeline companies do not suffer the same consequences for polluting miles of private property. Instead they get multimillion-dollar pensions."
Canada's pipeline abandonment scandal
"In 1985 there were five abandonment regulations that held the companies responsible for removal of pipelines upon abandonment. Mr. Vollman, Past Chair of the NEB, an engineer at the time, was responsible for creating a document called "Discussion Paper on Negative Salvage Value." It discussed the issue of abandonment, pipeline removal and the collection of funds to finance the process. A year later, in 1986, the NEB gave notice to the industry that it would do nothing with the issue.
"In 2002, CAEPLA invited the NEB to come to Sombra, Ontario to view farming practices and we made a presentation on the abandonment and funding issue. The Chair of the Board, Mr. Vollman, an engineer at the time, and Mr. Gaétan Caron were both present, and Mr. Vollman stated that the issue had been looked at but could not be resolved. He never mentioned the 1985 document.
"CAEPLA accidently came across the document in 2007 and upon research found that the five abandonment regulations that called for the removal of pipelines at abandonment in 1985 had been changed a number of times, and now the regulations state that abandonment can now be approved in place.
"In the meantime, two abandonment hearings and hundreds of thousands of dollars of landowners money later, the NEB has ignored its judicial burden-of-proof at hearings and decided to collect money, 50 years late, for only 20 per cent removal of pipelines. It has ignored the legal evidence provided by landowners that clearly shows pipelines must be fully removed to protect landowners from liability. At one point the Board even changed its 2008 judicial decision that protected landowners (20 per cent removal and 80 per cent maintained into perpetuity) to a scheme of just 20 per cent removal at the behest again of CEPA without a hearing."
Transferring wealth to pipeline companies
"With the coercive power of expropriation, of forced entry behind them, pipeline companies have landowners over a barrel. An oil barrel.
"But it is an oil barrel that does not truly reflect the real economic costs of bringing it to market. Part of that cost is borne by farmers and ranchers and other rural landowners who are coerced into non-market transactions. Non market transactions that are effectively a transfer of wealth from one group of owners to another. From the owners of farms and ranches to the owners of shares in pipeline companies. A transfer of wealth from rural to urban Canada. A transfer from middle class and often less affluent, to the affluent....
"Real property rights imply the right to choose. The right to say no if need be. The right to freely and voluntarily deal or not deal as you see fit.... Government should not be in the business of facilitating the transfer of wealth from farmers, ranchers, and taxpayers to the shareholders of pipeline companies."