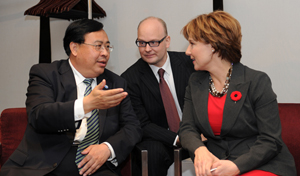 The United Steelworkers' Union is alleging a Chinese coal mining company affiliated to a Canada-based mining firm is responsible for the deaths of nearly 200 miners in China.
In a report released this week, the USW claims subsidiary companies of Shandong energy group are responsible for "at least five accidents that killed almost 200 workers" during the past six years.
Vancouver-based Canadian Dehua Mines International Mines Group lists Shandong Energy Group as a "cooperative enterprise" on the company information page of its website.
Dehua is also a partner in HD Mining, a venture mired in controversy after it came to light the company would undertake a mining project near Tumbler Ridge using miners brought from China instead of Canadian residents.
BC Unions have been pursuing court action and a public campaign against the company and HD Mining responded by filing a human rights complaint against the USW, claiming it is creating anti-Chinese sentiment in the province.
In this latest swing at the opposition, the USW's report details the record of Shandong Energy in China, highlighting what it said are major incidents.
Among the accidents are a flood in which 172 miners died in 2007 and another 15 killed in a coal dust explosion in 2006.
It also challenged comments made by HD Mining spokesperson Jody Shimkus insisting the company's coal mines in China have a good safety record, linking HD Mining with Dehua and Shandong.
The union has renewed calls to have Chinese mine development in British Columbia halted until mines in China "clean up their act."
Chinese mining has 'worst record': union official
United Steelworkers District Three president Stephen Hunt said the findings raise concerns about the provincial government's reasoning for allowing the company to bring workers from China.
"The whole thing was predicated on technology and modern mining methods and all that good stuff and they were going to come here to show us the way," said Hunt.
"We were going, 'Are you kidding?' Chinese mining companies have the worst record in the world."
He said he's concerned the workers, who only need to speak 100 words of English, will be intimidated and afraid of refusing dangerous work or pursuing their rights in Canada.
A press release from Nov. 2011 announced deals signed between Shandong Energy Group and Canadian Dehua and Kalian Dehua mines.
BC safety laws apply: ministry
The provincial government insisted the rights of Chinese miners in the province will be protected.
"We have always been clear that any company that operates in our province will have to abide by the health, safety and labour laws in British Columbia and Canada," read a statement from the Ministry of Jobs, Tourism and Skills Training.
But the ministry wouldn't comment on the USW allegations against Shandong energy or the deals it has allegedly signed with the province.
"You will have to contact the individual companies to discuss any details of their contracts," said the statement.
Canadian Dehua head Liu Naishun did not respond to emails requesting a response to the USW report.
Former Workers' Compensation Board director and Sauder School of Business professor Mark Thompson said the province should be considering overseas track records of companies.
"I'm not at all sure that governments would agree, because that means they'd have to pass judgement on someone, and they don't like to do that," he said.
"Given that they [Shandong Energy] supposedly know how to run a coal mine, that's very valid."
Thompson said many people would likely be surprised to hear the province doesn't really consider such track records when allowing foreign companies to operate in Canada.
Harper government, mining firms lose in court
Meanwhile two unions petitioning for a judicial review of how the China-back mines were granted work permits had a victory in court Wednesday.
The International Union of Operating Engineers Local 114 and the Construction and Specialized Workers Union Local 1611 won a decision that will force HD Mining to hand over documents related to its application for work permits for the 200 miners it will bring from China.
The unions said they need all the Labour Market Opinions -- used to prove the company tried to find Canadians for the work before applying for TFW permits -- and other materials to make a case for a judicial review.
The federal government had argued in court it had no control over some of the documents still held by HD Mining -- such as resumes by 300 Canadians who applied for the mining positions.
But a Federal Court Judge disagreed and ordered the government to pressure HD Mining to give up the documents, adding if this isn't done it will be assumed it is because handing them over would be "adverse" to the government and company.
The Ministry of Human Resources and Skills Development has until Jan. 21 to produce the documents, otherwise the union could proceed with a contempt of court order against Minister Diane Finley.