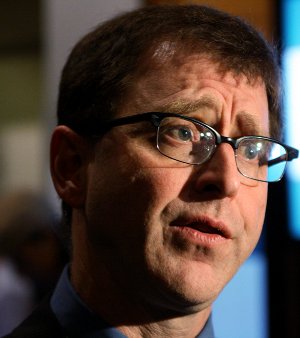 It was during the holidays nearly a year ago, recalls New Democratic Party leader Adrian Dix, that he had the odd experience of being in a neighbourhood bar watching football when ads came on calling him "Risky Dix" and attacking his party's record in government during the 1990s.
With just over five months until the scheduled May 14, 2013 provincial election, Dix said he's expecting more of the same from Premier Christy Clark and the BC Liberals, whom he has been well ahead of in the polls.
"I think they're going to run negative ads," he said. "That appears to be their plan. They want to pretend after 11 years in office that they're the opposition party, and given their recent record I understand their wanting to do that."
The Tyee recently discussed with Dix the NDP's response to Liberal ads, opportunities for co-operation between the parties and several things an NDP government would try to do differently.
The Tyee: I sometimes hear from NDP members, as I'm sure you do, who think you should respond to negative ads in kind.
Adrian Dix: "I think we can hold them accountable, I just don't want us to be personal in the way we deal with things."
Tyee: You've also been critical of the ads the government's been running about its record.
Dix: "People are outraged by the jobs plan advertising ... To be advertising incessantly in a week where you missed your budget targets by $500 million that you believe in balanced budgets, even by the standard people sometimes hold political advertising in, that's a big stretch. Then to have the public pay for these Liberal Party ads I think is a little much."
Tyee: How is the fixed election date affecting things?
Dix: "It's a long run in. At its core the current government's problem is they've been campaigning in this election since the current premier was elected leader of the Liberal party by a Liberal party vote. They've been campaigning relentlessly. At a certain point in a democracy I believe it's a good thing to campaign and to try and earn people's votes, but the Liberal government's constant campaigning over 18 months, which is close to half their mandate, it's a third of their mandate anyway, hasn't been positive for them.
"I've tried to contrast that with a different approach. We've focussed on what I think are significant achievements as an opposition party, where we've succeeded at forcing the government to back down on the HST. We forced them to make some changes, not sufficient but some changes, on the critical community living file. Just a month ago, after some years of campaigning, we succeeded in convincing them to go forward with a colorectal screening program. These are significant victories for us as an opposition."
Tyee: So if you were the government and they were the opposition, would you find ways to involve them?
Dix: "Absolutely. I don't think the current government has done that sufficiently."
Tyee: So what would you do differently?
Dix: "I think there are significant issues facing people that will require use of parliamentary committees. I think we're going to have spring and fall sessions and I think that what we're going to try to do with respect to legislation is give the opposition more of a role."
Tyee: What would be some examples of issues that would be ripe for bipartisan or multipartisan approaches?
Dix: "I think any issues respecting our democracy. Issues related to for example rules of election campaigns, I think those are good issues for both sides to work on together. When you're talking about the rules of democracy, if they get imposed by one side in a discussion, then there's always going to be concern about that.
"I think there are broad public policy issues facing us, like the growing incidence of diabetes in society and others, that I think require not just good policy decisions but increased public understanding that comes from people working together on an issue."
Tyee: The premier came into office talking about co-operation too, and put forward the pesticide bylaw as something the parties could work on together. That never made it into law.
Dix: "The premier has repeatedly and specifically said she's in favour of a ban on cosmetic pesticides. She specifically promised that in her by-election campaign, the government promised in a throne speech, I think it was 2010, to proceed, then again in a subsequent throne speech, and they haven't taken any action."
Tyee: Clark struck a committee and the committee recommended against a bylaw.
Dix: "The majority on the committee put forward a very different position than the premier. The premier's commitment before she got back into politics, when she got back into politics, during the leadership campaign and during the by-election campaign, has now not gone forward. It's one of the issues we could have debated this fall."
Tyee: Would an NDP government bring that in?
Dix: "Yes."
Tyee: What about the carbon tax, how would you change or fix that? Someone pointed out to me that two-thirds of what gets raised by the carbon tax goes to cut corporate taxes.
Dix: "I was specific in February 2011 and then subsequent to that that we were going to return corporate tax rates to 2008 levels. We'd roll back those tax cuts related to the carbon tax ... Obviously the carbon tax would cease to be revenue neutral in that sense. It's very problematic for both people's understanding and support for the carbon tax that all of the money raised from the carbon tax goes to offset tax cuts, most of them corporate tax cuts.
"If you're someone who can't afford to live near where they work, doesn't have adequate access to transit, which is the case for many, many, many, many people in British Columbia, then you're paying more carbon tax effectively and you're not seeing any improvements. Trying to reconnect the taxes we pay to the services we get is I think an important part of the change we're going to try and bring."
Tyee: What would you do about greenhouse gas emissions? It sounds like you would keep the carbon tax, but change the revenue neutrality part of it.
Dix: "Yes, and use that to help us meet some of our goals. It's going to be very challenging, but we have to do that on the construction side, the building side and on the transportation side, and make real progress. This is one way to make that progress. Clearly what we see is people's willingness to take public transit when it's available, but for many people it's not available.
"There was a report not long ago that showed the increase in emissions from the oil sands is larger than our level of emissions ... There is a challenge in terms of making our economy more efficient when Canada is facing those challenges, but we have an obligation to do so, to face these emission questions."
Tyee: Would you keep the targets? Lots of people have already said it looks impossible to meet them.
Dix: "We're going to try and meet them, yeah. I think if we continue down the path the current government is on it would be very difficult, that's why we have to make some changes like the one I just proposed."
Tyee: It has been noted that Christy Clark is unpopular with female voters, but there's been less attention paid to the fact you're polling better with men than past NDP leaders did.
Dix: "It depends which poll you're looking at. The Angus Reid poll has the NDP with a very significant lead among male voters. There's obviously two ways to look at the gender gap. People talk about what women voters want, men voters do, and those are the two elements of it. I think, in general, the voters like in these times our approach. Which I think is to be much more serious, much more positive, than the government's approach.
"Ironically we've behaved like you'd expect a good government to behave and the Liberals are increasingly narrow in their range of discussion to those that vote Liberal. You see this in their attacks on groups in society. Last week I met with the Council of Forest Industry, in detail, and the mining association, in detail, talking about platform and changes in policies in detail, as I do with the BC Federation of Labour. Presumably the government also meets with COFI, also meets with the mining association, but they seem to believe that labour should have no voice in the debate, so they attack them all the time. I think people are tired of that. I think we need to expand who we listen to."
Tyee: In your leadership campaign you talked a lot about income inequality and using education to reduce inequality. Are there other things you would also do?
Dix: "It's a very significant question, not just for society and all the reasons we want to reduce inequality, but it's also important for our economy as well. If you look across countries, inequality in access to education ... has a negative impact on economic growth. Some of the reasons for that are obvious. If 80 per cent of the jobs of the future require a post-secondary education ... and we increasingly are going to go outside the jurisdiction to meet the needs of our labour force, which appears to be the government's policy ... We have to ensure people have the means to succeed in an age when control over technology through education is important in terms of a reduction of inequality."
Tyee: And ways to reduce inequality beyond that?
Dix: "If one's ability as an adult to earn a family-supporting income depends on access to education and we're denying people access to education, because they don't have enough money in the short term when they are 18 or 19 or 20, then that is not just profoundly unfair it's profoundly unwise for the economy.
"Equally, we have to, and we have, committed to a poverty reduction strategy. I think to be ninth or tenth in Canada in terms of child poverty or having the highest child poverty rates in the country in absolute terms for almost a decade now is something we have to address. I think there's ways we can address it. Those are both elements of it, but the principal one in this day and age is to ensure people have the means both in the economy and personally to, if you will, predistribute wealth, to get access to jobs that will allow them to well. There are profound limitations to what you can do on the redistribution side. That's why it's so important in my mind to ensure young people have access to education, and those transitioning into the workforce as well."
Tyee: Lots of your MLAs will say welfare rates are too low, but they stop short of calling for higher rates.
Dix: "I think what we're seeing, if you look at the level of inequality in the province, the bottom 20 percent of income earners, in a broad sense in the economy represent 800,000 people out of four million ... take home about 4.5 percent of the after tax income, that's after the tax system has had its impact. That's a way broader inequality question than the much smaller fraction of that who are on income assistance. When we have such expensive communities to live in, you've got to have policies within what you can do in provincial jurisdiction that address that broader question as well."
Tyee: So you wouldn't just redistribute wealth to people through the income assistance system...?
Dix: "I think there's a limit because again what we're seeing is the eligibility for that system has been less and less. In the long term, and we need governments to start acting more in the long term certainly than this one where the long term appears to be two weeks, we have to address that by ensuring people have more power in the economy and that will come with having a higher level of skills."
Tyee: Last two elections the NDP platform promised to return BC Ferries to being a Crown corporation. Is that likely to be in the platform this time?
Dix: "We're going to address BC Ferries in the platform. We're not going to announce it today in The Tyee."
Tyee: What changes would you make to how the gambling industry operates?
Dix: "We've clearly seen a dramatic increase in gaming over the last decade. One of the things I'm concerned about, especially on the lottery grant side, is how short-term they are. Sometimes grants get approved in September and you've got to spend them by March ... I'd like to lengthen the terms so non-profits could deliver on what they apply for under gaming grants."
Tyee: But not necessarily doing anything to cap the industry or slow its expansion?
Dix: "But that's pretty significant. That's news there, Andrew ... The government's become increasingly dependent on lottery funds, so making that transition in a short period of time is going to be hard."
Tyee: You've talked a lot about managing expectations, you've used the word "modest" for your agenda. How do you do that and at the same time keep your base engaged?
Dix: "I think the base of the NDP really loves that. I think we have to do very significant things, but not too many of them. We've got to make some choices. I think saying the things you believe in and are going to do right away, that are the highest priority, is an important part of that. I think people respect being talked to like adults and that's what we're trying to do on our side. That means also saying there are some things out there that we may not be able to afford to do right away ... Otherwise if you promise things that can't realistically be delivered upon, than inevitably people are going to be disappointed and it undermines the faith they have in the government.
"When I said what I said about taxes in the early part of 2011, I was pretty aggressively attacked in a lot of quarters. And the fact is, in the last budget, Mr. Falcon said their plan for 2013-14 includes a tax increase for big business. I think what you need to do is speak frankly to people and change how people view the political debate. Now views that I took that were subject to attack are very much in the centre of political debate. I like that. It's what I try to do all the time."
Tyee: In 2001, when the BC Liberal government came in with Gordon Campbell leading, they had their New Era document with 80 or 100 promises, and they crossed things off as they went. You're talking about working on a few priorities.
Dix: "Interestingly we have four year terms now, so if you're going to have impact on an issue like skills training, you've got to get going on it right away, and that would be our plan. Clearly the Liberal government had a very broad agenda. Obviously things like breaking contracts, Bill 29, 27, 28, were broken promises in part of that agenda. The privatization of BC Rail was a broken promise in that agenda. But what you saw in that first term of government as well was a very aggressive government ... that didn't do a very good job managing its agenda in spite of the fact they had 77 seats. Witness BC Rail, which was a major public scandal around the privatization of the province's railway contrary to what the government said it would do. I want to do significant things and do them well. That contrasts a little bit probably with the NDP government of the '90s and the Liberal government of the past decade."