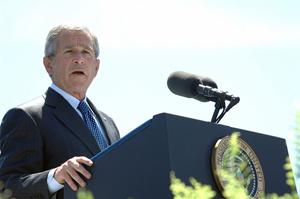 Two human rights organizations have asked the United Nations Committee Against Torture to censure Canada for failing to prosecute George W. Bush for his involvement in acts of torture during his United States presidency.
The complaint was filed on Nov. 14 in New York by the Canadian Centre for International Justice (CCIJ) and the U.S.-based Center for Constitutional Rights.
"I lost my family, my father, my health, my education because of George Bush. Although I was completely innocent, I lost nearly 10 years of my life," said former Guantanamo detainee and torture survivor Muhammed Khan Tumani, one of the four plaintiffs named in this month's complaint, in 2011.
"I suffered greatly while detained at Guantanamo, and continue to suffer. I have restrictions on my travel and cannot travel to see my father who is ill. George Bush must face justice and be held accountable for his actions, which continue to cause me and so many harm."
Hassan bin Attash, Sami el-Hajj, and Murat Kurnaz are the other torture survivors cited in the complaint. According to the human rights' groups bringing their complaint, "each endured years of inhumane treatment while in U.S. custody at military bases in Afghanistan and Guantánamo."
When Bush spoke in Surrey, B.C. in Oct. 2011, hundreds of noisy picketers outside the venue, the Surrey Regional Economic Summit, carried signs and chanted slogans calling Bush a war criminal and urging the Canadian government to act on commitments made when it signed the UN Convention against Torture, which the U.S. and over 150 other nations have also ratified.
The demonstrators argued that Canada was bound by the UN Convention to investigate and prosecute those responsible for torture when they arrive in Canada.
Private criminal investigation quashed
Despite spirited protests and calls from human rights groups like Amnesty International and Lawyers Against the War for Canada to arrest and prosecute the former president, no action was taken.
Federal Attorney General Robert Nicholson refused to conduct an investigation into the charges against Bush, only responding to calls for prosecution after Bush had left Canada. The Tyee contacted media spokespeople for the federal A-G with a request for comment, but received none before deadline.
B.C.'s Criminal Justice Branch moved quickly to quash a private criminal prosecution initiated against Bush just before his 2011 visit to Canada by Vancouver-based Matt Eisenbrandt of the Canadian Centre for International Justice, one of the two rights groups currently pursuing the matter.
Bush made his speech, collected his fee and left Canada without answering charges made by critics. He returned to the U.S., where the American Civil Liberties Union had already called in 2010 for an investigation into whether the president broke U.S. anti-torture laws by authorizing water boarding of prisoners.
Neil MacKenzie, who speaks for B.C.'s Criminal Justice Branch, told The Tyee on Nov. 14 that the Branch had taken the decision to stay Eisenbrandt's private criminal prosecution initiative against Bush under the authority of the Crown Counsel Act. Asked about claims made last year that the decision to stay the prosecution was ordered by B.C.'s Attorney General Shirley Bond, MacKenzie insisted the decision was made independently by the branch without any political direction from the A-G's office.
"This was an independent exercise of our discretion," MacKenzie said. "Such a prosecution requires the consent of the Attorney General of Canada, and it was the view of the Branch that such consent would not be forthcoming."
However, in an Oct. 24 letter on B.C. government letterhead posted on the CCIJ website, Andrew MacDonald, Deputy Regional Crown Counsel informs Eisenbrandt that: "Pursuant to section 579 of the Criminal Code, I exercised the authority of the Attorney General of British Columbia to intervene in the matter and I directed a stay of proceedings in relation to all counts contained in Information 190620-1."
Eisenbrandt told the CBC last year that B.C.'s decision to stay his private prosecution was a "slap in the face" to the torture victims.
"Canada has the jurisdiction and the obligation to prosecute a torture suspect present in Canada, including a former head of state, and even one from a powerful country," he said on Nov. 14. "Canada's failure to conduct a criminal investigation and prosecution against Mr. Bush when there was overwhelming evidence against him constitutes a clear violation of its international obligations and its own policy not to be a safe haven for torturers. Canada had an opportunity to provide justice to torture survivors. Instead, it protected Bush, who has admitted in his own memoir Decision Points that he authorized water boarding of prisoners, a form of torture."
Canadians 'do not accept torture': top court
In a submission made by Eisenbrandt's group to the UN Committee on Torture this summer, a 2002 judgement by Canada's Supreme Court, Suresh v. Canada (Minister of Citizenship and Immigration), is cited to illustrate Canada's official position on torture.
"It can be confidently stated that Canadians do not accept torture as fair or compatible with justice. Torture finds no condonation in our Criminal Code; indeed the Code prohibits it (see, for example, s. 269.1). The Canadian people, speaking through their elected representatives, have rejected all forms of state-sanctioned torture. Our courts ensure that confessions cannot be obtained by threats or force."
The CCIJ argues that the decisions taken last year at both the federal and provincial level not to investigate or prosecute Bush represent a failure to live up to that position.
"Despite these clear principles and policies, the Government of Canada violated its obligations under the Convention to prosecute Mr. Bush when he was present on Canadian soil in 2011. Compounding the impunity Mr. Bush enjoyed in Canada through the failure of Canadian officials to initiate criminal proceedings proprio motu, private initiatives to bring criminal charges against him were stymied by the actions and inactions of government officials," the submission to the UN body argues.
Gail Davidson of the Vancouver-based Lawyers Against the War (LAW) agrees that Canada failed in its obligations under the UN anti-torture convention. Citing provisions of the Criminal Code on jurisdiction, she said that Canadian law requires the government to take action against torturers when they come to Canada even on brief visit.
Davidson said she was proud to have filed the first attempt to have Bush prosecuted in Canada for his involvement in torture in 2004. (That attempt, like that of the CCIJ last year, was unsuccessful.)
Meanwhile, LAW has called for legal and policy reform in Canada to explicitly remove the requirement that the federal Attorney General must authorize any private criminal prosecution.
Communicating with the Human Rights Program of the Canadian Heritage department on Nov. 1 this year, Davidson urged the following reforms.
"The following policies must be changed:
• The policy and practice of arbitrarily failing to bar select torture suspects, such as Bush and other former high ranking members of the Bush administration, from entering Canada under the Immigration and Refugee Protection Act;
• The policy of refusing to accept complaints regarding or to initiate investigations of select torture suspects on the expressed ground of the brevity of their visit to Canada;
• The policy and practice whereby the Attorney General of Canada has arbitrarily refused to consent to the prosecution for torture of George W. Bush and other senior Bush Administration figures notwithstanding compelling, reliable, and public evidence of his involvement in authorizing, directing, supervising, funding and failing to stop the widespread use of torture by U.S. agents;
The policy and practice of not providing adequate or any education and training about the Convention or the related domestic legislation to public officials tasked with enforcing their provisions.
• The policy of shrouding in secrecy, rather than investigating and prosecuting, possibly illegal acts by police, security and intelligence agents."
The CCIJ's Eisenbrandt said his organization's complaint to the UN this month represents the first time that a filing that alleges torture involvement by a high-ranking U.S. official has gotten to the UN's Committee on Torture.
If Eisenbrandt and his colleagues are successful in eliciting action against Canada from that committee, it will not be the first time Canada has been the target of such criticism. According to the Department of Canadian Heritage website, the UN group cited Canada for violating the anti-torture convention in 1994 and 2004.
In 2007, the Committee again criticized Canada on a torture related matter, on the decision to deport Bachan Singh Sogi to India despite warnings he would be tortured if returned.
The prediction was proven accurate by reports of Sogi being abused in Indian prisons after his deportation, the UN body said.