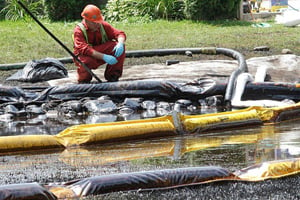 A senior Enbridge employee has admitted to U.S. regulators investigating its $725-million bitumen spill in Michigan that the company won't be able to achieve world class pipeline safety standards for years to come. 
The dramatic testimony, contained in one of 300 documents released by the National Transportation Safety Board directly contradicts company claims of offering "world class safety standards" for the controversial Northern Gateway Project.
In a Feb. 2012 interview with the U.S. National Transportation Safety Board, Allan Baumgartner, the company's new control room operator, admitted that hostility, poor training, favoritism, and chronic staffing issues all played a role in the largest and costliest freshwater spill in the U.S. Midwest.
Enbridge's Edmonton-based computer control centre manages some 15,000 kilometres of pipeline that ferry nearly two million barrels of hydrocarbons a day across the continent. Enbridge is the largest pipeline operator moving bitumen and it now transports about 13 per cent of the bitumen and crude oil imported by the U.S. every day. 
'Multiple years' before world class status
In 2010 the company's 43-year-old Line 6B ruptured and spilled more than 20,000 barrels of toxic diluted bitumen into the Kalamazoo River near Marshall, Michigan causing nearly a billion dollars worth of damage and clean-up costs. The company also purchased 160 homes along the river.
Factual reports on the incident reveal that contrary to Enbridge policy, which stipulates that pipeline operators shut down leaking pipelines within 10 minutes, the company's control centre not only failed to detect a major leak for 17 hours despite repeated alarms, but tried to restart the pipeline twice.  
At one point one confused employee informed another Enbridge operator about problems with Line 6B with the line, "Whatever, we're going home and will be off for few days."
Asked by investigators how long it would take to change the safety culture of the pipeline giant, Baumgartner gave this candid reply:
"Well, I think our goal is to become best in industry or, you know, best in class, right. Are we there today? I don't think so. Have we made progress or taken steps towards getting there? I think we have. Will we be there in the next year or so? Probably not. We'll be in the middle of the pack someplace and it's probably multiple years before we become, you know, best in class or world class. That's our timelines, right."
The transcripts reveal that Enbridge was so understaffed in 2010 that operators who called in sick were routinely contacted "and asked to come in to work even though they were sick because there were no other people available to cover for them." Many were not properly trained or supervised either.
Baumgartner also confirmed that the company had struggled, like many firms during Alberta's bitumen boom, with chronic labour shortages "and we are really working hard to get our staffing levels to where we need them to be to allow that work-life balance."
Miscommunications and hostility
U.S. investigators told Baumgartner they had heard that the company practiced "a double standard in the way control center personnel were treated by supervisors, that if somebody made an error, it could or could not be classified as an error depending on how that person was perceived by their supervisor."
Investigators then asked, "Were you aware of anything like this in -- since you took over in the control center?"
Baumgartner admitted that "there was a perception of favoritism and that's something we are really trying to move away from."
Miscommunication and hostility also dogged the high-tech control room loaded with computer consoles.
"I'm still not certain that there's a clear level of trust between all of our employees within the control center," said Baumgartner. "And our management group and I still think we've got work to do there, and it means more communication and more talking and probably a period of time where they do, you know, see that we are, you know, willing to listen."
During the accident the company's control room was run by Enbridge's customer service department which serves oil companies and oil sand developers. Responsibility for the complex pipeline control room has now shifted to the VP of operations.
Baumgartner said that Enbridge had hired the Dupont company to create a new safety culture in the control room and to "ensure that proper leadership commitment, the proper processes and proper management systems."
The 29-year Enbridge employee also called the Marshall accident a "wake-up call" for the company "and you know, maybe we needed that... We're on a path of growth and that type of thing."
'Judge us by what we've done': Enbridge
Asked why so many employees and controllers over multiple work shifts missed detecting a leak the size of 20,0000 barrels over a period of 17 hours, Baumgartner replied that the answer lay in an Enbridge report on the incident. It has not yet been released to company employees or the public.
Baumgartner said Enbridge had moved him into the control room in 2011 to restore employee engagement and fix the conflicted culture of the place: "the culture of the control room wasn't primarily where we thought it would be. And, yes some of the staff turnover that had been happening within the control centre, those types of things."
In one Gateway brochure Enbridge claims that it "is recognized as an industry leader in pipeline safety and integrity."
Adds the brochure: "Judge us by what we've done -- year in, year out -- through our 60 year history. Safety is our highest priority. No accident is ever acceptable. Our objective is to avoid spills."
Enbridge's Northern Gateway project would expand production in the oil sands three-fold. The $5.5-billion pipeline proposes to move toxic condensate and diluted bitumen over 700 salmon-bearing waterways in two 1,000 kilometre long pipelines from Alberta to the port of Kitimat.
The NTSB will release its full report on the large and costly bitumen spill this summer. It's expected to be highly critical of company's safety practices.
In testimony to the NTSB, senior Enbridge executives have admitted that employees weren't properly trained and the company was overwhelmed by the size of the incident.