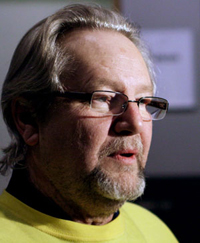 British Columbia Premier Christy Clark on Thursday accepted Harry Bloy's resignation from cabinet, one year and one day after appointing him.
"I felt it important to accept responsibility for my actions in regard to sharing an email with a third party," said Bloy, the minister of state for multiculturalism, in a prepared statement released as Question Period began in the Legislature. "It was my decision and I accept that."
Bloy, who had been a backbencher for a decade, was the only MLA to support Clark's successful bid to lead the British Columbia Liberal Party last year. After becoming premier, she appointed him minister of social development as part of her first cabinet.
In September, as Bloy and the government's poor handling of Community Living B.C. made headlines, Clark demoted him to a minister of state position in charge of multiculturalism. On Thursday, Bloy's statement said he offered his resignation to Premier Clark, and she accepted it.
At issue was an email The Province newspaper reporter Cassidy Olivier had sent to the government, which he reported Bloy admitted sharing with representatives of Eminata Group, a private education company Olivier was investigating.
The company runs six private post-secondary schools, including University Canada West, Vancouver Career College and CDI College. NDP MLAs noted in the legislature that Eminata founder Peter Chung had donated regularly to the BC Liberals.
'Error in judgement': Clark
Clark responded to NDP questions in the Legislature March 15 saying Bloy did nothing illegal, but showed a lack of judgement by sharing information inappropriately. "He's done the right thing," she said responding to questions from the NDP during question period in the Legislature. "He has resigned."
NDP House Leader John Horgan suggested Clark should also quit, and MLA Maurine Karagianis said Bloy got the email from Advanced Education Minister Naomi Yamamoto, so the minister should resign as well.
Clark said it's normal for ministers to share correspondence with each other, but Bloy inappropriately shared the email with a third party, which is why he resigned.
"The mistake, the error in judgement, was not in sharing a document with a fellow cabinet minister," Clark later told reporters in her office. "That's a privilege all cabinet ministers have, and we all trust that when we share those documents with one another, then that will stay confidential. The error was in sharing it with a third party."
Asked why Bloy was given the reporter's email, Clark said, "It's my understanding it was shared with him because it's a highly multicultural school and it's a place where there are a lot of kids in the multicultural community and a lot of families are connected with it, so I think that's why it was shared with him."
Clark stopped short of saying she regretted her decision to appoint Bloy to cabinet. "I thought when I appointed him that he was someone... who's worked incredibly hard for a decade, he fights incredibly passionately for the people of Burnaby that he represents," she said. "I thought he deserved a chance to show his mettle at the cabinet table, so that is why I appointed him to cabinet."
Bloy has told her he does not intend to run in the next election, she said.
Yamamoto should go too: NDP
NDP advanced education critic Michelle Mungall said Advanced Education Minister Naomi Yamamoto should also step down. "We do think taking that step is an honourable approach," she said.
"Traditionally that definition [of ministerial accountability] is the buck stops at the minister," she said. "So the question is now in her court. 'Does the buck stop with her?'"
Mungall said she questions why the email was given to Bloy in the first place, why he would have shared it with Eminata and whether it had anything to do with donations to the Liberal party. "I think the leaked email shows that she's not able to control her ministry, she's not able to control the staff in her ministry," Mungall said.
Yamamoto said Bloy did the right thing to resign, but saw no reason why the NDP should want her to resign too. "I have no idea why they'd suggest that," she said. "I've done nothing wrong. My staff has done nothing wrong."
The email was shared on Feb. 20, but she didn't know there was a problem until it was revealed in The Province. Olivier reported that the email he sent to the ministry was seen during an interview in the hands of Randy Cox, Eminata Group's president and CEO.
Yamamoto said she "came back to my office and basically asked my staff, 'how the hell did this happen and what happened, let's figure it out.' So we did."
The path led to Bloy, she said. "I have confidence that other ministers, if we share information with them, keep that confidential. I had no reason to expect that Mr. Bloy would do otherwise."
It made sense for Bloy to have the email, as 60 per cent of the students at private post-secondary schools are new Canadians or international students, she said. "You know he was the minister of state for multiculturalism," she said. "Every day he deals with new Canadians. He's been a relentless worker in that respect, attending a lot of events."
Conservative leader John Cummins said the real issue is the "apparently close relationship between Eminata Group and [the] Liberal government" and the incident is further proof the government is run "for the benefit of insiders, cronies and corporate donors."
He questioned whether other government documents may have been shared.
Clark said her understanding was that Bloy hadn't shared any other documents inappropriately or broken any cabinet confidences, but she also acknowledged that she had not asked him.